NBA Basketball 2017-2018 Player Statistical Leaders Proposition Odds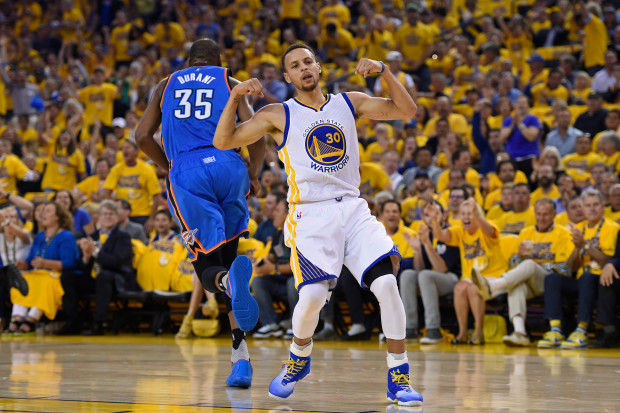 –The 2017-2018 NBA Regular Season starts on Tuesday, October 17.
–The Golden State Warriors are favored to repeat as NBA Championship.
–The Warriors are expected to be challenged by the Cleveland Cavaliers and Boston Celtics.
We've already posted our odds to win the NBA Championship, the Eastern/Western Conference championships and the six divisional titles. Unfortunately, the talent pool in the NBA is very 'topheavy' at this point and only a handful of teams have a realistic shot to win their division or conference, let alone the NBA Title.
In this post, we'll turn our attention to the individual player awards. We've already posted our prices on the Most Valuable Player and Rookie of the Year Awards. Below, we'll look at individual statistics with the odds to lead the NBA in points, assists and rebounds per game:
2017-2018 NBA PLAYER STATISTICAL LEADERS PROPOSITION ODDS
NBA REGULAR SEASON TOP POINTS PER GAME AVERAGE ODDS
James Harden: +250
Russell Westbrook: +750
LeBron James: +1000
Kawhi Leonard: +1000
Stephen Curry: +1500
Anthony Davis: +1500
Kevin Durant: +1500
Demar DeRozan: +1750
Damian Lillard: +1750
Paul George: +2500
Kyrie Irving: +2500
Blake Griffin: +3000
DeMarcus Cousins: +3000
Karl-Anthony Towns: +3000
Devin Booker: +4500
Giannis Antetokounmpo: +4500
Kristaps Porzingis: +4500
John Wall: +4500
Gordon Hayward: +4500
Kemba Walker: +4500
Jimmy Butler: +6000
Joel Embiid: +6000
Carmelo Anthony: +6000
Anthony Wiggins: +6000
Any other player: +10000
NBA REGULAR SEASON TOP ASSISTS PER GAME AVERAGE ODDS
John Wall: +375
Russell Westbrook: +550
James Harden: +750
Chris Paul: +750
Rajon Rondo: +1000
Jeff Teague: +1000
Ricky Rubio: +1000
Lonzo Ball: +1500
LeBron James: +1500
Milos Teodosic: +1500
Stephen Curry: +2500
Mike Conley: +2500
Draymond Green: +2500
Jrue Holiday: +2500
Markelle Fultz: +5000
Kyrie Irving: +5000
Damian Lillard: +5000
Kyle Lowry: +5000
Kemba Walker: +5000
Any other player: +10000
NBA REGULAR SEASON TOP REBOUNDS PER GAME AVERAGE ODDS
Andre Drummond: +350
DeAndre Jordan: +400
Hassan Whiteside: +400
Karl-Anthony Towns: +700
Rudy Gobert: +700
Dwight Howard: +1500
Demarcus Cousins: +1500
Kevin Love: +1750
Anthony Davis: +1750
Nikola Jokic: +2500
Jonas Valanciunas: +5000
Marcin Gortat: +5000
Nikola Vucevic: +5000
Any other player: +10000