McLaren Formula 1 Team In Sponsorship Deal With Bitci Exchange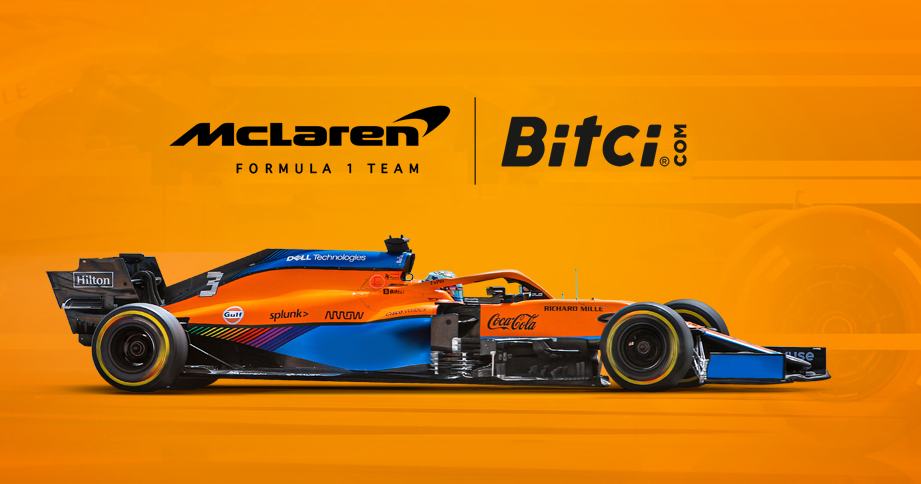 They're not the first Formula 1 team to sign a partnership deal with a company in the cryptocurrency space–Aston Martin's team signed on Crypto.com just a few weeks ago–but McLaren F1 is still fairly early onto the bandwagon. McLaren Racing has signed a long-term partnership with Turkish crypto exchange Bitci.com.
In addition to the usual branding and promotional rights the two companies will collaborate on a NFT–the official McLaren Racing fan token that will run on Bitci's native blockchain platform. The press release announcing the deal indicates that this will be the first such NFT release in F1 though Aston Martin and Crypto.com also have one in the works.
On a more traditional note, Bitci.com branding will be represented on the McLaren MCL35M race cars and on the driver helmets of the McLaren F1 drivers, Lando Norris and Daniel Ricciardo.
Mark Waller, Chief Commercial Officer of McLaren Racing is pleased to welcome Bitci aboard:
"We are delighted to announce Bitci.com as an official partner of our McLaren F1 team. This long-term partnership with the brand and our introduction of a fan token will be the first of its kind in this sport. We look forward to working with Bitci.com and seeing the brand for the first time on the MCL35M at the start of the 2021 Formula 1 season in Bahrain this weekend."
Çağdaş Çağlar, Chairman, Bitci Technology is excited about working with McLaren Racing and being a part of F1:
"Formula 1 is among the most acclaimed and watched sports in the world. The fact that McLaren Racing, one of the most outstanding teams and considered as one of the legends of Formula 1 all over the world with its successes, has chosen to work with a Turkish blockchain company for this project is very significant as this is the solid proof for the global success of Turkish entrepreneurs, engineers and software developers."
There's already a 'coming soon' site for the McLaren fan token posted (in Turkish) on the Bitci.com website.