NBA Basketball 2017-2018 Regular Season and Playoff Team Performance Odds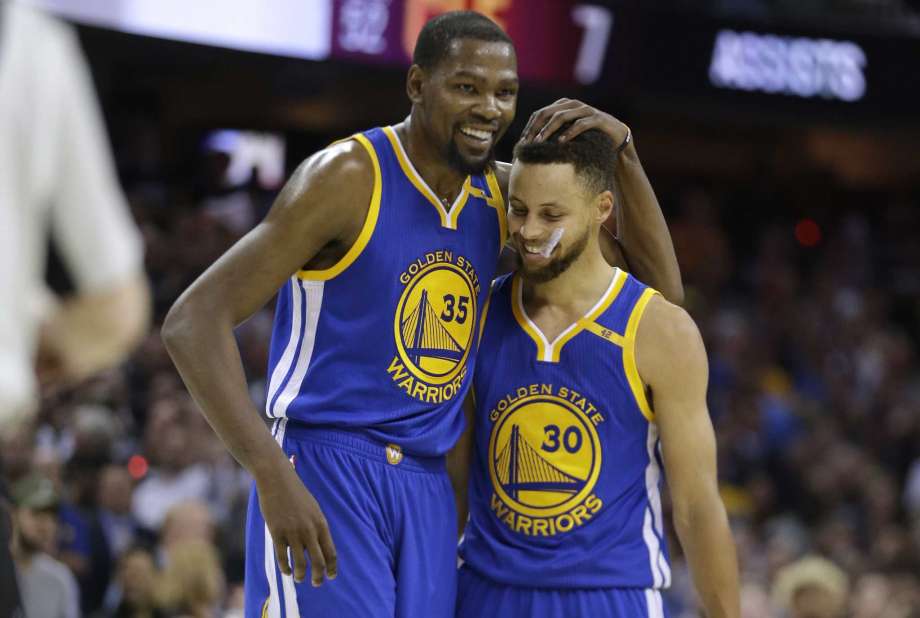 –The 2017-2018 NBA Regular Season starts on Tuesday, October 17.
–The Golden State Warriors are favored to repeat as NBA Championship.
–The Warriors are expected to be challenged by the Cleveland Cavaliers and Boston Celtics.
The NHL hockey season will face off on Wednesday night and we've got all of the futures odds covered elsewhere on the site. After that it will be almost exactly two weeks until the start of NBA basketball season. The bad news for basketball fans is that the NBA is nowhere near as competitive as the NHL. In the NHL, the defending champion Pittsburgh Penguins are favored to repeat but at +850 have plenty of competition. 15 of the 31 teams in the NHL are +2500 or better to win the Stanley Cup.
Pro basketball is significantly more lopsided. The Golden State Warriors are a -170 favorite to repeat. The only other teams at single digit odds are Cleveland (+600) and Boston (+850). There are only six teams (including the Warriors) with odds of +2500 or better to win the NBA title. The same disparity exists in the conference battles. Golden State is a -350 favorite to win the Western Conference and return to the NBA Finals. Houston and San Antonio are +650 and they're the only teams at single digit odds there. The Cleveland Cavaliers might not be as strong of a favorite in the East at -180 but they've got less competition from an odds standpoint. Boston is the second choice at +250 with the odds quickly shooting up to +1500 where three teams are priced as co-third favorites.
The biggest longshot in the NHL is the expansion Vegas Golden Knights who are priced at +15000 to shock the world and win the Stanley Cup. That's a very realistic dream compared to the chances of the NBA 'have nots' to win the championship–four teams (Brooklyn, Orlando, Sacramento and Phoenix) are +50000 to win the title. Brooklyn and Orlando are +20000 to win the East, Sacramento and Phoenix are +25000 to win the West. Obviously, sports don't always 'play to form' but it's been a long time since the NBA was this 'top heavy' and there was such a profound demarcation between the elite teams and the also-rans.
Here are the odds to win the NBA Championship as well as the Eastern and Western Conference titles. We'll bring you a wide assortment of NBA preseason proposition betting odds all the way up until opening night tip-off:
2017-2018 NBA PLAYOFF FUTURES AND PROPOSITION ODDS
TO WIN 2018 NBA CHAMPIONSHIP
Golden State Warriors: -170
Cleveland Cavaliers: +600
Boston Celtics: +850
San Antonio Spurs: +1750
Houston Rockets: +1750
Oklahoma City Thunder: +2250
Washington Wizards: +3500
Minnesota Timberwolves: +3500
Milwaukee Bucks: +5000
Toronto Raptors: +5000
Los Angeles Clippers: +7500
Denver Nuggets: +7500
Utah Jazz: +10000
New Orleans Pelicans: +10000
Philadelphia 76ers: +10000
Miami Heat: +10000
Los Angeles Lakers: +10000
Memphis Grizzlies: +10000
Charlotte Hornets: +10000
Detroit Pistons: +15000
Portland Trailblazers: +15000
Atlanta Hawks: +15000
Dallas Mavericks: +20000
New York Knicks: +20000
Indiana Pacers: +25000
Chicago Bulls: +25000
Brooklyn Nets: +50000
Orlando Magic: +50000
Phoenix Suns: +50000
Sacramento Kings: +50000
CONFERENCE TO WIN THE 2018 NBA CHAMPIONSHIP
Western Conference: -350
Eastern Conference: +300
2018 EASTERN CONFERENCE CHAMPION
Cleveland Cavaliers: -180
Boston Celtics: +250
Washington Wizards: +1500
Milwaukee Bucks: +1500
Toronto Raptors: +1500
Philadelphia 76ers: +2500
Miami Heat: +3500
Charlotte Hornets: +5000
Detroit Pistons: +5000
Atlanta Hawks: +10000
New York Knicks: +10000
Indiana Pacers: +15000
Chicago Bulls: +15000
Brooklyn Nets: +20000
Orlando Magic: +20000
Winner of Eastern Conference playoff championship
2018 WESTERN CONFERENCE CHAMPION
Golden State Warriors: -350
San Antonio Spurs: +650
Houston Rockets: +650
Oklahoma City Thunder: +1250
Minnesota Timberwolves: +2500
Denver Nuggets: +7500
Los Angeles Clippers: +7500
New Orleans Pelicans: +7500
Utah Jazz: +10000
Memphis Grizzlies: +10000
Portland Trailblazers: +10000
Los Angeles Lakers: +10000
Dallas Mavericks: +15000
Phoenix Suns: +25000
Sacramento Kings: +25000
Winner of Western Conference playoff championship