NBA Basketball 2017-2018 Divisional Title Proposition Odds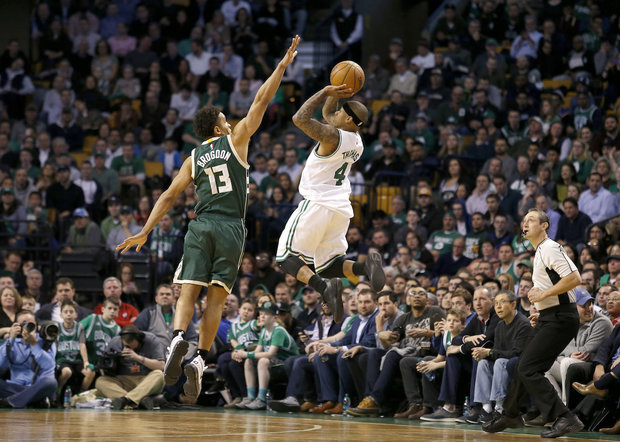 –The 2017-2018 NBA Regular Season starts on Tuesday, October 17.
–The Golden State Warriors are favored to repeat as NBA Championship.
–The Warriors are expected to be challenged by the Cleveland Cavaliers and Boston Celtics.
In our preview of the odds to win the NBA Championship posted yesterday we talked about just how lopsided the league currently is. For that reason you won't be surprised to see some of the divisional odds which border on the absurd. I'd have to dig deep in my notes but I can all but guarantee that even at the height of the dominance of Michael Jordan's Chicago Bulls they were *never* -25000 to win the Central Division. The Cleveland Cavaliers of that era led by Mark Price, Hot Rod Williams and Brad Daugherty were a capable team, Indiana wasn't half bad and although Detroit was in decline from the 'Bad Boys' era they still had a few solid players on hand.
Take a look at the odds to win the Pacific Division where Golden State is a -25000 favorite to win. They won by an almost unimaginable 16 games over the second place Los Angeles Clippers last year and the Clippers will likely lose ground this season. The Los Angeles Lakers might finally be headed in the right direction but there's no reason to think that a team that finished 30 games under .500 last year will have anything for the defending NBA champions. Sacramento and Phoenix will likely be the worst teams in the NBA. In fact, you could make a decent case that the Warriors should be priced *higher* than -25000.
There's slightly more parity elsewhere in the league but not much. The Boston Celtics are -750 favorites to win the Atlantic Division. The Cleveland Cavaliers are -2500 to win the Central. Washington is -175 to win the Southwest and Oklahoma City is -400 to win the Northwest. At least the Southwest Division looks reasonably competitive where Houston is -175 to win with San Antonio a strong second choice at +115.
Here are the odds to win the divisional titles along with a few random team proposition odds. We'll bring you a wide assortment of NBA preseason proposition betting odds all the way up until opening night tip-off:
2017-2018 NBA DIVISIONAL FUTURES AND PROPOSITION ODDS
TO WIN 2018 NBA ATLANTIC DIVISION
Boston Celtics: -750
Toronto Raptors: +325
Philadelphia 76ers: +950
New York Knicks: +3500
Brooklyn Nets: +10000
TO WIN 2018 NBA CENTRAL DIVISION
Cleveland Cavaliers: -2500
Milwaukee Bucks: +500
Detroit Pistons: +1150
Indiana Pacers: +3500
Chicago Bulls: +7000
TO WIN 2018 NBA SOUTHEAST DIVISION
Washington Wizards: -350
Miami Heat: +250
Charlotte Hornets: +500
Orlando Magic: +7500
Atlanta Hawks: +10000
TO WIN 2018 NBA SOUTHWEST DIVISION
Houston Rockets: -175
San Antonio Spurs: +115
New Orleans Pelicans: +1000
Memphis Grizzlies: +2100
Dallas Mavericks: +7500
TO WIN 2018 NBA NORTHWEST DIVISION
Oklahoma City Thunder: -400
Minnesota Timberwolves: +300
Denver Nuggets: +750
Portland Trailblazers: +1500
Utah Jazz: +2750
TO WIN 2018 NBA PACIFIC DIVISION
Golden State Warriors: -25000
Los Angeles Clippers: +2500
Los Angeles Lakers: +2750
Phoenix Suns: +10000
Sacramento Kings: +10000
DIVISION TO WIN THE 2018 NBA CHAMPIONSHIP
Pacific Division: -300
Central Division: +450
Atlantic Division: +750
Southwest Division: +750
Northwest Division: +1500
Southeast Division: +4500
STATE TO WIN THE 2018 NBA CHAMPIONSHIP
California: -300
Ohio: +450
Texas: +750
Massachusetts: +750
Florida: +7500
New York: +10000
Any Other State: +5000
WILL ANY TEAM GO 82-0 DURING THE REGULAR SEASON?
Yes: +15000
No: -30000
WILL ANY TEAM GO 0-82 DURING THE REGULAR SEASON?
Yes: +25000
No: -50000
WILL ANY TEAM GO 41-0 AT HOME DURING THE REGULAR SEASON?
Yes: +7500
No: -15000
WILL ANY TEAM GO 0-41 AT HOME DURING THE REGULAR SEASON?
Yes: +12500
No: -25000