ALCS Game 2: Astros Seek to Take 2-0 Lead Against Severino and Yankees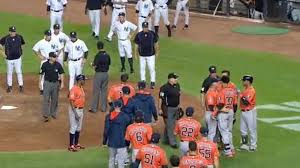 Who: New York Yankees v. Houston Astros
When: Saturday October 14th, 2017 4:08PM EST
Where: Minute Maid Park—Houston, Texas
The Houston Astros and Yankees are unlikely opponents in this year's ALCS, but the fact of the matter is that one of these two teams will advance to the World Series. As it stands through one game, the Astros are ahead thanks to a 2-1 victory recorded on Friday night. As expected, Tanaka and Keuchel dueled for most of the game, and that was bad news for hitters on both sides of the field. I think the pitching staffs of these two teams will be the story we repeat time and time again in this series.
As for Houston, their typically prolific offense was mostly shutdown, save for their 2 runs. Scoring only 2 runs may not seem like the most upbeat playoff game for an offense, and it isn't, but the fact of the matter is that 2 runs was enough to get the win. Thanks to Dallas Keuchel having struck out a whopping 10 batters, all Houston needed to do was get some runs on the board. The bullpen of Houston did allow the Yankees' sole run to happen, but you cannot really get too upset about a team giving up only one run in a 9-inning game.
As for the Yankees, they were effectively shut down. Masahiro Tanaka did pitch a solid game, but in the 4th inning he gave up the Astros' only 2 runs of the game. Unfortunately for New York, Tanaka's 2 earned runs earned him a loss. In the grand scheme of things, this game is more of an outlier than anything else because there are very few baseball games that see just 3 total runs scored. I think Game 2 is going to be different than Game 1, and that has everything to do with the pitchers taking the mound.
Game Overview and Analysis
In Game 2, the New York Yankees (+122) will send Luis Severino to the mound to make his 3rd start of the post-season. If you have been following this year's post-season, you know full well just why Severino has made such a name for himself, and the reason is not so good. In the one-game Wild Card playoff with the Twins, Severino made the start and things went downhill instantaneously. After recording just a single out in that game, Severino was pulled and the bullpen endured the rest of the game. After giving up 3 earned runs in the top of the 1st, most people were unsure if we would see Severino again this playoffs. Boy did we see him again, because in a crucial game against Cleveland, Severino pitched a near flawless 7 innings.
Against the Astros this year, Severino has not done so well. In his first outing earlier in the regular season, Severino made it just 2 and 2/3s innings before being pulled; he gave up 3 earned runs. In his next start, things did not get much better as he gave up 6 earned runs in a little more than 5 innings of work. Will things change on Saturday? That much remains to be seen, but what we do know is that the Yankee offense really needs to step up and get runs across the plate. If they cannot do that, they will quickly find themselves in an 0-2 hole.
As for the Astros (-132), they will be sending the veteran Justin Verlander to the mound. Verlander last made an appearance in this year's post-season against the Red Sox. In that game, Verlander did not start, but rather came in as a reliever. That was the second time he pitched in that series, as he made the start in Game 1 and pitched an impressive 6 innings.
I think the Astros' offense will be the difference in this one, because I think their offense is fully capable of taking it to the Yankees' starter. The Astros' offense has had a lot of success against Severino this year, and I do not see much of a reason to think that this year will be any different. The Yankees definitely have a chance, but it is tough to say which version of Severino will be making the start.
Betting Predicition
When it comes to a moneyline bet, I think you have to go with the Astros (-132). The odds offered by BetOnline are great, in my opinion. As was just mentioned above, the Yankees have not had much of any success against the Astros this year, and I think this game will be a continuation of that.
The point spread sees the Astros listed as -1.5 (+150) favorites. I absolutely love this bet because of the +150 odds. I know the Astros only won by a single run on Friday, but I think Saturday is going to be a different story entirely. I think the Astros' offense will make their presence known early and often with Severino on the mound.