Hell's Kitchen Season 17 with Gordon Ramsey Episode 4 Betting Odds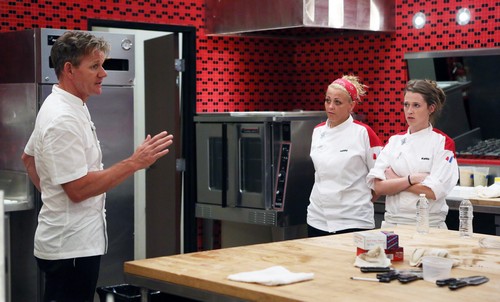 –'Hell's Kitchen' hosted by Chef Gordon Ramsay is entering it's 17th season on Fox.
–The season 17 winner will become head chef at the new Gordon Ramsay Hell's Kitchen Restaurant at Caesar's Palace in Las Vegas.
–Episode 4 of 'Hell's Kitchen' Season 17 will air on October 20, 2017 at 8:00 PM Eastern on Fox
Professional cooking has long been a male dominated profession. That's somewhat ironic considering that the traditional role of 'food preparation specialist' in the family unit of most cultures has been reserved for women. Back before Whole Foods delivered the basic concept was that the men hunted the food and brought it home where the women prepared and served it. When humans evolved to the point that they started serving food to other people and taking dinner reservations that all changed.
This is particularly true at the highest levels of the culinary profession. The Michelin Star has long been the most sought after symbol of excellence among professional chefs. Chef Gordon Ramsey may come off as a 'made for TV' blowhard but he's got 16 Michelin Stars. That's no joke. Joël Robuchon has 30+, Alain Ducasse has twenty or meaning that Chef Ramsey is in pretty impressive company. In any given year, somewhere between 1% and 5% of Michelin Stars are awarded to women. It's easy to suggest as many have that the Michelin oversight body is sexist or living in the past. There may some truth to that but in many ways they're just the 'messenger'. While it's hard to pin down a definitive number in the United States only 4.75% of chefs and head cooks are female. The situation is a little better in Europe (which has always taken food more seriously anyway)and in London, for example, 20% of chefs/head cooks are female. Keep in mind that these figures represent *all* restaurants. The number of female head chefs at elite dining establishments worldwide make up a significantly lower percentage than these overall numbers.
While the mainstream media's response to this has been predictable–denigrate the concept of the Michelin Star and minimize its significance–the big picture is a bit more complex. There are plenty of talented female chefs throughout the world. Furthermore, the growth of fine dining in America is usually accredited to Julia Child. She's the Louis Armstrong of the culinary world and brought French cuisine to 'flyover country'. The point of all this? There's definitely a male dominated culture in a professional kitchen but that doesn't mean that women can't succeed there.
A BAD DAY FOR THE DISTAFF AGAIN
Having said all that, the Red Team on the current season of 'Hell's Kitchen' is setting the cause of women in the culinary profession back 100 years. Were that not bad enough, they're doing it in a way that validates every cliche about why females aren't successful in a professional kitchen–they can't get along, they have ongoing feuds, they try to backstab their rivals, they're disorganized, they're careless and the most unforgivable sin of all–they're not focused. The contestant eliminated from Episode 3 was Ashley Nickell who until now had been reasonably capable despite the overall struggles of the Red Team. In our previous writeup I had her as a +900 choice to win it all and a +2500 choice to be eliminated. In Episode 3, she clearly didn't have her 'head in the game' and was all but eliminated when Chef Ramsey caught her looking at her watch and banished her from the kitchen. It's hard to blame him and the rest of the Red Team catches a break and gets a reprieve from at least one more week.
The Red Team is struggling so badly in the service phase of the contest that I've adjusted the odds accordingly in both the 'To Win' market and the Week 4 markets. Interestingly, the favorite to win the season is Dana Cohen who along with Michelle Tribble have done a decent job of staying out of the way–and avoiding the wrath of Chef Ramsey–as the rest of the Red Team implodes. Their strategy now has to be just hanging around until the teams are combined. With the Blue Team performing very well and little to suggest that the Red Team will turn things around anytime soon that's really their only hope. Likewise, I've adjusted the odds of all of the male contestants accordingly due to the high competitive level of the Blue Team right now.
Here are the odds to win the overall Season 17 competition along with odds for Episode Four:
HELL'S KITCHEN SEASON 17 BETTING ODDS
TO WIN HELL'S KITCHEN SEASON 17
Dana Cohen: +350
Josh Trovato: +500
Giovanni Filliponi: +500
Milly Medley: +600
Michelle Tribble: +900
Jared Bobkin: +1500
Nick Peters Bond: +1500
Jennifer Normant: +1750
Elise Harris: +1750
Van Hurd: +1750
Benjamin Knack: +1750
Barbie Marshall: +2500
Manda Palomino: +2500
Robyn Almodovar: +2500
GENDER OF HELL'S KITCHEN SEASON 17 WINNER
Male: -125
Female: +105
GENDER OF HELL'S KITCHEN SEASON 17 FINAL TWO
Male/Male: +115
Male/Female: +130
Female/Female: +175
WILL ANY CHEF WITHDRAW FROM THE SEASON 17 COMPETITION?
Yes: -180
No: +150
WILL ANY CHEF WITHDRAW FROM THE SEASON 17 COMPETITION MID-SERVICE?
Yes: +500
No: -650
HELL'S KITCHEN SEASON 17 EPISODE 4 BETTING ODDS
TO BE ELIMINATED IN EPISODE 4
Robyn Almodovar: +500
Barbie Marshall: +500
Elise Harris: +650
Manda Palomino: +650
Jared Bobkin: +700
Benjamin Knack: +1000
Nick Peters Bond: +1000
Van Hurd: +1500
Jennifer Normant: +1700
Milly Medley: +2500
Giovanni Filliponi: +2500
Michelle Tribble: +2500
Josh Trovato: +2500
Dana Cohen: +2500
No One Eliminated: +2500
TO BE BOTTOM TWO BUT SAFE IN EPISODE 4
Elise Harris: +350
Manda Palomino: +500
Robyn Almodovar: +500
Barbie Marshall: +850
Jennifer Normant: +1250
Nick Peters Bond: +1250
Jared Bobkin: +1500
Benjamin Knack: +1500
Van Hurd: +1500
Josh Trovato: +1850
Michelle Tribble: +1850
Giovanni Filliponi: +1850
Milly Medley: +2500
Dana Cohen: +2500
No One Bottom Two/Safe: +2500
WILL ANYONE BE ELIMINATED DURING SERVICE?
Yes: +180
No: -210
WHO WILL WIN SERVICE CHALLENGE?
Red Team: +225
Blue Team: -350
No One: +500
WHO WILL WIN REWARD CHALLENGE?
Blue Team: +110
Red Team: -135
No One: +400
HELL'S KITCHEN EPISODE 4 RATING
Over 1.05: +110
Under 1.05: -130
HELL'S KITCHEN EPISODE 4 SHARE
Over 4.5: +180
Under 4.5: -210
HELL'S KITCHEN EPISODE 4 VIEWERSHIP
Over 3.65 million: -130
Under 3.65 million: +110