Hell's Kitchen Season 17 with Gordon Ramsey Episode 3 Betting Odds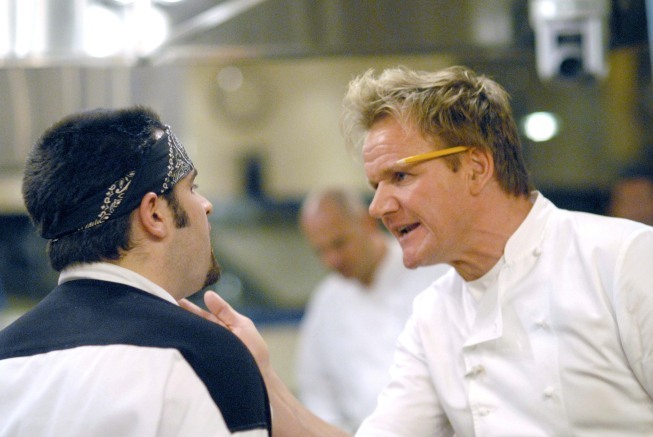 –'Hell's Kitchen' hosted by Chef Gordon Ramsay is entering it's 17th season on Fox.
–The season 17 winner will become head chef at the new Gordon Ramsay Hell's Kitchen Restaurant at Caesar's Palace in Las Vegas.
–Episode 3 of 'Hell's Kitchen' Season 17 will air on October 13, 2017 at 8:00 PM Eastern on Fox
After a relative uneventful season debut of 'Hell's Kitchen' we had our first elimination in Episode 2. Portly Ben Walanka was sent home not so much for his performance in the kitchen but rather his problematic health. Walanka is just 5'9″ but my man has to be in excess of three bills. During the show he informs the rest of the cast that he's recently been diagnosed with diabetes. He makes a trip to the medic midshow but clearly is a mess physically. He practically collapses in the kitchen several times and this was not lost on Chef Ramsey who said that he didn't think that Ben could 'go the distance'. You've got to feel bad for the guy since he clearly tried to gut it out but his body simply wasn't willing.
'Big Ben' was our co-second choice to be eliminated this week at +650 along with Jared Bobkin and Benjamin Knack. He was one of six contestants at +2500 in our 'to win' market which represents the highest odds in the competition. Catching a break this week is Manda Palomino who *would* have been eliminated based on the vote of her peers. Also in jeopardy was Elise Harris who 'lost it' on the meat station and received two votes for elimination to Manda's three. For scoring purposes, this makes Manda 'bottom two but safe' for the week and doesn't bode well for her fortunes going forward.
A BAD DAY FOR THE DISTAFF
In reality, none of the Red Team (the female contestants) had anything to cheer about. The Blue Team (the male contestants) flat out dominated them in dinner service. At one point, Chef Ramsey notes to the Blue Team that he has "never seen proteins cooked with such perfection". Things get so bad for the Red Team that Chef Ramsey sends Giovanni Filipponi over to help. Giovanni comes over to cook some NY strip steaks but eventually realizes that he desperately needs to get some order in the kitchen. This makes Elise Harris unhappy that Giovanni is 'telling her what to do'. Eventually, Ramsey makes the Red Team apologize to their tables (including 'American Idol' Season 6 winner Jordin Sparks). The pitiful showing continues until Ramsey kicks the Red Team out of the kitchen and is forced to apologize to Ms. Sparks for their shoddy performance. During the elimination process Ramsey notes that he had 'All Stars' on the Blue Team and 'no real stars' on the Red Team.
The bumbling Red Team catches a break after Chef Ramsey decides to send Ben home for his own good but given their overall attitude and demeanor in the kitchen it won't be a surprise if they continue to flatline:
The trip back to the contestant's quarters is anything but quiet. Robyn and Elise are at each other's throats. Was anyone else waiting for it? The fact that they were working well together almost gave me hives! Elise begins to mouth off about how she is in the top four on the Red Team and will use this a fuel to do better than her competition. Okay, she actually was in the top four during the challenge, but Robyn takes this personally and the yelling match begins. Could it be that Elise is making sense and Robyn simply jumped to a heated conclusion? Quick! Someone find her Tiger's Eye. We need answers.
THESE ARE 'ALL STARS'?
Season 17 is an 'All Star' show with every contestant being a 'black jacket' from a previous season. The two team format doesn't continue throughout the competition. Once the contestants are cut down to five or six they're combined into one team and so designated with black jackets. In theory, this should create a higher level of competition since they've all been through this process before. Or so you would think–and particularly with the 'grand prize' for the show is a cushy kitchen gig. The winner of the competition will be offered the gig as head chef at the soon-to-open Hell's Kitchen restaurant at Caesars Palace in Las Vegas.
The bumbling of the Red Team shouldn't suggest that they don't have any competent members. Interestingly, one of the Red Team is my current favorite to win Season 17 (Dana Cohen). Cohen was serving apps tableside and thus out of the 'line of fire' so the Red Team's implosion shouldn't hurt her chances. The problem is that while she 'held serve' several other challengers gained ground on her atop the official SPORTS BETTING EXPERTS odds table. Josh Trovato is still second choice though he received a mild rebuke from Chef Ramsey who grumbled about him being 'slow' during appetizer service. Definitely not enough to downgrade him. Giovani Filliponi moves up a bit–his selection by Chef Ramsey to try and clean up the mess in the Red Kitchen suggests that his ability is appreciated. It wasn't his fault that he was unable to salvage the situation. Milly Medley won the bar menu item competition and received immunity from elimination in Episode 2. His 'glorified poutine' of hand-cut French fries topped with a lobster cheese sauce looked very tasty. That bumps him up a bit and he's now the #4 selection to win at +750. Ashley Nickell performed well here with a polenta cake with tequila, lime and marinated shrimp as did the aforementioned Dana Cohen who served up a beer battered lobster tempura taco. Michelle Tribble was a 'finalist' in the bar item competition with a lobster shrimp sausage. She wasn't exactly a gracious loser–after she's named the runner up she snarks that Milly 'falls back on things he has done a thousand times already'. That's a somewhat silly critique. Creativity and innovation are good qualities for a chef but there's also something to be said for repetition–doing the same thing over and over until it reaches a level of perfection.
Elise Harris was arguably the 'weakest link' for the Red Team and even more problematic was her unprofessional and arrogant behavior in the kitchen. Barbie Marshall and Elise appear to have some sort of 'alliance' going on. Barbie does her part and votes for Manda–had Chef Ramsey not decided to send 'Big Ben' home that would have been the deciding vote. After the vote Elise dismisses the two votes against her as being indicative that her teammates 'consider her a threat'. Great attitude there. Harris has her own business and bills herself as the 'Diva Chef'. She doesn't seem to have taken Ramsey's Season 9 suggestion to 'stop being a bitch' to heart. Maybe she's thinking that she won't win so she's going to make some noise to help her gain more notoriety. At any rate, it's amazing that she was able to make it to the Finals of Season 9 despite her antics. Good for her succeeding with her own business and particularly since she sure doesn't show the professionalism necessary to work in a high level restaurant. To be fair, she might not want that and is doing very well in her chosen niche. At any rate, she's been dropped from a +750 fourth choice to win down to the co-seventh choice at +1500.
Here are the odds to win the overall Season 17 competition along with odds for Episode Three:
HELL'S KITCHEN SEASON 17 BETTING ODDS
TO WIN HELL'S KITCHEN SEASON 17
Dana Cohen: +350
Josh Trovato: +600
Giovanni Filliponi: +600
Milly Medley: +750
Ashley Nickell: +900
Michelle Tribble: +900
Jared Bobkin: +1500
Elise Harris: +1500
Nick Peters Bond: +1750
Jennifer Normant: +1750
Van Hurd: +2500
Benjamin Knack: +2500
Barbie Marshall: +2500
Manda Palomino: +2500
Robyn Almodovar: +2500
GENDER OF HELL'S KITCHEN SEASON 17 WINNER
Male: +105
Female: -125
GENDER OF HELL'S KITCHEN SEASON 17 FINAL TWO
Male/Male: +225
Male/Female: +105
Female/Female: +115
WILL ANY CHEF WITHDRAW FROM THE SEASON 17 COMPETITION?
Yes: -150
No: +130
WILL ANY CHEF WITHDRAW FROM THE SEASON 17 COMPETITION MID-SERVICE?
Yes: +500
No: -650
HELL'S KITCHEN SEASON 17 EPISODE 3 BETTING ODDS
TO BE ELIMINATED IN EPISODE 3
Robyn Almodovar: +500
Jared Bobkin: +650
Elise Harris: +750
Manda Palomino: +750
Benjamin Knack: +1000
Nick Peters Bond: +1000
Barbie Marshall: +1500
Van Hurd: +1500
Milly Medley: +2500
Ashley Nickell: +2500
Giovanni Filliponi: +2500
Jennifer Normant: +2500
Michelle Tribble: +2500
Josh Trovato: +2500
Dana Cohen: +2500
No One Eliminated: +2500
TO BE BOTTOM TWO BUT SAFE IN EPISODE 3
Jared Bobkin: +500
Elise Harris: +500
Manda Palomino: +750
Robyn Almodovar: +750
Barbie Marshall: +900
Nick Peters Bond: +1250
Jennifer Normant: +1250
Benjamin Knack: +1500
Van Hurd: +1500
Josh Trovato: +1750
Michelle Tribble: +1750
Giovanni Filliponi: +1750
Milly Medley: +2500
Ashley Nickell: +2500
Dana Cohen: +2500
No One Bottom Two/Safe: +2500
WILL ANYONE BE ELIMINATED DURING SERVICE?
Yes: +180
No: -210
WHO WILL WIN SERVICE CHALLENGE?
Red Team: +175
Blue Team: -250
No One: +450
WHO WILL WIN REWARD CHALLENGE?
Blue Team: -150
Red Team: +135
No One: +325
HELL'S KITCHEN EPISODE 3 RATING
Over 1.05: +110
Under 1.05: -130
HELL'S KITCHEN EPISODE 3 SHARE
Over 4.5: +180
Under 4.5: -210
HELL'S KITCHEN EPISODE 3 VIEWERSHIP
Over 3.65 million: -130
Under 3.65 million: +110