Hell's Kitchen Season 17 with Gordon Ramsey Episode 2 Betting Odds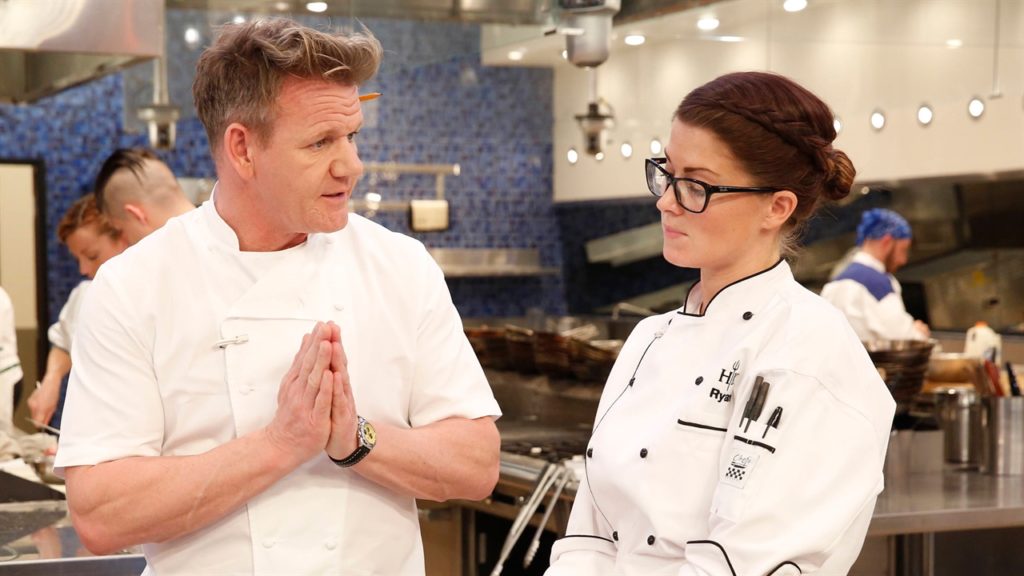 –'Hell's Kitchen' hosted by Chef Gordon Ramsay is entering it's 17th season on Fox.
–The season 17 winner will become head chef at the new Gordon Ramsay Hell's Kitchen Restaurant at Caesar's Palace in Las Vegas.
–Episode 2 of 'Hell's Kitchen' Season 17 will air on October 6, 2017 at 8:00 PM Eastern on Fox
Not a lot happened in Episode 1 of 'Hell's Kitchen'. No one was eliminated, the Blue Team won the challenge which got them a night out on the Las Vegas Strip and dinner at Wolfgang Puck's steak house CUT. Robyn Almodovar completely sketched her salmon dish and that's put her at the top of 'elimination' betting odds market for Episode 2. Chef Ramsay closes the show by announcing the next challenge which is to design an item for the new Hell's Kitchen bar menu. The winner of the menu competition gets dinner service immunity. The previews for Week 2 show a lot of mayhem in the kitchen including a pissed off Chef Ramsay smashing a improperly cooked piece of salmon with his bare fist.
Since there wasn't much that transpired in Episode 1 I've made only a few minor odds adjustments for the second episode. I'll re-print my season preview writeup and we'll start with more in depth coverage and analysis after Episode 2:
HELL'S KITCHEN IS A DMZ
(With apologies to The Cult for co-opting the lyric from 'New York City' off of their classic album 'Sonic Temple). Hell's Kitchen, like many other US reality shows, began as a series on European TV, in this case airing on ITV in Great Britain. Celebrity chef Gordon Ramsey hosted the first season of the UK variant but would then bring his act to the United States. He has hosted the US adaptation since the beginning and leveraging his considerable skills in the kitchen (he's a legit multiple Michelin star chef) has built a dining empire all around the world. In addition to a huge dining group he oversees in London he's got a number of properties throughout Europe, North America (primarily in Las Vegas) and Asia. The fame he's achieved on television has no doubt helped to keep the tables full.
Ramsey's gimmick is the stereotypical meticulously humourless hardass chef. His trademark soulless glare (see the featured picture accompanying this article) reminds me of the early days of WWE legend 'The Undertaker'. He comes off as a one dimensional character from 'The Flintstones' but it works great on television in this context. Interestingly enough, the real life Ramsey is completely different–his friends and co-workers describe him as an outgoing, downright charming fellow who is quick to provide the contestants on 'Hell's Kitchen' with professional advise and constructive criticism off camera. Of course, no one wants to tune in to watch that so he's careful to maintain 'his gimmick' once the videotape starts rolling.
THE FORMAT OF THE SHOW
The format of the show is very familiar to anyone who has watched reality television. There's a group of aspiring contestants that are eliminated throughout the season based on their performance and through a variety of 'challenges'. The challenges are an exaggerated version of what life is like in a professional kitchen with Ramsay providing close and hypercritical attention throughout the process. The winners of the challenges get some kind of reward, the losers are given some sort of menial kitchen task. The climax of the show is dinner service with each of two teams working in their kitchen to get food cooked and on the table. If they screw up too many times, Chef Ramsay will kick them out of the kitchen before they're done. Once the contestants are cut down to five or six they're combined into one team and so designated with black jackets.
Season 17 is an 'All Star' show with every contestant being a 'black jacket' from a previous season. In theory, this should create a higher level of competition since they've all been through this process before. The winner of the competition will be offered the gig as head chef at the soon-to-open Hell's Kitchen restaurant at Caesars Palace in Las Vegas.
Here are the odds to win the overall Season 17 competition along with odds for Episode One. We'll be back to update these numbers on a weekly basis after the show kicks off September 29 on Fox:
HELL'S KITCHEN SEASON 17 BETTING ODDS
TO WIN HELL'S KITCHEN SEASON 17
Dana Cohen: +350
Josh Trovato: +600
Giovanni Filliponi: +750
Elise Harris: +750
Milly Medley: +900
Ashley Nickell: +900
Michelle Tribble: +900
Jared Bobkin: +1500
Nick Peters Bond: +1750
Jennifer Normant: +1750
Van Hurd: +2500
Benjamin Knack: +2500
Barbie Marshall: +2500
Manda Palomino: +2500
Ben Walanka: +2500
Robyn Almodovar: +2500
GENDER OF HELL'S KITCHEN SEASON 17 WINNER
Male: +115
Female: -135
GENDER OF HELL'S KITCHEN SEASON 17 FINAL TWO
Male/Male: +215
Male/Female: +105
Female/Female: +125
WILL ANY CHEF WITHDRAW FROM THE SEASON 17 COMPETITION?
Yes: -150
No: +130
WILL ANY CHEF WITHDRAW FROM THE SEASON 17 COMPETITION MID-SERVICE?
Yes: -650
No: +500
HELL'S KITCHEN SEASON 17 EPISODE 2 BETTING ODDS
TO BE ELIMINATED IN EPISODE 2
Robyn Almodovar: +350
Jared Bobkin: +650
Ben Walanka: +650
Benjamin Knack: +650
Nick Peters Bond: +1250
Barbie Marshall: +1500
Van Hurd: +1500
Giovanni Filliponi: +1750
Milly Medley: +1750
Elise Harris: +1750
Ashley Nickell: +2500
Jennifer Normant: +2500
Manda Palomino: +2500
Michelle Tribble: +2500
Josh Trovato: +2500
Dana Cohen: +2500
No One Eliminated: +2500
TO BE BOTTOM TWO BUT SAFE IN EPISODE 2
Ben Walanka: +450
Nick Peters Bond: +600
Michelle Tribble: +700
Josh Trovato: +950
Barbie Marshall: +950
Robyn Almodovar: +950
Elise Harris: +1350
Jared Bobkin: +1750
Benjamin Knack: +1750
Van Hurd: +1750
Giovanni Filliponi: +1750
Milly Medley: +2500
Ashley Nickell: +2500
Jennifer Normant: +2500
Manda Palomino: +2500
Dana Cohen: +2500
No One Bottom Two/Safe: +2500
WILL ANYONE BE ELIMINATED DURING SERVICE?
Yes: +210
No: -250
WHO WILL WIN SERVICE CHALLENGE?
Red Team: -175
Blue Team: +150
No One: +350
WHO WILL WIN REWARD CHALLENGE?
Blue Team: -130
Red Team: +125
No One: +300
HELL'S KITCHEN EPISODE 2 RATING
Over 1.05: -130
Under 1.05: +110
HELL'S KITCHEN EPISODE 2 SHARE
Over 4.5: +130
Under 4.5: -150
HELL'S KITCHEN EPISODE 2 VIEWERSHIP
Over 3.35 million: -130
Under 3.35 million: +110