Lions Underdogs as They Travel to Minnesota for First NFC North Matchup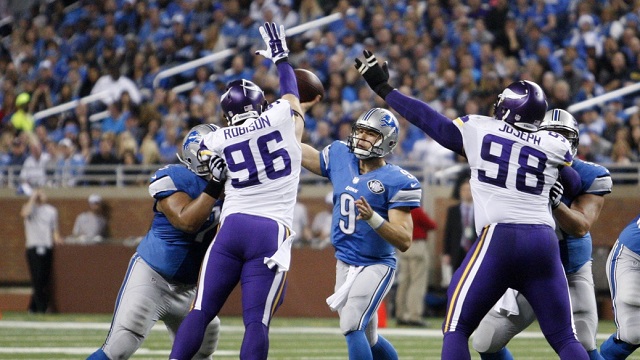 Who: Detroit Lions v. Minnesota Vikings
When: Sunday October 1st, 2017 1:00PM EST
Where: US Bank Stadium—Minneapolis, Minnesota
The Lions and the Vikings will meet for their respective first divisional matchup in Minneapolis on Sunday, and it is making for an interesting matchup. After Sam Bradford went down with an injury in Week 2, what were already slim hopes of making the playoffs got even slimmer for the Vikings' faithful. Despite this, the Vikings came out last week and put forth a dominant display in front of their home fans against the Tampa Bay Buccaneers; a team that is expected to do well this year. An untested, unproven quarterback came out and put forth a great performance, and the defense stepped up to the plate as well. While that win will be one fans remember for some time, fans are now wondering whether that was a glimpse of what is to come, or simply a one-week fluke.
As for the Lions, the season has gone fairly well up to this point. They will be entering this game on the back of a 4-point loss to the hands of the 2017 Super Bowl runners-up, Atlanta. While that loss will undoubtedly hurt, the Lions have not really played a bad game up to this point. Weeks 1 and 2 went about as well as they could have hoped for against the Giants and the Cardinals, and it seems as though they are clicking well, especially for how early in the season it is. The NFC North is always a hotly contested division, and that seems to be truer this year than it has in most recent years.
I think we will see both teams pull out all the stops for this one, but the real focus will be on Vikings' quarterback Case Keenum, and whether he can replicate Week 3's performance, or it he will succumb to the pressure of divisional play.
Game Overview and Analysis
The -2 (-115) Vikings (-134) are entering this game as slight favorites, and I think it has everything to do with the fact that they are playing at home. As a quick aside, there are few divisions in the NFL where all 4 teams have incredibly tough home venues, but that is exactly what you get in the NFC North. The Vikings, now in their 2nd year at US Bank Stadium, have ridden the home crowd to unlikely victories before, and that is a huge part of the reason why they are being favored in this one.
Case Keenum seems to be the source of a lot of hype after his performance last week, which saw hime throw for 369 yards and 3 touchdowns. As was mentioned above, no one expected Keenum to come out and play like he did, so that was a pleasant surprise. Helping Keenum to some extent was the play of the offensive line, who was leading the way for Dalvin Cook. Cook managed to grind out 97 yards rushing and 1 touchdown last week. For me, if the Vikings offense can replicate last week's performance I think they will be giving themselves a good chance at emerging victorious. I think their defense has been playing well enough to keep the Lions in check, so for me it really all comes down to the play of the Minnesota offense.
When it comes to the +2 (-105) Lions (+114), Matt Stafford has been and continues to be the heart of their offense. In last week's loss to the Falcons, he accrued more than 260 yards passing and had a single touchdown. At face value, this seems like a solid outing, but when you dig deeper you will see that he only went 25-45 passing, missing nearly as many passes as he connected on. The Falcons and Vikings defenses are comparable, and if he does that this week he runs the risk of losing a second consecutive game. What's more, the Lions do not have much of a rushing attack. In fact, through 3 games the Lions have not scored a single rushing touchdown, and no running back is averaging more than 3.5 yards per carry. I think the Lions' defense can hold their own, especially against Case Keenum, so it will all come down to whether or not Matt Stafford can take care of business.
Betting Prediction
As for the moneyline you should take, I think you have to go with the Lions (+114). Despite their lack of a running attack, I think Matt Stafford will be more than enough to overcome the Vikings. What's more, I love the odds now that the Lions are being labeled as underdogs.
If I like the moneyline as offered by BetOnline, I am absolutely in love with the point spread, which sees the Lions as +2 (-105) underdogs. I think if the Lions are going to win they should easily be able to cover that spread.
Finally, you have the over/under, which is listed at 43 (-105/-115). I think both of these offenses are good enough to get points on the board, and for that reason alone I think you should go with the over (-105).