Heavy Underdogs Northwestern travel to (10) Wisconsin to Face Badgers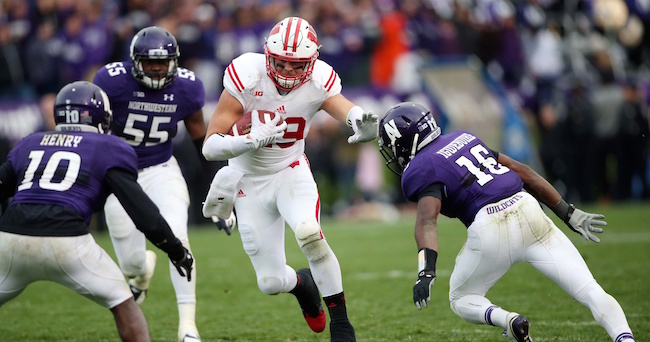 Who: Northwestern v. (10) Wisconsin
When: Saturday September 30th, 2017 12:00PM EST
Where: Camp Randall Stadium—Madison, Wisconsin
When the Northwestern Wildcats and Wisconsin Badgers meet on Saturday, they will not only be opening up their respective Big Ten schedules, but also renewing one of the most storied rivals in the conference. This year, as has been the case in most recent years, Wisconsin is considered to be a vastly more talented side than the gentleman donning purple and white. While this is difficult to argue, a rivalry game such as this one means that you can throw expectations out the window. There are other Big Ten conference openers happening on Saturday, but this one has to be the most eagerly anticipated.
Northwestern will be entering this game after a non-conference schedule that had a few ups and a single, more noteworthy down. Prior to their bye weekend last weekend, Northwestern hosted Bowling Green (from Ohio) and absolutely thrashed them by a final score of 49-7. While that win was great, it was also a game that Northwestern were fully expected to win. What critics will point to is not their most recent game, but rather the game that preceded it. Their visit to Duke resulted in an unexpected 41-17 loss and that was shocking primarily because most people anticipated that Northwestern would travel down to Carolina and absolutely hammer the Blue Devils. When the dust had finally settled, it was clear to see that the exact opposite happened. I think that might have simply been a one-off and not necessarily indicative of the Northwestern team we are going to be seeing on Saturday.
Wisconsin started their season with 3 straight wins before last week's bye, and there is little to scoff at when it comes to their first month of the season. To put into perspective just how well Wisconsin's defense has been playing, they have only allowed a total of 3 touchdowns through their first 3 games. During that same timeframe, their offense has accounted for exactly 130 points. Though the teams they are playing are of no special level of talent, they have done exactly what was expected of them.
Game Overview and Analysis
The +14.5 (-102) Northwestern Wildcats (+475) will march into Madison knowing that not only are they not expected to win, they are expected to be absolutely dismantled. In order to stop that, the men from Chicago will turn to the experience inherent in their senior running back, Justin Jackson. Jackson is averaging just shy of 5 yard per carry and has already accounted for 4 touchdowns on the ground. In addition to this, he has accrued just shy of 100 yards receiving and has proven himself to be a dual threat of sorts. Though he was all but shutdown during the pounding Northwestern took at the hands of Duke, he rushed for over 100 yards in both of his other 2 appearances.
For me, however, this game will be less about the Northwestern offense and much more about their defense. We have already seen that the Wildcats struggle on the road, so they will be looking to reverse that in this game. When it comes down to it, however, I do not think the Wildcats' chances of turning this game into a positive outcome are very great.
As for the -14.5 (-118) Wisconsin Badgers (-600), they will be eager to get their conference schedule underway. While the Wildcats will look to their veteran running back, the Badgers will look to a freshman to take a bulk of the carries. Freshman Jonathan Taylor has stormed out of the gates through the early runnings of this season, and he is causing a lot of other Big Ten teams to pay attention. He has already accrued nearly 500 yards and 5 touchdowns through 3 games, and has run rampant over opposing defenses. If Northwestern are unable to shut him down, they run the risk of being exposed on the ground and through the air. After all, Wisconsin are fully expected to run the table in conference play, and I am not convinced Northwestern will be able to prevent that from happening.
I really like Wisconsin in this one mostly because they are the better team, but also due to the fact that Madison is scarcely good to visiting teams.
Betting Prediction
As far as a moneyline wager is concerned, I think you have to go with Wisconsin (-600), but as is the case with so many football games the odds are atrocious. Undoubtedly, I think the Badgers are going to win this game, but whether or not you take the moneyline has to come down to your assessment of risk vs. reward.
The -14.5 (-118) point spread facing Wisconsin is an interesting one. I tend to hate spreads that are more than 2 touchdowns, but seeing as what happened to Northwestern when they traveled to Duke, I cannot be convinced that their fate in Wisconsin will be any better.
Finally, there is the over/under, which is listed by BetOnline at an even 48 points (-110/-110). If Northwestern can even get one score on the board I think this will go over (-110) easily.