10 Reasons why Philadelphia 76ers Won't Finish .500 in 2018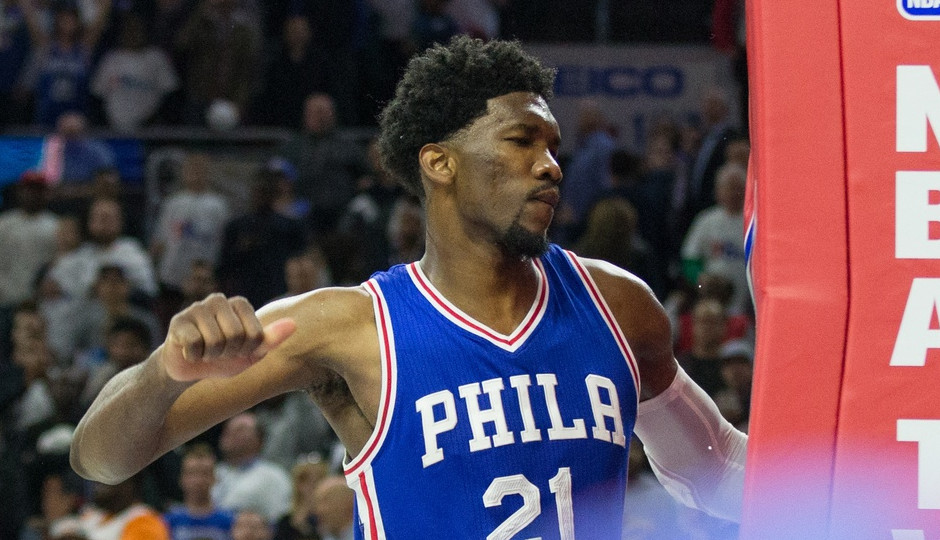 The story with the Philadelphia 76 over the past few years has been "The Process."
Former general manager Sam Hinkie embarked on a quest to get as many draft picks and young, talented players as he could.
The result is a lot of high picks who've shown serious potential.  But some people are overrating this potential by picking the Sixers to finish around .500.
While I think that Philadelphia will be good eventually, they are too raw to be good this year. And here are 10 reasons why the 76ers are set to struggle in the 2017-18 season.
1. They Can't Shoot
NBA teams are shooting more three-pointers than ever before these days. And the Golden State Warriors and Cleveland Cavaliers are proof that good shooting equals wins.
This is bad news for the Sixers, though, because they're seriously deficient in terms of outside shooting. J.J. Redick is the only really good shooter on the team. The rest of Philadelphia is full of post players and slashers.
When you first get 2K and are figuring out all the controls pic.twitter.com/65Y01FZigY

— Eric Fawcett (@Efawcett7) September 27, 2017
2. The Sixers' One Shooter will be Covered
Redick has been an outstanding three-point shooter for years. He hit 42.9% of his three-pointers last year, and has made 41.5% for his career.
But the problem for Redick this season is that he'll see more attention than in the past. After all, it's not like Philadelphia has anybody else who's a serious three-point threat.
Add in the fact that Redick is 33 this year, and he won't have the same success he had with the LA Clippers.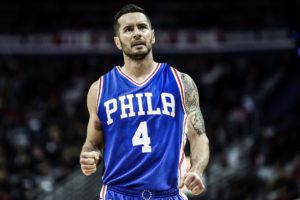 3. The Team is Too Young
The NBA is a grown man's league. This bodes poorly for the Sixers because they have one of the youngest rosters in the league.
Their projected starters and top bench players include:
PG: Markelle Fultz – 19
SG: J.J. Redick – 33
SF: Robert Covington – 26
PF: Ben Simmons – 21
C: Joel Embiid – 23
Bench: Dario Saric – 23
Bench: Jahlil Okafor – 21
Bench: Nik Stauskas – 24
Bench: T.J. McConnell – 25
Most of the key contributors on the team are in their early-to-mid 20s. This means that they need plenty of seasoning before reaching their full potential.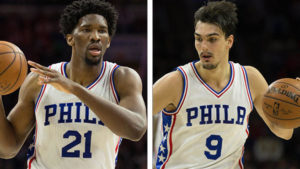 4. Joel Embiid Has Yet to Stay Healthy
Joe Embiid showed that he has All-Star potential when healthy. Of course, "healthy" is the key word here because Embiid has only played 31 games in his 3-year career.
All 31 of these games came last year. And while Embiid certainly flashes potential, he must last an entire season for the Sixers to win.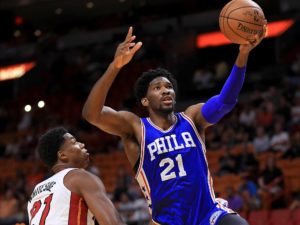 5. Ben Simmons is Raw
Many are expecting big things from Ben Simmons, who was the top pick of the 2016 Draft. The LSU product didn't get a chance to show what he could do last season due to a foot injury.
This means the 6'10" small forward will suit up for the Sixers in what will be his actual rookie season.
Simmons is a great passer for his size and should do well as a point forward. However, his offensive game is raw and he won't be much of a scorer for a few years.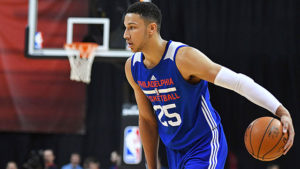 6. Nobody Thinks Markelle Fultz will Win Rookie of the Year
NBA GMs voted on who'll win the Rookie of the Year this season. And surprisingly, nobody voted for the #1 overall pick Fultz. Here's a look at the top vote getters:
Lonzo Ball – 62%
Ben Simmons – 24%
Dennis Smith – 7%
It's nice that Simmons earned a good number of votes. But it's a little disturbing that not one GM voted for Fultz.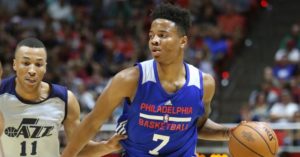 7. Sixers have Little Chemistry
Philadelphia has undergone a lot of roster turnover in the last few years. And while they've gotten some good young players by doing so, this team hasn't had much chance to play together.
That said, I really don't see the 76ers having enough chemistry to play .500 basketball.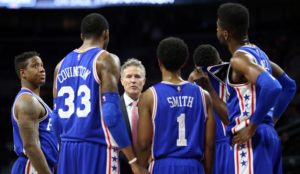 8. Their Defense is Bad
Outside of Embiid, who averaged 2.5 blocks last season, this squad doesn't have much on the defensive end.
First off, they'll be starting a pair of rookies in Fultz and Simmons, who weren't number one picks for their defensive abilities. And sixth man Jahlil Okafor has become legendary for his lack of defense.
9. Richaun Holmes Fractured His Wrist
Backup center Richaun Holmes is starting the year off on a wrong note after fracturing his wrist this month. While a timetable isn't available, this injury will likely sideline Holmes for months.
The 6'10" big man is expected to play important minutes at backup center and power forward this season. And while Holmes isn't a starter, his injury will take away some major frontcourt depth.
10. Sixers Haven't Reached .500 since 2011
Here are the 76ers' win totals over the past few years:
2017 – 28-54
2016 – 10-72
2015 – 18-64
2014 – 19-63
There was an 18-win improvement in the past season. However, even the 28-54 mark is 13 games away from .500. That said, it's hard to see a roster full of young players improving this much without any major free agent additions.