Hapless Buffalo Sabres Finally Cut Loose Head Coach Ralph Krueger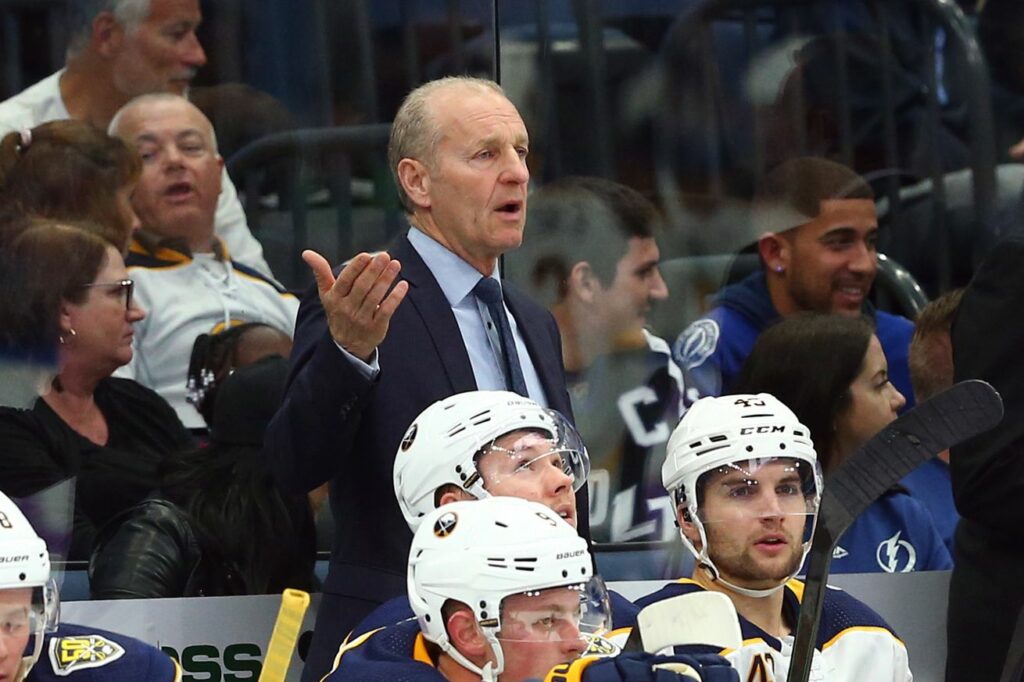 Approximately two weeks ago, Buffalo Sabres GM Kevyn Adams put the entire organization on notice with most of the foreboding reserved for head coach Ralph Krueger. It was definitely justified–at that point the Sabres had won only two of their last twelve games (2-9-1) and were 6-12-3 overall this year.
Despite Adams' media tirade the question in the Buffalo media was a simple one: how is Krueger still employed? The answer to that rhetorical question might have been 'just wait a couple of weeks'. The Sabres haven't won since and are mired in a 13 game losing streak that has dropped their YTD record to 6-19-4. Finally, Kevyn Adams had seen enough and fired head coach Krueger. Assistant Steve Smith has also been fired while assistant Don Granato will take over as interim coach. Sabres development coaches Matt Ellis and Dan Girardi will join Granato behind the bench though neither has NHL coaching experience:
A lot of inexperience but the coach they'll replace definitely had an unorthodox careere path. Krueger spent one year as head coach of the Edmonton Oilers before a six year stint working as the director of Premier League football club Southampton.
And as if the Sabres needed more problems, center Jack Eichel is out indefinitely. Before he left Kruger gave a completely inscrutable explanation of the severity of the injury though in a roundabout way he seemed to say that it wasn't season ending:
"An injury of this nature needs more assessment and more time to understand it. We just know that it will be some time here from shorter all the way to what you've already mentioned , but it's somewhere in between that."
Columnist Mike Harrington asked GM Adams about his message to the players which brought about this response:
"There has to be a pride that goes with putting on a Buffalo Sabres jersey. There has to be a pride of showing up every day and being a National Hockey League player, of looking around and saying, 'I'm one of the 700, 800, or whatever it is in the league, to get to do this every day.' And that has to be something that just is inside you and drives you to be better every single day, to love to look around the City of Buffalo and see Sabres hats and signs and people wearing jerseys. Y ou know, that matters. And that has to be within the DNA of our team."
Adams added this, seeming to indict the players on the current roster as much as the coach:
"I don't care where we are in the standings right now. If we do not show up at the rink tomorrow, and for the rest of the season, and have that characteristic (of pride) about our team, it's going to be unacceptable. And that is going to be a message and something that I'm going to spend time on. And as we evaluate players, and when we scout players, that needs to be part of it. You have to just love to show up every day and want to compete and be a Buffalo Sabre."
The next question–with the situation a mess who would want this job:
Any candidate jumping head first into this raging grease fire will have a plethora of organizational issues to sort out, including such Sabres Greatest Hits as: a mediocre-at-best farm system and prospect pipeline, salary cap and multiple anchor contract issues, revamping a roster with exactly one (1) good player on it, trying to convince that one player to stay long term, a lack of experience to lean on in key spots throughout the organization, owners who like to have their dirty little hands all over everything, etc, etc, etc.
That's an excellent question and the Sabres are going to take their time figuring it out.