10 Reasons why Kyrie Irving Wants to Leave Cavs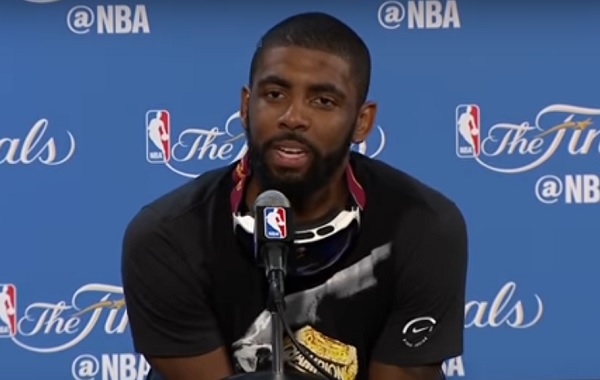 Last week, Kyrie Irving dropped a bombshell on the basketball world by asking the Cleveland Cavaliers to trade him.
Irving has played a key role in the Cavaliers' three straight NBA Finals appearances.
But according to ESPN's Brian Windhorst, the All-Star point guard wants to be traded to either the Miami Heat, Minnesota Timberwolves, New York Knicks, or San Antonio Spurs.
Why does Irving want off of a title-contending team? Find out as we look at 10 reasons below.
1. He Wants to be the Man
When Irving signed his 5-year extension in the 2014 offseason, he did so under the thinking that he'd be the franchise cornerstone.
Two weeks later, LeBron James signed with the Cavaliers rather than re-signing with the Miami Heat.
This did 2 things:
Vaulted the Cavs to championship contenders.
Ensured that James – not Irving – was the team's centerpiece.
It seems that Irving now wants to join/build his own winner somewhere else.
2. James and Irving's Relationship can be "Rocky"
Irving has never had the strained relationship he had with Dion Waiters. But the two aren't as buddy-buddy as Kevin Durant and Steph Curry either.
Here's what he told Cleveland.com in the 2015 season:
"He came up to me and was like, 'One, you can never have another game with no assists,' " Irving said, describing James' words. " 'You can damn near have just one, two, three, but you can't have zero.' And I was like, 'All right, cool, it won't happen again.' And it hasn't happened since that game." …
"I don't want to say it's not been rocky at all," Irving said. "Obviously, he sees the game one way, I see the game another way. What makes it great about being on the team is that we both can see it together in our own way."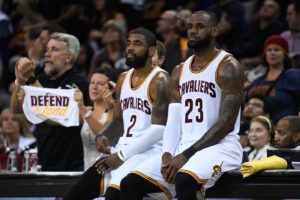 3. Cleveland Isn't Favored to Win
It would be easier for Kyrie to justify staying in Cleveland if they were the favorites to win it all. But they're not.
The Golden State Warriors are largely expected to repeat as champs after dominating Cleveland in the NBA Finals.
If the Cavs are just going to be trounced in the Finals again by the same Warriors core, why not go somewhere different and have some fun?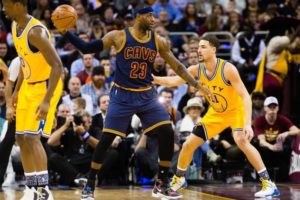 4. Irving is Upset about Being Involved in Trade Talks
The Cavaliers were trying to swing a deal for either Paul George or Jimmy Butler in hopes of catching the Warriors.
The big problem for Irving is that he was sometimes involved in these trade talks.
Cleveland didn't want to get rid of Irving. But they didn't have many other trade chips to offer beyond Kevin Love.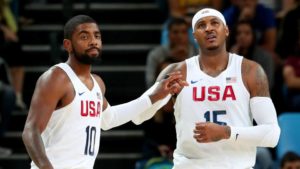 5. James Controls the Narrative
We can't be 100% sure if James will bolt for LA next season. And in the meantime, he has a large input in what happens with the franchise's trades and direction.
If Irving were involved in trade talks for Butler or George, LeBron likely knew about it before Kyrie.
That said, Irving will never have the kind of clout he wants in Cleveland while LeBron is around.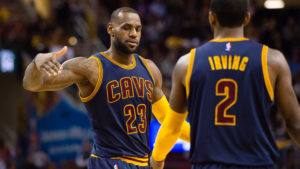 6. Irving Doesn't Like All of the Uncertainty
Continuing on the last point, Irving recently told the media that Cleveland is in a "very peculiar place." He added this quote:
"We just have to, you know, make sure that all our pieces are aligned first, and then we go from there. It's the summertime, a lot of craziness going on in the NBA."
We can take this to mean that Irving is just as perplexed as us when it comes to Cleveland keeping their contending roster together.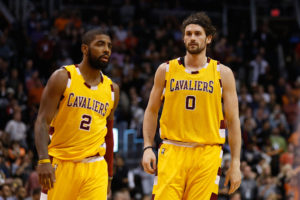 7. He Wants to Play with Jimmy Butler and other T-Wolves
The Bulls recently traded Butler to the Timberwolves. And it's only natural that Minnesota is now on Irving's list of teams because he's friends with Butler.
Butler and Karl-Anthony Towns have been trying to recruit Irving. And it looks like the recruiting has paid off because he wants to play in the Land of 10,000 Lakes.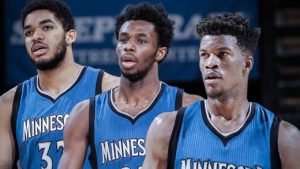 8. Cleveland Got Rid of their GM
GM David Griffin presided over a number of trades that made the Cavs a perennial title contender. And how did owner Dan Gilbert treat a championship general manager?
By lowballing him in contract negotiations and refusing to go along with his vision of reshaping the roster.
Specifically, Griffin wanted to do a deal for Butler, who was then with the Chicago Bulls. But Gilbert wasn't on board.
Irving had a good relationship with Griffin, so it doesn't help that the latter is gone.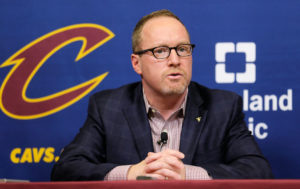 9. Irving didn't Choose to Play with LeBron
As The Vertical's Michael Lee points out, LeBron wanted to play with Irving – not the other way around.
This forced Kyrie into a situation where he tries to balance his desire to be the franchise player, with playing alongside one of the top 2-3 players ever.
10. Cleveland's Core will Break Apart Soon Anyways
The Cavs are/were desperate to catch up to Golden State. And they were considering any kind of move to make it happen.
But sooner or later (probably sooner), LeBron is going to make another big free agent jump, Kevin Love will be traded, and Kyrie will be stuck with aging vets on 4-year contracts.
In Irving's mind, he'd rather get ahead of James leaving in the 2018 offseason.