Top 10 Landing Spots for LeBron James in 2018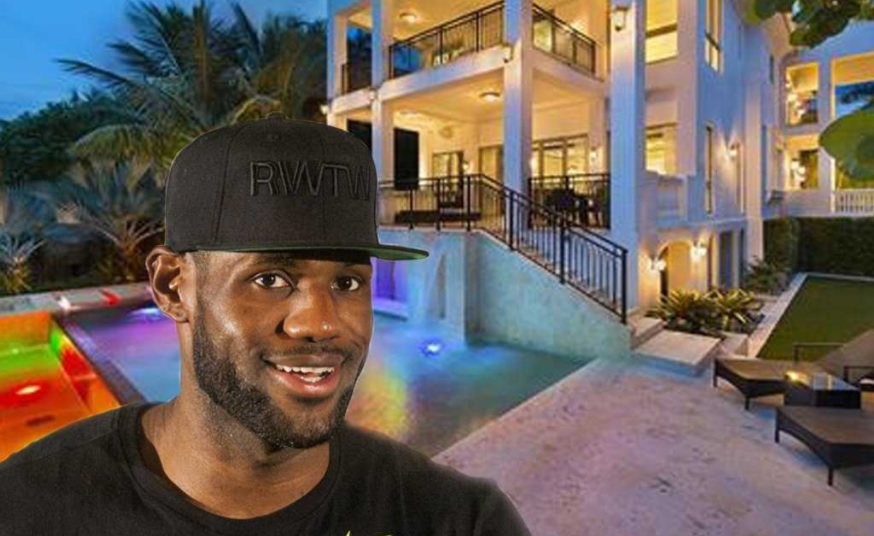 For a team that's made the NBA Finals three straight years, the Cleveland Cavaliers are having quite the dysfunctional offseason.
They swung and missed on trading for Jimmy Butler after Cavs players warned him to stay away.
They've also failed to land other top players like Paul George because Kevin Love's trade value isn't high enough.
But perhaps the toughest pill to swallow of all during Cleveland's offseason involves the rumors surrounding LeBron James.
Will he go to an LA team as rumors suggest when he's a free agent in 2018? Or will he be better off going to a different team?
Let's discuss 10 possible landing destinations for LeBron one year ahead of his 2018 free-agency period – assuming he doesn't re-sign with Cleveland of course.
(Teams w/ Best Chance)
1. LA Lakers
The Los Angeles Lakers have a strong young core that includes Brandon Ingram, Jordan Clarkson, Julius Randle, Lonzo Ball, and Larry Nance Jr.
But these players aren't why LeBron is reportedly interested in the Lakers. Instead…
He has a home in LA.
Living here would make his business pursuits easier.
The Lakers can mortgage these young players and/or use cap space to get superstars.
The latter is key because LeBron doesn't have time to wait on Ingram and Ball to mature.
He needs to win now, which makes it crucial that LA bring in George, Russell Westbrook, and/or any other superstars they can find.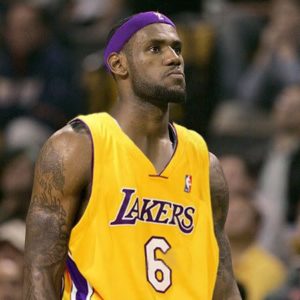 2. LA Clippers
Here's the other option LeBron has often been connected with.
The Clippers are currently much better than the Lakers, and they could contend with King James aboard. Of course, they need to re-sign Chris Paul and Blake Griffin for this to remain true.
A core of Griffin, James, Paul, Jamal Crawford, and Austin Rivers would certainly be formidable. It also doesn't hurt that James and Paul are great friends either.
Above all, the fact that the Clippers are in LA sweetens the deal.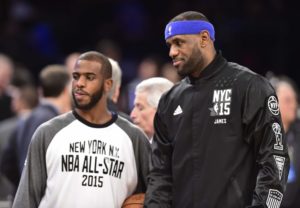 (Teams w/ Outside Shot)
3. San Antonio Spurs
If LeBron James' goal is to really win as many titles as possible – without stooping to the level of signing with Golden State – then there's no better place to do it than San Antonio.
The Spurs have:
A Hall of Fame coach whom LeBron respects.
Fellow MVP candidate Kawhi Leonard.
Great team culture.
Veterans who know how to play.
The Spurs would be an even better landing spot if they get Chris Paul in free agency. Of course, this also means that James would have to take a significant pay cut.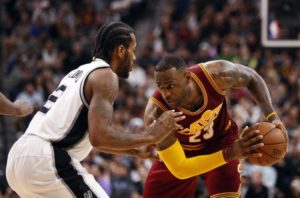 4. Miami Heat
The one big roadblock here is that James and Pat Riley didn't end on good terms when he took his talents away from South Beach.
But then again, LeBron didn't appreciate Cavs owner Dan Gilbert's 2010 letter about him – and he still came back in 2015.
The big thing Miami will have going for it is salary cap space. Bleacher Report estimates that they'll have over $30 million in cap space this offseason.
Assuming they use this money wisely – or don't use it – they could afford James in 2018. Currently, he'd pair with Goran Dragic, Hassan Whiteside, Justise Winslow, and Dion Waiters (if re-signed).
This isn't an immediate championship roster, but it could contend with LeBron and the right additions.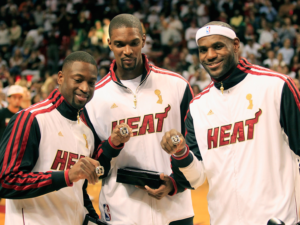 5. Houston Rockets
The Rockets experienced a resurgence under Mike D'Antoni, finishing 55-27 and establishing records for three-point shooting. Some even thought they could give the Warriors a run due to their uptempo style.
But it's clear that Houston isn't a bonafide contender right now since they were handled 4-2 by San Antonio in the conference semis.
With LeBron, they'd immediately step into top-3 status.
Houston should have about $10 million in cap space this summer. But they'd have to move somebody like Ryan Anderson ($19m) and/or Eric Gordon ($12m) during the 2017-18 season to get in James' salary range.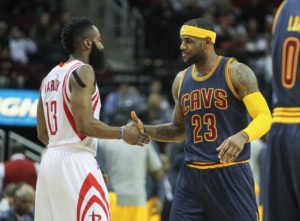 6. Philadelphia 76ers
The biggest reason why we list Philly here is because they have major cap room. Bleacher Report has them with $46.7 million in the 2017 offseason – largely thanks to the talent they have on rookie deals.
The Sixers aren't making any big splashes in free agency, meaning they'll have plenty of money in the 2018 offseason too.
Of course, for LeBron to even consider Philadelphia, they have to take a major step forward. This is a lot to ask from the Ben Simmons/Jalil Okafor/Joel Embiid/Markelle Fultz/Dario Saric squad that's trying to improve upon a 28-54 campaign.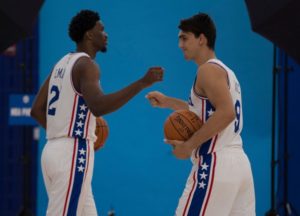 (Teams with a Very Small Chance…But what the Hell, Let's Discuss Them Anyways)
7. New York Knicks
The Knicks are in disarray and LeBron is unlikely to sign with them. But they do have almost $14 million in cap space right now and a few good pieces.
One is 7'3″ Latvian big man Kristaps Porzingis, who made big strides in his second year. And center Willy Hernangomez showed promise in his rookie season.
Then there's LeBron's friend, Carmelo Anthony, who's still playing well enough to average over 20 PPG.
But the problem is that New York is a toxic situation right now that doesn't look to be any more attractive next offseason.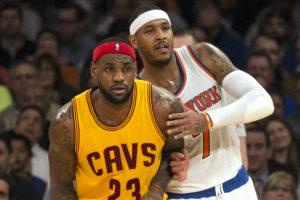 8. Minnesota Timberwolves
The T-Wolves finally got a proven winner on their squad in Jimmy Butler. He fits nicely along with their young core of Ricky Rubio, Karl-Anthony Towns, and Andrew Wiggins.
Minnesota has $10.6 million in cap space now, but the tough thing will be working out extensions with Wiggins this offseason, and Towns in 2018.
LeBron would have to take a pay cut to play with this young squad. And it might be worth it if the Wolves show major promise in the 2017-18 season.
But not only does this have to happen, but also the extensions and having enough money to land LeBron.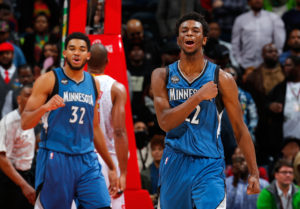 9. Boston Celtics
Boston still has a lot of options thanks to young players, high draft picks in upcoming years, and an already talented nucleus.
Currently, they're shopping for players like Jimmy Butler, Paul George (both through trades), and Gordon Hayward (free agent).
Danny Ainge's hope is that he can pick up two of these players. But if he only picks up one or zero, then maybe they throw everything at LeBron, including all the promise that Boston's future brings.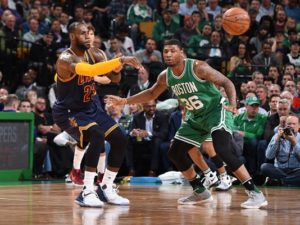 10. Golden State Warriors
Hey, why not!? Everybody else is joining them looking for rings.