Wrestlemania 37 Will Relocate From Los Angeles To Tampa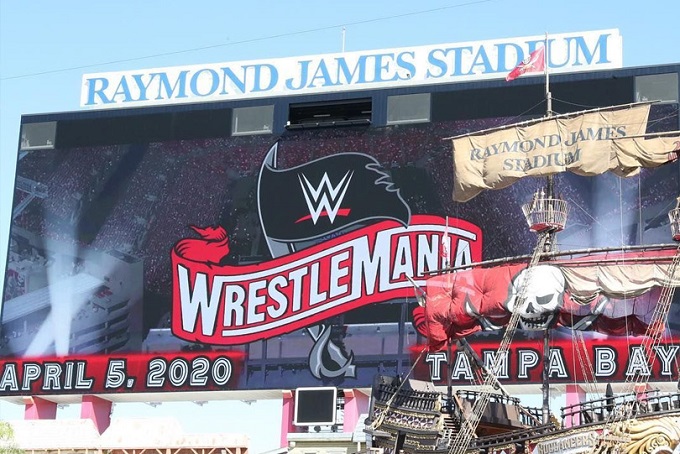 The WWE doesn't want a repeat of last year's bizarre 'closed set' Wrestlemania. To be fair, it wasn't really their fault–their marquee event was scheduled for April 5 right as the COVID-19 pandemic was starting to rampage across the US. To make sure there are at least some fans able to attend Wrestlemania 37 the WWE is relocating the event from the SoFi Stadium in Los Angeles to Tampa's Raymond James Stadium. That is where last year's Wrestlemania was scheduled to be held before it had to shifted to the WWE's training center in Orlando due to the COVID-19 pandemic. In addition, Wrestlemania 37 has been rescheduled from March 28 to a two night event on April 10 and 11.
Florida is allowing a limited number of fans at sporting events including next week's Super Bowl. The NFL previously announced that 22,000 fans would be allowed to attend the matchup between the home town Tampa Bay Buccaneers and the Kansas City Chiefs. That's right around 30% of capacity and I'd imagine that the WWE will try to shoot for a similar number. There are some significant differences between staging football and pro wrestling, not the least of which being the size of the ring relative to the size of the gridiron. In addition, the WWE will bring plenty of pyro and special effects along for the ride.
California, meanwhile, is determined to make citizens and businesses suffer as much as possible–not only are fans not allowed to attend games but it's reached the point that teams aren't even allowed to play. That's why the San Jose Sharks are starting the season at Gila River Arena in Arizona. The rationale of not allowing professional teams to play at home without fans is highly dubious to begin with. Ultimately, it's the same overbearing government intrusion that is motivating companies and people to leave the Golden State in droves.
Florida governor Ron DeSantis released a statement that emphasized this very point:
"Florida is excited to welcome back WrestleMania to Tampa in April at Raymond James Stadium. Florida has continued to work with professional sports and entertainment to safely operate while generating revenue and protecting jobs. WrestleMania will bring tens of millions of dollars to the Tampa area and we look forward to hosting more sporting and entertainment events in Florida this year."
None other than Vince McMahon, WWE chairman and CEO, gave the response for his company:
"On behalf of everyone at WWE, we thank Governor DeSantis, Mayor Castor, Mayor Williams and Mayor Butts for their graciousness and flexibility in what as a collaborative effort to bring the next three WrestleManias to these iconic stadiums in their world-class cities."

"We have the opportunity to work with our partners over the next three years. We were originally scheduled to be in SoFi Stadium in 2021, but once the pandemic hit, we spoke with all of our host cities to determine our best path and best strategies. That's why we announced all three dates and locations."

"Especially right now, it's so important to have something to look forward to. We want to provide some hope and excitement, and given the circumstances, allow people time to plan."
Vinny Mac's statement refers to the announcement that Wrestlemania 38 will be held on April 3, 2022 at AT&T Stadium in Dallas. Wrestlemania 39 will emanate from SoFi Stadium in Los Angeles on April 2, 2023.