Vikings Favored to Improve Divisional Record to 1-1 After MNF at Chicago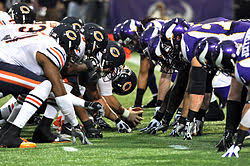 Who: Minnesota Vikings v. Chicago Bears
When: Monday October 9th, 2017 8:30PM EST
Where: Soldier Field—Chicago, Illinois
The Bears and the Vikings will meet for their respective second games in NFC North divisional play. Both of these teams are already 0-1 in divisional play and will be looking to get back on par after the dust settles on Monday night. The biggest storyline of the night, however, will have less to do with the records of these two teams and more to do with who will be making the start under center for the Bears. Only 5 weeks into his first season in the NFL, rookie quarterback Mitchell Trubisky will be making his first start, at home, on Monday Night Football. As if that weren't enough, this will be Trubisky's first chance to make an impression on a fanbase that has known nothing but sub-par quarterbacks for the better part of the last decade.
The Vikings were surrounded by a lot of hype heading into this season, but that has since evaporate now that Minnesota has a 2-2 record after 4 games, including an 0-1 divisional record. After their starting quarterback went down with an injury, a backup has come in and is the recipient of some mixed reviews. Case Keenum has shown flashes of brilliance, but with the injury of Dalvin Cook he is going to have to perform at an even higher level. It is looking like the Vikings are going to be a pass-first offense on Monday night, and there is no clear-cut way of telling how that might work out.
All things considered, I am expecting this to be an ugly game of football on Monday night. Not only do both starting quarterbacks have little experience, they will not be very likely to make some silly mistakes. I think the winner of this game will be the team that makes fewer mistakes and is able to secure the most possession. The Bears, however, have not won many turnover battles so far this season.
Game Overview and Analysis
When the -3.5 (-113) Vikings (-193) take the field on Monday, they will be entering this game on the back of a 14-7 loss against the Lions. Case Keenum completed 16-30 passes for just over 200 total yards. At the end of the day the Dalvin Cook injury and dominant Lions defense is what made the difference. Keenum did not play particularly poorly, but he did not impress and did not do what is needed to earn a gritty win over a superior opponent. I think things will be different for Case Keenum and the Cook-less offense against the Bears simply because the Bears are a much lower caliber team than Detroit. If Keenum can avoid making silly mistakes like he did last week, he will be giving his team a decent chance of evening their divisional record.
The Vikings' defense has been more middle of the road than anything else, however the Bears' offense has been very disappointing and generally ineffective. Being that Chicago will be starting a quarterback that has never before made an NFL start, I think the game is the Vikings' to lose. If their defense can pressure Trubisky and get in his face early, I think they will be able to rattle him and ultimately control the game.
The +3.5 (-107) Bears (+168) will take the field Monday night as underdogs in front of their home fans. A major part of the reason behind this is the fact that they will be starting the aforementioned Mitchell Trubisky, a rookie. The simply fact that Trubisky has never played a competitive NFL snap will make it difficult for anyone to truly judge the Bears' likelihood of winning. With that said, Chicago has a 1-3 record through 4 games and has been home to one of the statistically worsy offenses in the NFL. I think even the most dominant of Trubisky performances might not make a difference, as the Vikings have proved they can shut down offenses far superior to the one based on Lake Michigan.
The Bears' defense has not exactly been effective either, and are giving up an average of 26 points per game. I think offenses like the Buccaneers and the Falcons' are far superior to the Minnesota offense that will be coming to town, but I also am not overly confident the Bears can get it done.
Betting Prediction
I know Soldier Field is historically one of the toughest places in the NFL for visiting teams, but in recent years that has not been so true. The Vikings (-193) are somewhat heavily favored in this matchup and I think that you have to go with this moneyline wager as offered by BetOnline. I simply cannot advise you to bet on a rookie making his first start on Monday Night, especially in a division as tough as the NFC North.
As far as the point spread is concerned, I like the Vikings at -3.5 (-113). As much as I wish this spread was 2.5 or 3, I still think the Vikings should be able to cover. Once again, the onus of responsibility falls in the hands of the Vikings' defense. If they can play a sound game, I think the Vikings win easily and cover this spread.