UMass Wins First Ever NCAA Hockey Championship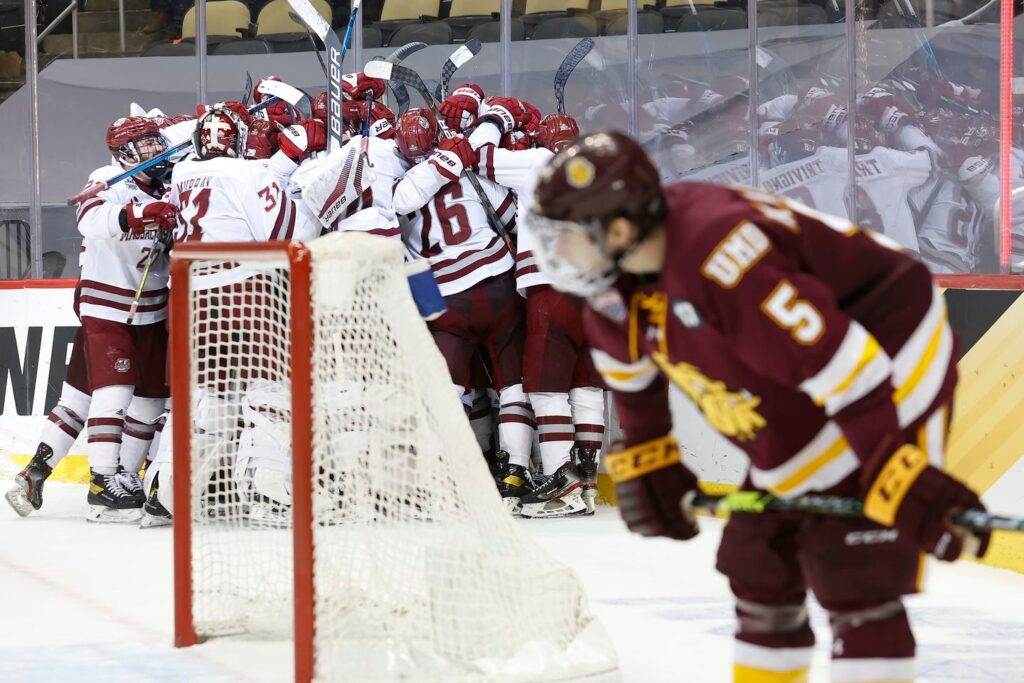 The University of Massachusetts has won their first ever Division I hockey championship and they made it look easy. The Minutemen dominated St. Cloud State wire to wire en route to a 5-0 victory at the NCAA 'Frozen Four' in Pittsburgh. UMass lost 3-0 to Minnesota-Duluth in the 2019 NCAA Championship game. Last year's 'Frozen Four' was cancelled due to the COVID-19 pandemic.
UMass scored their first goal 7 minutes into the first period and never looked back. The 5-0 win was the largest margin of victory in the championship game since 2010 when Boston College beat Wisconsin 5-0. UMass used goals from Aaron Bohlinger and Reed Lebster to take a 2-0 lead to the locker room at the end of the first period.
The Minutemen would score two more in the second period with Philip Lagunov and Matthew Kessel finding the back of the net. They would lead 4-0 heading into the third period where a Bobby Trivigno goal produced the final tally. Filip Lindberg had 25 saves for the shutout. After the game, UMass coach Greg Carvel tried to make the game sound closer than it really was:
"It was closer than the score. We were opportunistic."
Carvel also credited special teams with the decisive victory:
"Special teams played a big role this weekend. We had to kill more penalties than we got power plays. But we try to be a really good defensive team and really good on special teams and we were both tonight."
It was a tumultuous few days for goaltender Lindberg. He was ruled out of Thursday's semifinal game against Minnesota-Duluth due to COVID-19 protocols. Lindberg passed multiple COVID tests on Friday after an 8 hour drive from Amherst to Pittsburgh. His finals shutout was his record fourth career NCAA tournament shutout. He entered the championship game leading the nation in goals against average (1.33) and save percentage (.946).