Top 10 Stephon Marbury Basketball Moments in China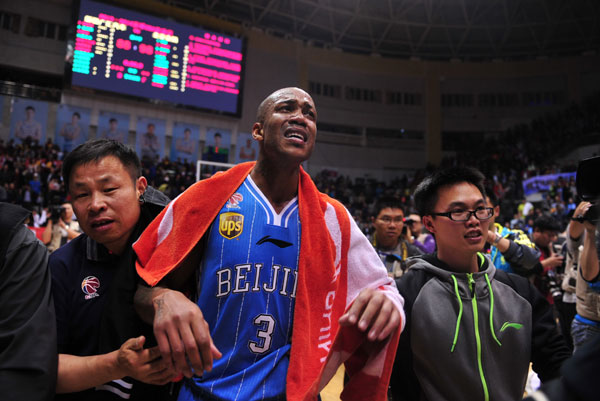 Eight years ago, Stephon Marbury became the biggest basketball name to play in China. And today, he's a legend who's not only excelled in the Chinese Basketball Association (CBA), but has also become an icon away from the court.
But news has come out this week that Marbury and his long-term team, the Beijing Ducks, are parting ways.
Beijing had a player option to bring Marbury back as a coach/player, but it would've been at a cheaper salary. Negotiations got neither side anywhere, so Marbury is a free agent.
Coming off a season where he averaged 21.4 PPG, the 40-year-old would like to play at least one more season in the CBA.
But even if this is the case, it looks like Marbury's basketball career in China is winding down. That said, let's look at the top 10 moments from his CBA days.
1. Winning 3 CBA Titles
It was only until Marbury was a backup point guard on the 2009 Boston Celtics that he had any success at all in the NBA Playoffs. But even at that, Boston was beaten in seven games by the Orlando Magic.
However, it only took Marbury two seasons until he won a championship in the CBA. Playing on the Ducks, he led Beijing to their first-ever finals appearance. They faced the Guangdong Southern Tigers, a 7-time champion in the league. But this didn't intimidate Marbury, who led his team to the 2011-12 title.
While the Ducks weren't able to repeat in 2013, Marbury would lead them to two more championships in 2014 and '15.
2. Beijing Ducks Build a Statue of Marbury
For NBA players, it takes a career of outstanding results and championships to earn a statue. For Marbury, it took only one championship with Beijing, who promptly had a statue of him erected outside of MasterCard Center.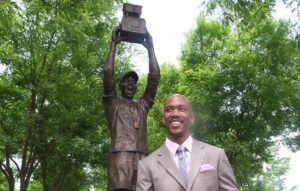 3. Dennis Rodman Speaks at Marbury's Statue Unveiling'
Okay, as if Marbury getting a statue after two CBA seasons isn't odd enough, Dennis Rodman was on hand to give him the dedication. Marbury seemed to like it, tweeting the following.
Dennis Rodman showed major love with his words and dedication in speaking about this moment. Thanks D! http://t.co/0qxDhDCo

— I AM PEACE STAR (@StarburyMarbury) May 13, 2012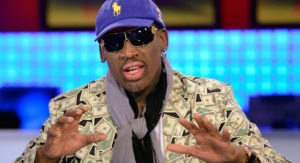 4. First Foreign Player to Receive a Chinese Green Card
Thanks to 3 championships and growing celebrity status in China, Marbury became the CBA's first foreign basketball player to be awarded a green card.
现在。中国历史上第一个获得绿卡的外籍运动员。 Right now. In Chinese history, the first foreign player to win a green card. #starbury pic.twitter.com/bba87bIv0J

— I AM PEACE STAR (@StarburyMarbury) April 18, 2016
5. Marbury Becomes a Postage Stamp
According to the New York Post, yet another honor bestowed upon Marbury is that he was planted on a postage stamp in China.
"I am truly humbled," said Marbury. "Never did I imagine in all of my 38 years of living that I — a kid who grew up 7,000 miles away from Beijing and a kid who came from the projects of Coney Island — would have a stamp of myself. I can never have dreamed it."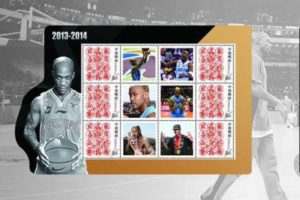 6. Starbury Shoes Fly Off Chinese Shelves
Marbury never gained much traction with his Starbury shoe line in the US. But his signature shoe was treated like Air Jordans in the Chinese market.
In fact, Marbury even called Michael Jordan out for charging so much for his kicks.
"Now that [I've] lived in China for so many years, I've learned that shoes that cost $150 don't cost that much to make, which drives me," said Marbury, "even more, to continue building my brand globally for more people to have an opportunity to buy shoes at an affordable price. My brand is for the people who can't afford, and those in need."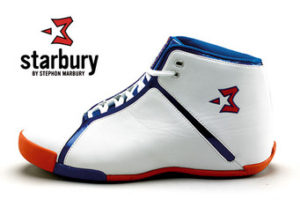 7. A Museum is Dedicated to Marbury
It's pretty rare that somebody has a museum built in their honor when they're still alive. "The House of Marbury" was dedicated to the start point guard when he was just 38.
#TheHouseOfMarburyMuseum Jesus Did It PERIOD! #Godisgreat pic.twitter.com/aNFOfuHYI4

— I AM PEACE STAR (@StarburyMarbury) December 21, 2015
8. Marbury Stars in His Own Musical
As if a museum, statue, and postage stamp aren't enough, Marbury also starred in his own musical. Dubbed I Was Marbury, the musical is about how the Beijing Ducks never gave up against the Aaron Brooks-led Guangdong Tigers.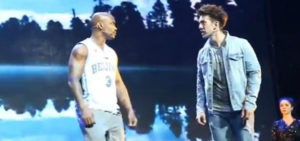 9. Having a Documentary Made About Him
Yet one more thing done to honor Marbury is a documentary made about him called My Other Home. Lucky for Marbury, the film was easy to make because it was in English. Both Allen Iverson and Baron Davis made guest appearances in My Other Home.
10. Remaking Himself in China
As explained by TheUndefeated, Marbury was basically a pariah in the NBA. Teams, coaches, and players great tired of his act, making the decision to go to China a little easier. And Marbury is certainly happy with the way that things have played out.