'Dancing with the Stars' Season 24 Episode 7 Betting Odds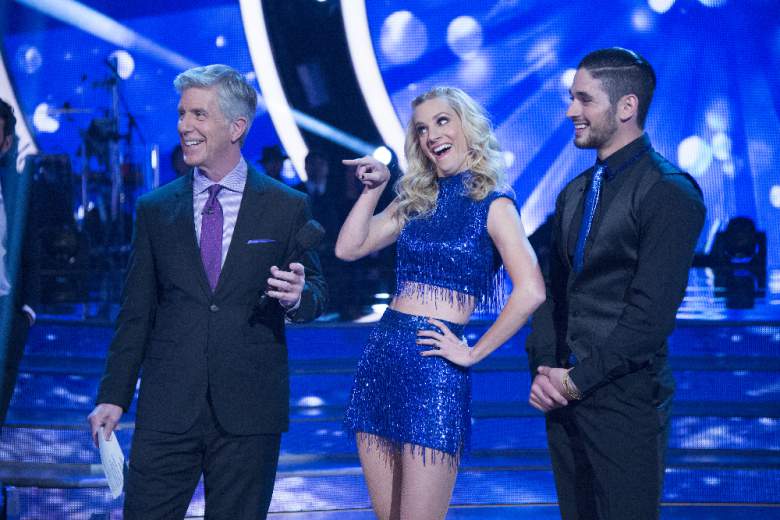 –This is the 24th season for ABC's reality show.
–In a bizarre and unpopular decision Heather Morris was eliminated in Episode 6.
–'Dancing With The Stars Episode 7 airs on Monday, May 1 at 8:00 PM Eastern.
In the 1950's a big controversy erupted when it was revealed that several TV quiz shows (what we now call 'game shows') were 'worked'. The most famous example involved a show called Twenty One which instructed a reigning champion named Herb Stempel to 'take a dive' and let a more charismatic contestant named Charles Van Doren to take his place. Stempel was plenty sharp but didn't deliver the ratings and the thinking was that Van Doren–an English Professor at Columbia University hailing from a prestigious family with multiple Pulitzer Prize winners–would be a more lucrative 'face' for the program.
The transition was booked like a pro wrestling promotion–after three ties which attracted ever increasing audiences Van Doren 'broke through for the win'. The Twenty One producers' plan worked like a charm until Stempel started spilling the beans to anyone who would listen. At first, he was dismissed as a nut but his credibility was bolstered after another 'fixing scandal' broke involving a show called Dotto. Dotto was abruptly canceled without explanation but a 'stand by' contestant sent an affidavit to the Federal Communications Commission that he'd found a notebook backstage with answers for that week's questions. In the early days of television, the integrity of these shows was a big deal to viewers and once rumors of predetermined results began ratings would drop and cancellations would follow.
The scandal had surprisingly far reaching repercussions including a FCC regulation that all game shows were to be legit competitions, a New York prosecutor convening a grand jury that brought no indictments but the findings of which were sealed by a judges order, and even a series of Congressional hearings. The entire fiasco was depicted in an excellent and entertaining 1994 movie directed by Robert Redford called 'Quiz Show'. Today, this is all just interesting early television era trivia but at the time it was a serious deal that ruined the reputations of many inside and outside the industry. Even Van Doren felt considerable remorse saying during a Congressional testimony: "I was involved, deeply involved, in a deception. The fact that I too was very much deceived cannot keep me from being the principal victim of that deception, because I was its principal symbol."
AREN'T YOU PEOPLE ENTERTAINED?
This hysteria over the integrity of 'quiz shows' looks downright quaint today. For the most part, daytime game shows today look to be on the up and up but there's plenty of prime time program genres including pageants, awards shows and reality shows that have very little transparency regarding how outcomes are determined. For the most part, however, no one really cares anymore. And maybe they shouldn't question the veracity of realty shows anymore than they question whether the characters they see on shows like 'The Sopranos' or 'Game of Thrones' are 'real'. In any case, the point here isn't to call for greater transparency or oversight. It's just to point out that you need to be aware of these factors when betting on reality TV.
Which brings us to Week 6 of 'Dancing With The Stars'. In a downright bizarre outcome Heather Morris was eliminated from the show despite earning the first perfect score of the year during her dance. ETOnline called it 'perhaps the most shocking elimination in show history', an observation with which TV Guide concurred. Her elimination was extremely unpopular with the live crowd and the online zeitgeist many who suggested that 'the fix was in'. It is pretty tough to rationalize her elimination. She had the third highest average score this season at 33.4, just fractions behind co-leaders Simone Biles and Normani Kordei. She even had the third highest 'low score' so it wasn't that she laid an egg earlier in the year and couldn't recover. Somehow she and Nancy Kerrigan were the ones 'in jeopardy' this week despite generally decent performances and high average scores.
Given the nature of the show, however, it's hard to determine where to lay the blame for the elimination assuming that we should assess blame at all. There are countless scenarios where this outcome could have been 'pre-ordained'. In fact, it could have even been pre-arranged with Morris maybe giving her the perfect score as a way to 'keep her heat' (to use some pro wrestling lingo). The controversy is all over the entertainment media and maybe that was the goal all along. Based on dancing ability and performance alone, she shouldn't have been eliminated but there's obviously much more than that at play here.
LOOKING AHEAD TO WEEK 7
So that brings us down to 7 contestants remaining and after the Heather Morris work/fiasco it's hard to see anything else happening next time out other than one of the average score bottom feeders being eliminated. Bonner Bolton and Nick Viall are tied for lowest average score (28.6) so they're right at the top of our 'Next to Be Eliminated' market. As far as last weeks betting goes, Heather Morris was one of the four 'least likely' to be eliminated and priced at +2150. She was also priced at +450 for the 'Judges' Highest Score'. Nick Viall was the second choice for 'lowest score' but was still a nice +450 price since Bonner Bolton was a sizable favorite at -350.
Simone Biles remains the favorite to win 'Dancing With the Stars' Season 24 but another strong performance by Normani Kordei bumped her up to +150 making her the co-favorite. Biles is +175 to win after Week 5 with Kordei at +250. The price order of the betting entries has remained the same though the prices have changed a bit due to the smaller field.
WEEK SIX DWTS SCORING CHARTS:
Heather Morris/Maksim Chmerkovskiy: 40
Normani Kordei/Valentin Chmerkovskiy: 38
Rashad Jennings/Emma Slater: 37
Simone Biles/Sasha Farber: 35
Nancy Kerrigan/Artem Chigvinstev: 33
Bonner Bolton/Sharna Burgess: 30
David Ross/Lindsay Arnold: 29
Nick Vitali/Peta Murgatroyd: 28
Posted below you'll find a revised 'To Win Season 24' odds rundown along with the Week 7 prop bet odds. Note that I've added some new proposition bets including head to head matchups based on Week 7 scoring. 'Dancing With The Stars' Season 24 Episode 7 airs at 8:00 PM EDT on Monday, May 1:
DANCING WITH THE STARS SEASON 24 BETTING ODDS
TO WIN DANCING WITH THE STARS SEASON 24
Normani Kordei: +150
Simone Biles: +150
Rashad Jennings: +325
Nancy Kerrigan: +650
Nick Viall: +3500
David Ross: +3500
Bonner Bolton: +3500
DANCING WITH THE STARS WEEK 7 BETTING ODDS
TO BE ELIMINATED IN WEEK 7
Bonner Bolton: +115
Nick Viall: +125
David Ross: +650
Nancy Kerrigan: +1250
Rashad Jennings: +2150
Normani Kordei: +2150
Simone Biles: +2150
No One: +7500
JUDGES' HIGHEST SCORE
Simone Biles: +150
Normani Kordei: +150
Rashad Jennings: +350
Nancy Kerrigan: +700
Nick Viall: +2500
David Ross: +2500
Bonner Bolton: +2500
JUDGES' LOWEST SCORE
Bonner Bolton: -130
Nick Viall: +125
David Ross: +950
Nancy Kerrigan: +1250
Normani Kordei: +3500
Simone Biles: +3500
Rashad Jennings: +3500
HEAD TO HEAD SCORING MATCHUPS
WHO WILL HAVE THE HIGHEST SCORE?
Simone Biles: -115
Normani Kordei: -115
WHO WILL HAVE THE HIGHEST SCORE?
Simone Biles: -150
Rashad Jennings: +130
WHO WILL HAVE THE HIGHEST SCORE?
Normani Kordei: -150
Rashad Jennings: +130
WHO WILL HAVE THE HIGHEST SCORE?
Rashad Jennings: -175
Nancy Kerrigan: +155
WHO WILL HAVE THE HIGHEST SCORE?
Nancy Kerrigan: +130
David Ross +3 points: -150
WHO WILL HAVE THE HIGHEST SCORE?
Nick Viall: -135
Bonner Bolton: +115
OVERALL SCORING PROPOSITION ODDS
NUMBER OF '10' SCORES TO BE AWARDED
0: +750
1-4: +200
5-9: -250
10+: +950
OVERALL AVERAGE SCORE FOR WEEK 7 WILL BE?
Over 32.5: -130
Under 32.5: +110
WILL ANY JUDGE AWARD A PERFECT SCORE OF 40?
Yes: +130
No: -150
THE LOWEST SCORE OF WEEK 7 WILL BE
Over 28.5: +110
Under 28.5: -130
TV RATINGS PROPOSITION ODDS
WEEK 7 KEY DEMO (18-49) RATINGS
Over 1.7: -120
Under 1.7: +100
WEEK 7 KEY DEMO (18-49) SHARE
Over 5.5: -170
Under 5.5: +150
WEEK 7 TOTAL VIEWERS
Over 10.5 million: -150
Under 10.5 million: +130
WEEK 7 NIELSEN RANKING (5/1/17 through 5/7/17)
Over 9.5: -130
Under 9.5: +110
WHICH WILL BE HIGHER?
Season 23 Episode 8 rating (1.6): +115
Season 24 Episode 7 rating: -135
WHICH WILL BE HIGHER?
Season 23 Episode 8 share (5): +150
Season 24 Episode 7 share: -175
WHICH WILL BE HIGHER?
Season 23 Episode 8 total viewership (10.43 million): +130
Season 24 Episode 7 total viewership: -150
Note: In Season 23 Episode 7 was a 'results' show of the previous night's competition. For that reason we're using Week 8–the next 'competition' week–as the comparison for matchups