Top 10 Robin Lopez Moments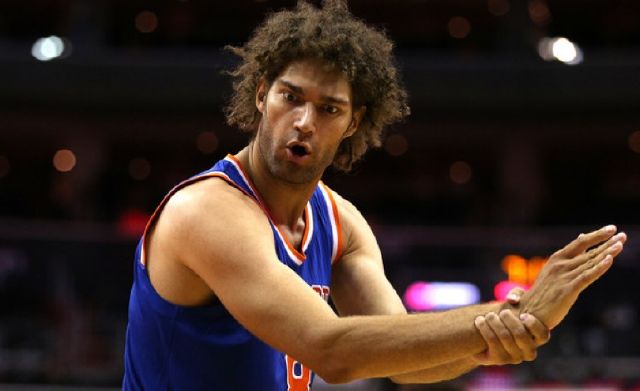 With career averages of 8.7 points, 5.5 rebounds, and 1.3 blocks, Robin Lopez isn't the NBA's most dynamic player.
But in a league where every player is just as worried about puffing his chest out as he is scoring, Lopez is an anomaly.
Rather than taking himself extremely serious, Lopez is one of the league's best at self-effacing humor. In short, he's done some freaking hilarious things in his NBA career.
That said, let's look at Lopez's top 10 moments, which includes a few heated moments as well.
1. Harassing Mascots
Lopez is like the high school jock who sneaks into the rival school's gym, and puts itching powder into the mascot's uniform. Only, this is much funnier because Lopez is brutalizing mascots on the professional level. You can see a mix of his best mascot take-downs below.
2. Untying Jae Crowder's Shoe
In a playoff game against the Boston Celtics, Lopez lost his shoe and didn't get much help from Jae Crowder in retrieving it. After giving Crowder a little bear hug, Lopez returned the favor by untying his opponent's shoe.
3. Throwing Punches at Serge Ibaka
It's not all fun and games with Robin, and he's never afraid to stand his ground. You can see this below, as he got into a mini-boxing match with Orlando's Serge Ibaka. Both players were suspended for one game afterward.
4. Brook Lopez is Pulling for Ibaka
Brother Brook weighed in on the Robin-Ibaka fight and said that he's "pulling for Ibaka." Brook also said that Robin is always the first one to throw a punch because "he's messed up like that."
5. Lopez Offers His Superhero Knowledge
Lopez is an avid superhero fan and was asked to give his take on what roles certain NBA stars would be in. Besides pinning his brother as the "evil twin," he also named Houston Rockets forward Ryan Anderson as his kryptonite.
The reason why is because Anderson lives on the perimeter, which makes him a tough guard for the paint-dwelling Lopez.
6. Lopez Gets 2 Technicals in a Minute
In one of his less-lighthearted moments, Lopez was angry about being called for a foul in which Al Jefferson elbowed him in the face.
After complaining and drawing the first technical, he clapped in the official's face and told him "good call." You can probably imagine what happened after this…
7. Lopez Calls His Trail Blazers Team The Goonies
In addition to being a superhero fan, Lopez is apparently a fan of the cult classic movie The Goonies. And he saw similarities between the film and his 2014 Portland Trail Blazers squad.
He told Oregon Live, "The Goonies are a close-knit group. They believe in themselves, even though there are doubters throwing darts at them outside. I posted that catch phrase a couple times, 'Goonies never say die.' That's pretty in line with the mentality of our team."
Lopez finished by saying that he's the "Chunk" of the team.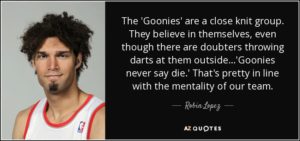 8. Trying to Trick Refs into Giving Him an And-1
Outside of Golden State Warriors center JaVale McGee almost getting hurt, the following play is pretty funny. Lopez does his best to convince refs that he should've gotten an and-1 here.
9. Robin Lopez Commercial with LaMarcus Aldridge
Another funny tidbit from Lopez's days with Portland is a commercial that he and Trail Blazers teammate LaMarcus Aldridge did for McLoughlin Auto Mall.
You can see Robin debut his singing voice in this commercial, along with a stupefied look while Aldridge offers his reasoning for choosing McLoughlin.
10. Brook and Robin's Lightsaber Battle
Brook and Robin are both big sci-fi fans, with Brook even wanting to be a Wookie in a Star Wars film. It looks like his super fandom helped him win the following lightsaber duel with Robin.