Seattle Mariners Place Four On COVID-19 List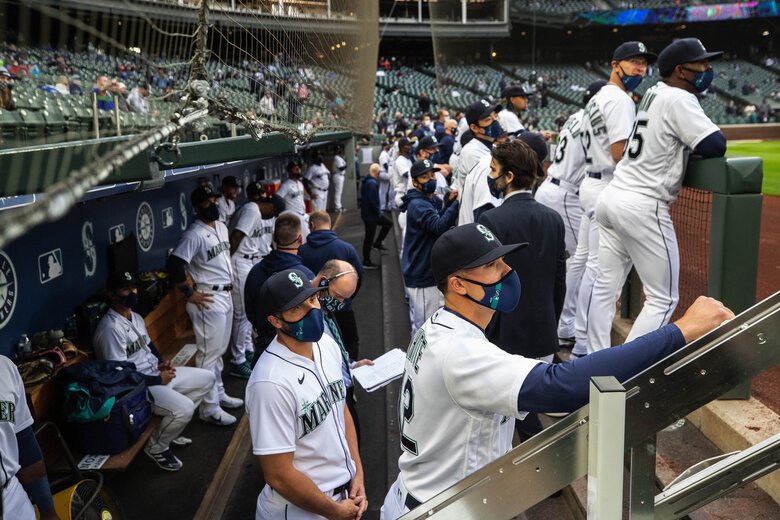 The Seattle Mariners are bumbling their way through another season and are likely headed toward their fourth sub .500 finish in the past five years. They haven't been to the playoffs in nineteen years and they're definitely not going this year. They are by most assessments an embarrassment to the 'Jet City' and that was before they put four players on the COVID-19 list. Making matters worse–they're apparently drinking the 'anti-vaxxer' Kool-aid.
Making the situation more problematic is the fact that all four players headed for the COVID-19 last are relief pitchers: right-handers Robert Dugger, Will Vest and Drew Steckenrider, and left-hander Anthony Misiewicz. Reports suggest that there was one positive test with the other three dinged due to 'contact tracing'. Inexplicably, the Mariners have a low rate of vaccination amongst their roster with the Seattle Times putting them 'around 50%'. Baseball as a sport has been horrific when it comes to vaccination rates–just 14 of the 30 MLB teams have hit the 85% threshold.
Not that MLB and team management hasn't exerted an effort. They've brought in doctors from the University of Washington School of Medicine for one thing. For whatever reason, the players are still believing social media conspiracy theories instead of actual experts.
Manager Scott Servais continued to play patty-cake with the unvaccinated players on his roster:
"The No. 1 priority obviously is the health and safety of our players and everybody understanding the importance of getting vaccinated. But it is an individual choice and unfortunately not all of our guys are vaccinated, so it's something we have to deal with like other teams have had to deal with throughout Major League Baseball."

"It's real, it's out there, it is affecting our roster and we'll try to deal with it as best we can."
You can't blame Servais for wanting to avoid the wrath of the MLB Players Association. You can almost hear the resignation in his voice with this comment:
"I would hope that a few more might jump on board and get the vaccine but you can only hope. I can't force anybody to do it."
Not sure that MLB players noticed that most of the population of the face of the earth hasn't been able to leave the house for the past year. Of course, I'm sure whatever social media anti-vax conspiracy they're buying into is much more compelling.