NHL Hockey Betting: New Jersey Devils at Montreal Canadiens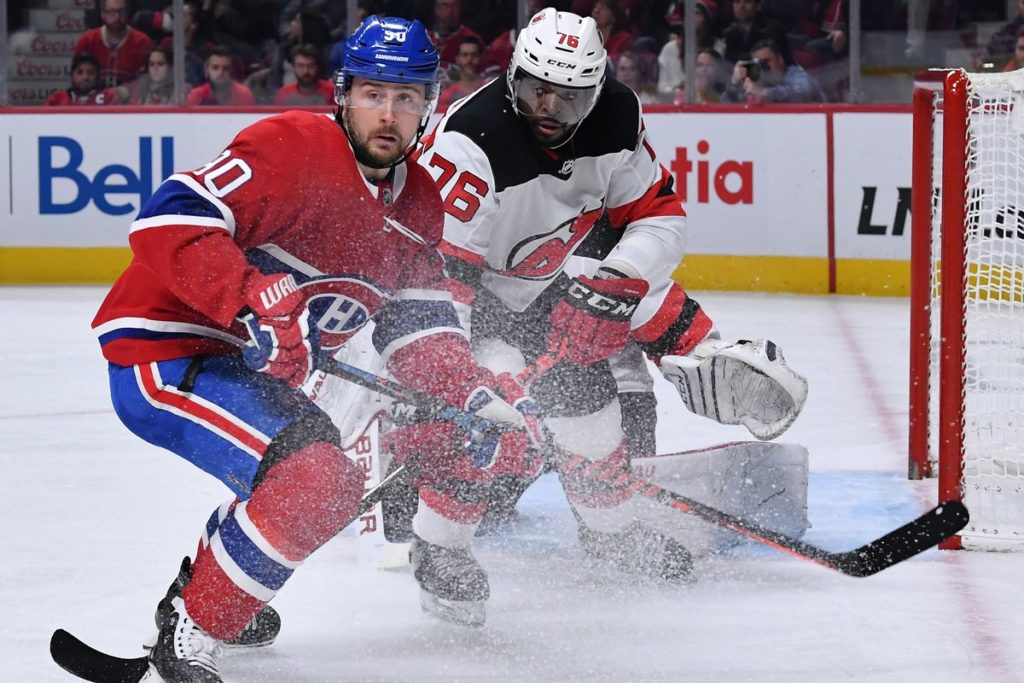 The New Jersey Devils will be spending Thanksgiving North of the Border as they'll face the Montreal Canadiens at Centre Bell on Thursday night. The Devils are very likely the most profound disappointment of any team in the league. Detroit is very likely worse than the Devils–they're in the NHL basement with 3 fewer points–but the Red Wings had no expectations coming into the season. New Jersey was a trendy pick for a Stanley Cup contender after they added first overall pick Jack Hughes and defenseman PK Subban to a lineup that already included the talented but enigmatic Taylor Hall. New Jersey lost 9 of their first 11 games and have improved only marginally since this point.
Montreal has been up and down this season but enters this contest having lost five straight. Before that, they won 7 of 9 so there's considerable optimism that the Habs can turn things around. They do have a couple of problematic injuries, most notably to emerging offensive force Jonathan Drouin. Drouin will miss at least eight weeks following wrist surgery. Also sidelined is center Paul Byron who will also be out at least a month. Montreal hadn't played that poorly during their downturn with 3 of their first four losses by 1 goal with 2 in OT. That was until the bottom fell out in a brutal 8-1 home loss to the Boston Bruins.
There's a conventional wisdom in sports that a lopsided beating can serve as a 'wakeup call' and you likely see that happen more in hockey than any other sport. The Habs have plenty of talent and character guys in the room like captain Shea Weber–arguably the most solid guy in a league that is full of them. Forward Brendan Gallagher sounded these themes in his postgame comments:
"You have two choices right now. You can continue to fight and battle as a group, or you can choose to shy away from little bits of adversity. That's the opportunity that we have right now — choose to fight and work our way out of this. It's not fun, but it's something that can be pretty rewarding if you're able to do it. If you're not, it's frustrating and it continues to grow and grow."
The Devils haven't shown much resolve to turn things around. Hall has only four goals on the season though to his credit he's become much more of a 'facilitator' and leads the team with 17 assists. Goaltending has been a mess–it wasn't that long ago that Cory Schneider was among the most dependable netminders in the league but he's been awful this year and is now with AHL Binghamton. The prevailing wisdom is that Schneider's issues might be mental and based on his precipitous decline that makes sense. Going from an elite goaltender to a basket case in the span of two seasons just doesn't make sense otherwise. 22 year old Mackenzie Blackwood is now the Devils starting goalie and has played reasonably well in a role that he's probably not ready for.
New Jersey has really had the Canadiens number in recent years winning 5 of the last 6 head to head. More recently, the Habs current losing streak started with a 4-3 home loss to the Devils on 11/16. That only serves to put a bigger target on the Devils' back though it's hard not to expect a focused effort from Montreal after the beatdown by Boston. New Jersey has been a team that losing opponents 'get well' against this year. The Devils are 1-5 -5.5 units against opponents with losing records. Habs will use this as an opportunity to get their mojo back after a losing run and their worst performance of the season.
BET MONTREAL CANADIENS -155 OVER NEW JERSEY DEVILS