NHL Hockey Betting: Nashville Predators at Detroit Red Wings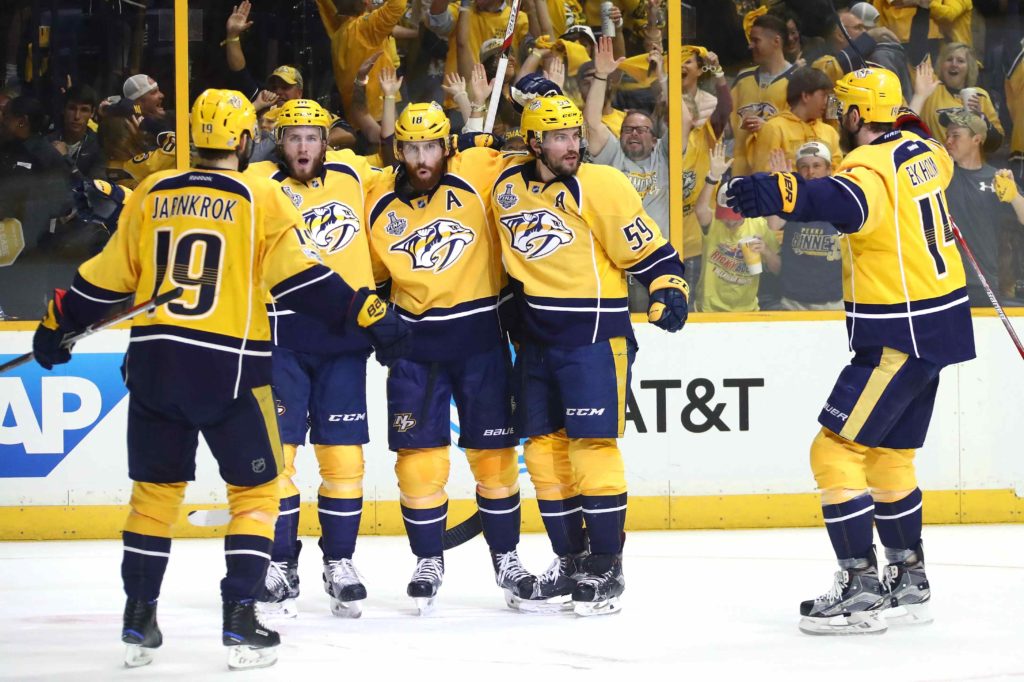 The Nashville Predators are looking to break a two game losing streak after dropping a pair of close games over the weekend. The Preds lost to Calgary in overtime and then came out on the wrong end of a 2-1 decision against the New York Rangers. They'll have a great matchup to get right on Monday as they head to Detroit to take on the flatlining Red Wings. Nashville is currently 3 points out of the Central Division lead behind St. Louis with 18 points. Detroit has the second worst record in the Eastern Conference at 4-10-1 with 9 points. The Wings have been in awful form going 1-8-1 in their last 10 games and have only won once in their last 11.
Nashville has been scoring goals in abundance this year but the Preds are now rounding into form defensively. They're up to the #13 scoring defense (2.93 goals per game) and are still scoring in buckets ranking #2 in the league with 3.86 goals per contest. Detroit, on the other hand, isn't scoring goals and they're dead last in the goals scored per game with just 2.20 per contest. Making matters worse for the Red Wings is that they've been playing awful defense giving up 3.8 per game and at -1.60 they've got the worst average goals scored/goals against differential in the NHL.
Pekka Rinne and Jimmy Howard are the projected starters in net on Monday–Rinne has been good this year while Howard hasn't. Pekka still hasn't lost a game in regulation this season at 7-0-2 with a 2.19 goals against average and a 0.920 save percentage. Howard is 2-6-0 with a 3.67 goals against average and a 0.898 save percentage. The Wings would likely like to move on to a younger netminder but they just don't have any options other than Howard or 31 year old Jonathan Bernier who has been just as bad as Howard at 2-4-1 with a 3.50 goals against average and a .890 save percentage.
It's not looking good for Detroit head coach Jeff Blashill. He took over the team after Mike Babcock's departure and has gone 104-105-37. In his first season, the Wings were eliminated in the first round of the playoffs and in three years since they've missed the postseason altogether. Until recently, the take on Blashill was that he was doing as well as could be expected with the talent on had and that's probably still true but that won't help him save his job now that Steve Yzerman is in charge. The talent isn't there to be sure but the bigger problem is that the competitiveness of the team has regressed. The plan for Detroit right now is to start stockpiling draft picks and to wait it out until some hefty contracts from the glory years come off the books. Making the situation even worse–some of the bad contracts they've got on the books have little to no trade value.
The prevailing wisdom is that Stevie Y will stick with Blashill for the rest of the season and reconsider in the offseason. They're unlikely to make a move unless a better option is available. Until then, it's going to be ugly. Predators have revenge from a loss earlier this season and the Wings have actually beaten Nashville in their last three meetings. The Predators will have three days off before a big 11/7 game at Colorado and this is a perfect time to get back on the winning track.
BET NASHVILLE PREDATORS -180 OVER DETROIT RED WINGS
BET NASHVILLE PREDATORS/DETROIT RED WINGS OVER 6