NHL Hockey Betting for October 19, 2015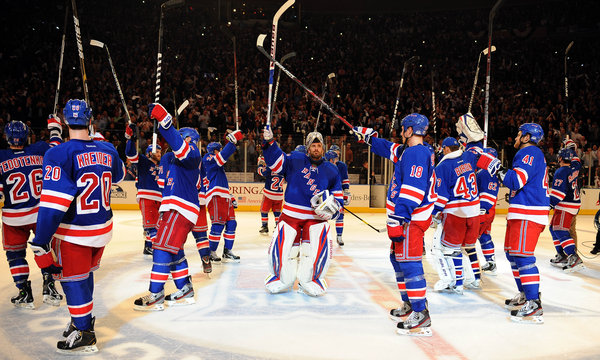 This is the part where I usually run down the NHL card or provide some 'best bets'. Tonight, however, there's only one game on the schedule. It's a good matchup but it doesn't give us much to work with from a hockey betting standpoint:
SAN JOSE SHARKS AT NEW YORK RANGERS:

Great early season non-conference matchup between perennial contenders. The Rangers are a team that everyone expects to be in the mix for the Eastern Conference title. The Sharks–despite their legacy of success–are more of a surprise. They were expected to be in 'rebuilding mode' under first year head coach Peter DeBoer but instead are 4-1-0 and tied for the Pacific Division lead. Much of their success is due to stellar goaltending–Martin Jones is the new starting netminder in San Jose after spending time backing up Jonathan Quick in Los Angeles. To say that he's taken to his new responsibilities as a starter would be an understatement–at least so far. Jones is leading the league in goals against average and save percentage, has two shutouts in five starts and is second in wins behind Montreal's Carey Price (whom I understand is supposed to be pretty good or something).
The Rangers are up to their old tricks–they're off to a good but not great start. What happens now is the New York media gets all worked up, speculate about trading every player on the team and firing every employee in the front office and by sometime right after midseason the Rangers will be winning all the time looking like Stanley Cup contenders. Or maybe they'll wait until the playoffs. They're starting to resemble the San Antonio Spurs during their decade of dominance–manage the regular season, minimize injuries and fatigue and kick ass in the playoffs. That's basically what head coach Alain Vingualt did in Vancouver though due to the competitive pressures of the Western Conference the regular season was more of a concern.
New York has their own superstar goalie in Henrik Lundqvist but he won't be starting tonight. Annti Raanta has been confirmed as tonight's starter for the Rangers. Raanta is making his first start for the 'Broadway Blueshirts' after coming over from the Chicago Blackhawks. He was the odd man out on their goaltending depth chart after the emergence of Scott Darling last season. Raanta is a very capable backup with experience not only in the NHL but playing for Finland in international competition. Obviously, the Rangers know who their number one netminder is but seem very confident with Raanta's abilities. He'll be playing the second of most back-to-back scheduling spots, at least until the Rangers start their playoff push.
From a handicapping standpoint, this game looks to be priced fairly. The Sharks are coming off their first loss of the year to the New York Islanders while the Rangers have lost three straight. They've won 7 of 11 from the Sharks at MSG but since the teams only play once a year that's not a big deal. Value looks to be on the Rangers–they've got more urgancy with their losing streak and they offer some value due to the absence of Lundqvist. As far as the total, it's a tougher call. Sharks have played 2 OV, 2 UN and 1 push this year. New York has 2 OV, 3 UN and a push but have gone UN in three straight–all losses. The New York media is really worked up about the team's recent offensive woes so we'll play contrarian and go 'Over'.
BET NEW YORK RANGERS -115 OVER SAN JOSE SHARKS
BET NEW YORK RANGERS/SAN JOSE SHARKS OVER 5