Columbus Blue Jackets Fire Head Coach Todd Richards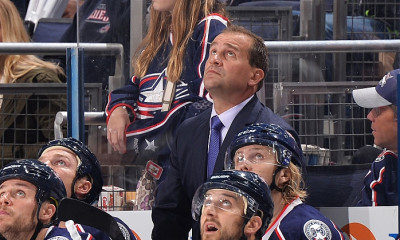 In a move that was all but inevitable, the Columbus Blue Jackets have fired head coach Todd Richards. The team is winless on the season and their 0-7-0 is the worst start to a campaign by any National Hockey League team in almost 20 years. Many NHL media and experts speculated that he wouldn't make it through last weekend but despite 'living to fight another day' the team continued to lose despite publicly advocating for Richards to keep his job.
The last straw was a 4-0 loss to the New York Islanders on Tuesday night. The scoreline didn't accurately depict how the game was played–for the most part, the Blue Jackets were competitive throughout. They appeared to be on the way to forging a scoreless tie after one period before New York scored with right around a minute before the break. After a scoreless second period and half of the third the Islanders went up 2-0 on Thomas Hickey's unassisted goal with 11:20 remaining. The Islanders would add another goal several minutes later and cap the scoring with an empty net goal.
Columbus looks to be 'making progress'–at least on the defensive end. Their offense has been lousy with just 13 goals in 7 games. And that pretty much tells the tale of the season. When you're viewing a 4-0 defeat as a step forward and averaging less than two goals per game something has to give. Todd Richards credited his team in Tuesday's post game press conference but his demeanor clearly suggested that if he hadn't been informed of his dismissal at that point he understood it was just a matter of time.
The Blue Jackets now turn to veteran head coach John Tortorella to try and salvage the season. The well traveled Tortorella has a Stanley Cup championship to his credit (won in Tampa Bay) and is the winningest American born coach in US history. There is definitely still hope for the Jackets–working in their favor is the overall mediocre play of the Eastern Conference in general and the Metro Division in particular. Despite the team's miserable start they entered today just six points out of a wild card playoff berth.