Connor McDavid: Is He 'The One'?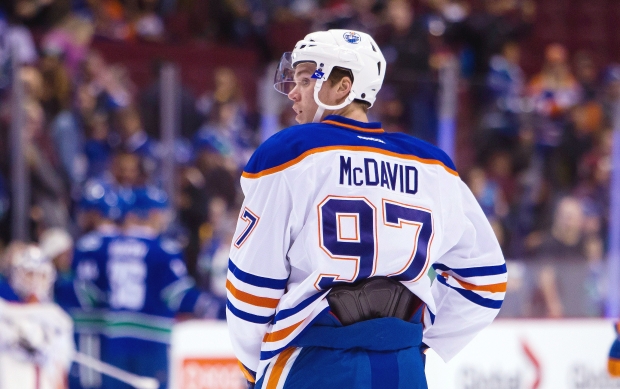 Obviously that's a reference to one of my favorite films, 'The Matrix'. I won't go into a full plot synopsis because I'm thinking most of you have seen it. Anyway, there's a scene near the end of the movie where Keanu Reeves' character Neo gets his clock cleaned in a fight with the main villain. He gets back up thinking he's about to suffer a fatal blow but not so much–he's now seeing the world in binary code. He proceeds to dominate while his associates realize that he is, indeed, 'The One'.
People have said the same thing about Connor McDavid for several years now but for the first few games of his NHL career he looked more like any other rookie. He was obviously nervous, unsure he belonged at the highest level of hockey and appeared downright hesitant at times. Know nothing sports talk hacks on TV and radio (mainly in the US) started asking 'Is Connor McDavid a bust?'. His first NHL goal didn't change that. There was nothing wrong with the goal–a tip in of a shot from the point–and players have made careers in the NHL being able to do exactly that. Still, it was a 'meat and potatoes' hockey play that most players at the NHL level could make. Meanwhile, the #2 pick in the draft–Buffalo's Jack Eichel–was clearly more comfortable and confident than McDavid. A few people started to suggest that the wrong guy went #1.
On Saturday night against the Calgary Flames, however, things changed. It looks like Connor McDavid all of a sudden started seeing the NHL in 'binary code'. Within a 60 minute span he went from a nervous rookie to one of the most dangerous players in the game. Eventually, he'd finish with two goals and an assist though his most spectacular play didn't result in a goal thanks to a great save from Jonas Hiller. You don't have to be a hockey fan to see McDavid's skills–his speed and stickhandling in particular. The amazing part of this play is the way he undresses a veteran NHL defenseman in Calgary's Kris Russell. McDavid shows great mental skills, aware of not only where Russell is but who he is. He also knows what Russell does–he was the number one shot blocker in the league last year.
Were this all McDavid did he'd deserve kudos–that's a very cerebral approach to hockey for any rookie. Most first year players have a hard enough time dealing with the physical challenges of playing in the NHL. But it gets better–in a split second the hockey CPU chip in McDavid's brain anticipates how Russell will play him and what countermeasures #97 can take to use Russell's shot blocking skill against him. Connor fakes Russell out of his jockstrap and after a few stickhandling moves that only Jonathan Toews and a few other players in the game could make the defenseman is sprawled on the ice and McDavid has a clear path to the net. Were it not for a save that Jonas Hiller only makes 15 to 20 percent of the time, McDavid has another goal.
And lest we forget, this is five games into his NHL career. Connor McDavid is 18 years old. When I was 18 years old I felt like I had accomplished something when I successfully stole beef jerky from the local 7-11 store.