NHL Hockey Betting: Carolina Hurricanes at Minnesota Wild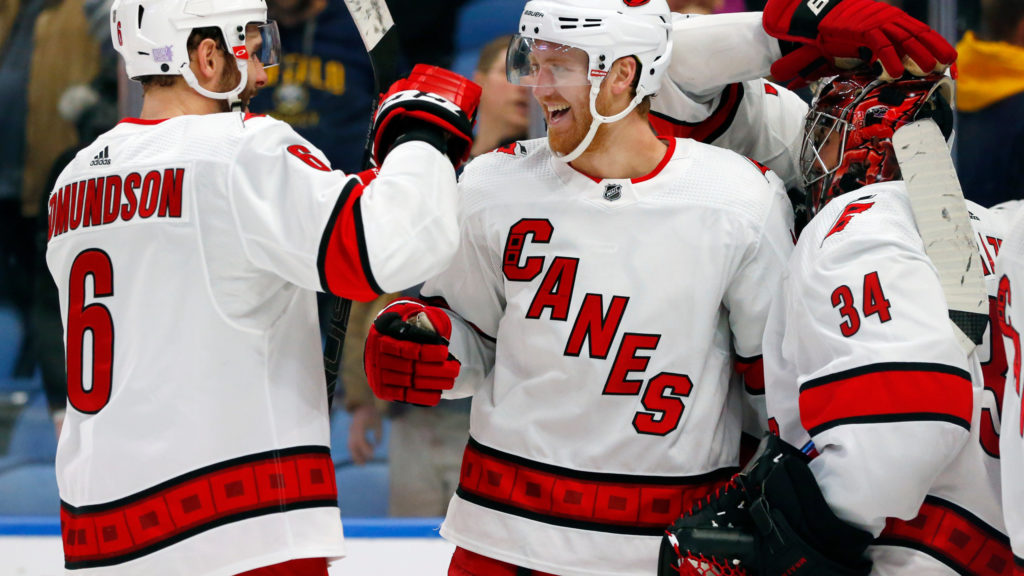 The Carolina Hurricanes have been doing little more than 'treading water' of late going 5-4-1 in their last 10 games. That has allowed both first place Washington and the second place Islanders to open some separation in the Metropolitan Division standings. They've struggled to find consistency in recent weeks despite the appearance given by their 5-4-1 mark. After losing in overtime 4-3 at Columbus on 10/24 they won three straight, besting Chicago, Calgary and Detroit at home. Then they lost four straight at home against New Jersey and the New York Rangers and on the road at Philadelphia and Ottawa. They've since won two straight beating Ottawa at home and winning at Buffalo last time out.
The Minnesota Wild might be a better team than people think. They're currently tied for the worst record in the NHL with 15 points but worth noting that they've played 13 of their first 19 games on the road. Away from home, they're 3-10-0. At home, they're 4-1-1. The 'glass half empty' view of their recent form is that they've won only 4 of their last 10 games. The 'glass half full' view is that they've won 3 of their last 5 including two victories on the road.
Minnesota has struggled to score goals this season and are ranked #26 in team offense putting up just 2.63 per game. They've also struggled to keep opponents out of their next and are #24 in scoring defense giving up 3.42 goals per game. Their power play isn't great but it's also not bottom of the barrel and the Wild rank #18 scoring on 18.6% of man advantage opportunities. The Minnesota penalty kill has actually been decent ranking #11 in the NHL at 83.1%. That's just ahead of Carolina's kill which ranks #13 at 82.6%. The Hurricanes have a significantly better power play ranked #6 in the NHL connecting on 24.6% of man advantage opportunities. Overall, Carolina has been much better offensively than Minnesota ranking #8 in the NHL scoring 3.42 goals per game. They've also got the #14 team defense in the league allowing 2.95 goals per contest.
For years, Minnesota dominated Carolina on home ice and enter this matchup on a 9-3-2 run. Carolina has won 3 of the last 4 head to head including a 1-1 split in the last two in Minnesota. The Hurricanes won both games last year winning 5-1 in Raleigh and 5-4 in Minnesota. The expectation is that Devan Dubnyk will get the start here and he's struggled this year. Dubnyk has a 4-8-1 record with a 3.30 goals against average and a 0.896 save percentage. He'll be opposed by Petr Mrazek who has been very solid with a 9-3-1 record, a 2.62 goals against average and a 0.904 save percentage. The Wild play better at home but the 'canes are still the better team top to bottom.
BET CAROLINA HURRICANES -115 OVER MINNESOTA WILD