More COVID-19 Issues For Villanova Hoops Program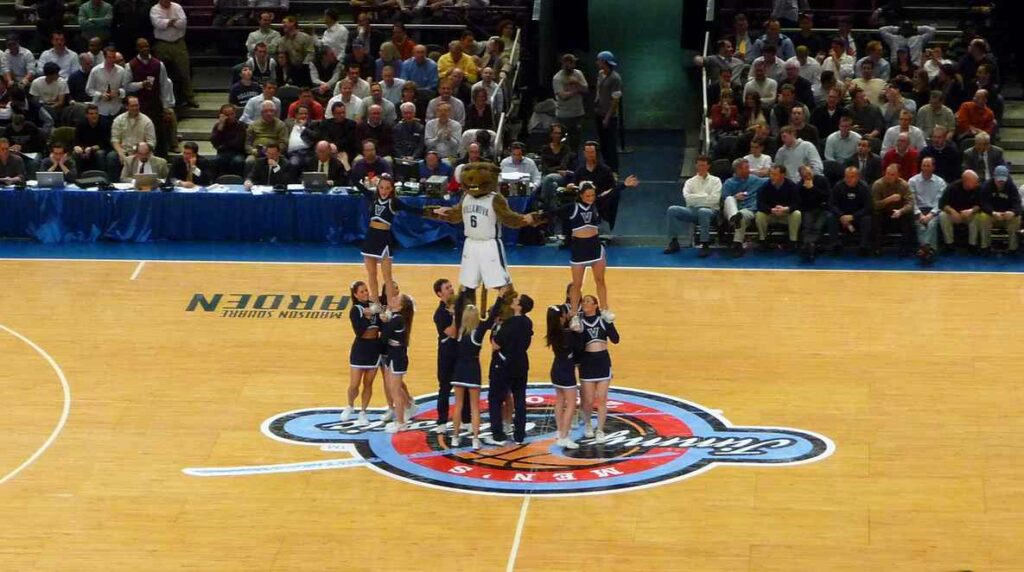 The 2020 college basketball season has been a classic case of 'good news and bad news' for the Villanova Wildcats. First, the good news–they've got a very good team this year and are currently ranked #3 in the latest AP poll at 8-1 overall and 3-0 in Big East play. Now the bad news–they've had a slew of problems with COVID-19 issues and haven't played a game since before Christmas. The last action for Villanova was a December 23 win over Marquette. On December 27, the basketball team 'paused' all activities after head coach Jay Wright tested positive for the coronavirus.
Wright released this statement through the school athletic department at the time of the 'pause':
"Our players have been very diligent and disciplined with all of the COVID protocols. Unfortunately, we have had two staff members test positive. I am one of them. My symptoms are mild, and we remain connected as a team and staff by phone and Zoom. I am grateful to our Team Physician, Dr. Mike Duncan, worked tirelessly to help guide us safely through this."
The 'pause' resulted in the postponement/cancellation of Villanova's January 2 game at Xavier. On January 3, the Villanova Athletics Department released this hopeful news:
Villanova resumed basketball activities with a team practice Sunday at Finneran Pavilion. The Wildcats paused due to COVID-19 positive results among Tier 1 staff members on Dec. 27.

Head Coach Jay Wright has participated in virtual team and staff meetings throughout the past week as he continues his recovery away from the team. He remains on target to rejoin the team on Tuesday for its BIG EAST game at DePaul.

The Wildcats (8-1 overall, 3-0 BIG EAST) last saw game action on Wednesday, Dec. 23, when they posted an 85-68 victory at Marquette. Villanova is ranked at No. 4 in this week's Associated Press Top 25 and No. 3 in the USA Today Coaches poll.

Tuesday's game at DePaul is slated to tip off at just after 7 p.m. eastern time at Wintrust Arena. It will air on FS1 and 95.7 Ben FM.
This optimism didn't last long–earlier today, Villanova once again announced a 'pause' due to COVID-19 along with the postponement of their next three games including the aforementioned game at DePaul. Not much context was provided beyond this terse statement:
Villanova announced a pause in men's basketball activities Monday due to COVID-19 issues within the program.

In conjunction with this news, the BIG EAST announced that the Wildcats next three games: at DePaul Tuesday; vs. Marquette Friday; and at Xavier on Jan. 13 have been postponed. No makeup dates have been announced.

The Wildcats had returned to team practice on Sunday after pausing on Dec. 27 due to COVID-19 issues within the program.
Head coach Jay Wright didn't shed much light on the situation though he did offer the good news that he's on the mend:
"We are obviously going through a tough time right now in our program. We had quarantined for 10 days with nine consecutive days of negative tests for all players. On the 11lth day of our quarantine we practiced together, for the first time (Sunday). We test every day before practice. So, today we were getting ready to practice and head to DePaul this afternoon, and we learned we had two positive tests from players. That immediately shuts us down and puts us into a 10-day quarantine at least. That's what we know exactly at this time. We're in that mode of trying to figure that out."

"I feel great. I am ready to come out of quarantine tomorrow. I tested positive on Dec. 26. It had nothing to do with the players – it was me. Because I tested positive on the 26th, we ent back to the 23rd, which was the last time we were all together at Marquette. We weren't together on the 24th or 25th, even when the players met with their families. The players went into quaratine while I was in isolation. We had them in a hotel in individual rooms from the 26th to Jan. 2. They were isolated. No players did anything wrong. A couple of staff members tested positive on the 26th and 27th but they weren't with the players. The virus can show itself within 14 days so that' is something we are looking at."
Villanova's situation does present some interesting contradictions that began in college football and are continuing in college basketball. More specifically, at what point do you start to 'penalize' a team for not playing games? It's obviously not a 'moral failing' to have positive COVID-19 tests within a program. Some programs do a better job than others at mitigating the virus but ultimately that can only do so much.
Shaka Smart's Texas Longhorns have moved up to #4 with an identical 8-1 record following a road beatdown of Kansas. If Villanova is having to cancel or postpone their next three games but Texas keeps playing and playing well the point will come very quickly when the Longhorns pretty much *have* to jump over the Wildcats.