Los Angeles Chargers Fire Head Coach Anthony Lynn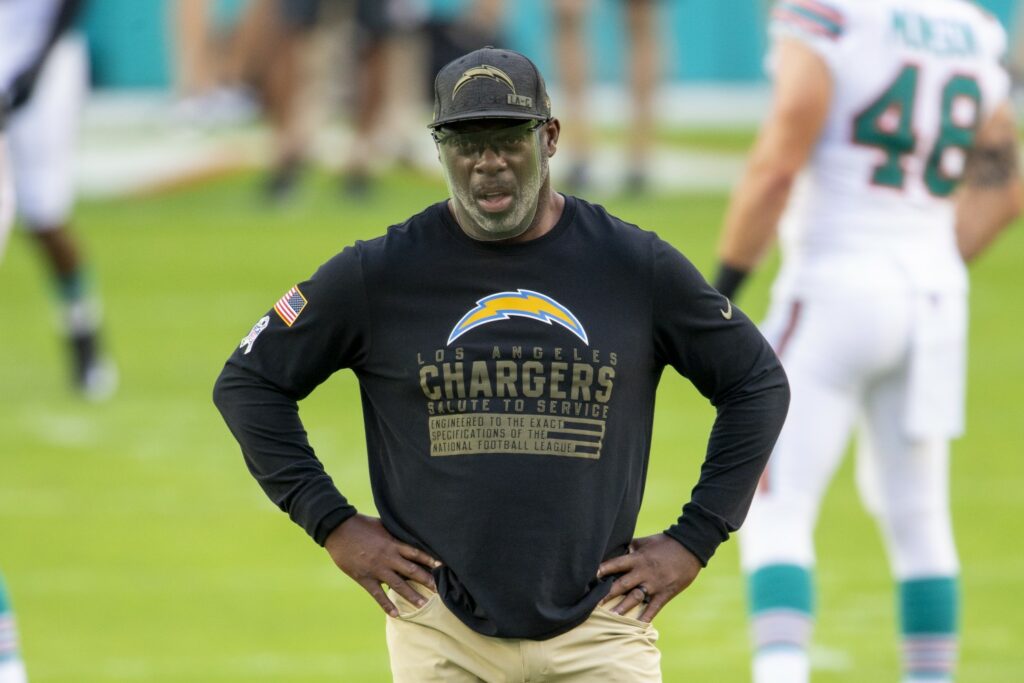 When the Los Angeles Chargers didn't immediately fire head coach Anthony Lynn after Sunday's Week 17 action it looked for a moment like he might actually survive to return next season. The word on the street was that Chargers owner Dean Spanos thought very highly of Lynn as a person but more importantly he was impressed with the rapid development of rookie quarterback Justin Hebert under his watch. The secondary rationale for keeping Lynn around after back to back losing seasons was his close relationship with Hebert. With Hebert emerging as the Chargers' QB of the future the presumption was that because he was tight with Lynn that the coach might live to fight another day.
As it turned out, Spanos just wanted to give his decision some thoughtful deliberation but on Monday afternoon he finally pulled the trigger and fired Lynn after four seasons as coach. The Chargers finished 7-9 this season but there was speculation that a strong four game winning streak to finish the season could give the owner some optimism sufficient to keep Lynn around. Two consecutive losing seasons apparently were enough and the Chargers are now looking for a new head coach. Spanos released this statement to announce Lynn's dismissal:
"This morning I informed Anthony Lynn that we have made the decision to part ways with him as our head coach. I'm not sure there is another person in this league more respected as a human being than Anthony, and I want to sincerely express my deepest gratitude for his leadership during a time of great change for our organization."

"As we all know, this is a results-driven business and, simply put, the results of the past two years have fallen short of expectations. Moving forward, we will redouble our efforts to both build and maintain a championship-caliber program. We have been innovative in many facets of our organization in recent years, and we need to carry that over to our entire operation. Our fans need to know that the Los Angeles Chargers are committed to consistent, winning football. The search for a new head coach will begin immediately."
Lynn leaves Los Angeles with a 33-31 regular season record but did so in pretty ugly fashion. In 2018, he led the Chargers to a 12-4 record and a playoff victory but followed that up with a 5-11 season in 2019 and a 7-9 season in 2020. Along the way, the Chargers got a reputation for being unable to close out games. This season, 7 of the Chargers 9 losses were by a touchdown or less. In 2019, 9 of the 11 losses were by a single score. When a team has the talent to keep games close but not win them it usually comes back to the game management skills of the head coach. That looks to be the case here. Underachievement relative to the talent on hand has become a tradition with the Chargers as they've made the playoffs only twice in the past 11 seasons despite having decent personnel more often than not.
The Chargers also had problems on special teams and despite personnel changes in the coaching staff it never really improved. For a team with a penchant for playing–and losing–close games special teams play can be a difference maker. The good news is that they've got a talented quarterback of the future and that alone will make this a highly sought after job. The track record of patience shown by ownership won't hurt either. Lynn probably should have been cut loose after the 2019 season but the franchise also gave previous head coaches Norv Turner and Mike McCoy plenty of time to turn things around. So far no clear candidates to replace Lynn but CBS Sports is speculating that Buffalo Bills offensive coordinator Brian Daboll could be on the radar. The turnaround in Buffalo is reason in itself but Daboll also went to high school with Chargers general manager Tom Telesco.