MMA Betting Odds–Will Conor McGregor Fight Floyd Mayweather?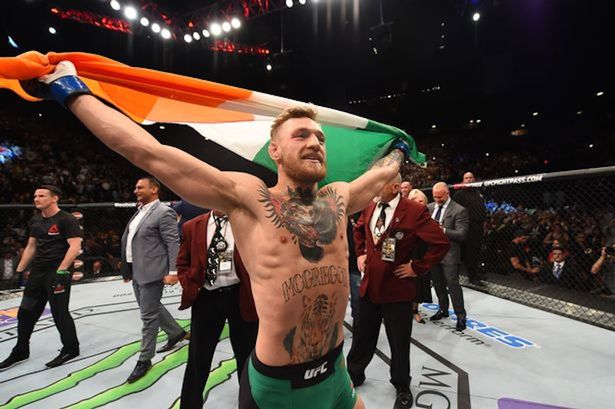 – Conor McGregor is the latest UFC fighter to call out a top level boxer.
– McGregor's boxing license from California doesn't mean much.
– Even most MMA fans realize that Mayweather would destroy Conor under boxing rules.
Full disclosure–at one point, I covered boxing and mixed martial arts (MMA) full time. I've never really understood how the UFC promotes the sport. On one hand, they deserve a ton of credit for building a universally recognized brand and being the major force behind establishing a completely new sport. On the other hand, the PPV buy rates for UFC events tell a far different and less impressive story. At the time I covered UFC 100–which had 1.6 million PPV buys–I made the observation that in the future 1 million buys would be the 'Mendoza Line' for every PPV event. I couldn't have been more wrong. There have been 102 UFC PPV events since then and only 8 have had a seven figure PPV buy rate.
The nature of PPV buys for any fight sport (and I'm including the 'worked' fight sport of pro wrestling) is that the main event is the primary driver of public interest. This is particularly true for the UFC which has a dependable 'core audience' of 150 to 300 thousand buyers that will 'pull the trigger' on any PPV event. This alone is a very impressive accomplishment and you don't have to be a CPA to realize that getting this 'core audience' for a dozen or more PPV events per year at $50 (or more) a pop is a very envious revenue stream. The downside of that is it's easy to become complacent with building new stars and expanding the visibility of the product. It's clear that the biggest UFC buy rates are due almost exclusively to the presence of a 'dependable box office draw' on the card–Georges St. Pierre, Brock Lesnar, B.J. Penn and Ronda Rousey. Yet the UFC has made what is clearly a calculated decision to prioritize 'the brand' over the individual fighter.
CONOR MCGREGOR–HUMAN ATM MACHINE
The UFC has a vested interest in 'creating stars' to headline PPV events but they've got a spotty track record at doing so. To be fair, it's not easy in any fight sport as it takes a combination of skill, charisma and promotional ability. It also takes a steady diet of compelling opponents. Boxing has proven this concept for over a century now. Muhammad Ali would have been a star regardless of his opposition. It took Liston, Frazier, Foreman, Norton and an extensive supporting cast to make him 'The Greatest'. This is a secondary problem for the UFC–whenever they have a big star they quickly run out of compelling and credible opponents for him (or in some cases 'her') to fight. This is the primary formula for main event star success though there are a number of subordinate factors. It's hard to get the 'recipe' right and the ability to 'work' the actual fight outcomes doesn't make it substantially easier as the WWE and other pro wrestling promotions have learned.
Enter Conor McGregor. It remains to be seen if he can be the greatest all around fighter in UFC history but he's already proven to be the most marketable. There's really not a marketing downside to McGregor–he's got a flamboyant, outspoken 'heel' personality (the legendary Ric Flair famously told Conor that 'he's welcome' for 'his gimmick' during a Twitter spat) and an almost instinctive ability to 'sell' a fight. For this reason, there have been constant rumors that he could end up having getting involved pro wrestling–he might not be Andy Kaufman (who understood 'heel psychology' better than most actual pro wrestlers) but he clearly gets the promotional component of fight sports.
What makes McGregor a walking ATM machine for the UFC isn't just his personality. He also happens to be a damn good fighter with an exciting style. More importantly, he's shown little concern about who he fights. That's how he's come to hold the UFC Championship in two different weight classes. He doesn't worry about looking for opponents with a 'favorable style' or staying at a specific weight. He'll show up and fight anyone which only adds to his marketability. Perhaps the most impressive quality he's demonstrated so far is an ability to maintain his 'heat' after a loss. A submission loss to Nate Diaz could have been a serious blow to the career of many fighters but McGregor avenged the defeat and is a bigger star than ever. The reality for the UFC circa 2016 is that there aren't many 'marketable' superstars on their roster. Conor McGregor is the big exception. He's as much 'rock star' as fighter and that makes him a 'license to print money' for the UFC.
CONOR MCGREGOR ISN'T FIGHTING FLOYD MAYWEATHER
Dana White has dismissed the current media frenzy over Conor McGregor 'calling out' Floyd Mayweather as 'Conor being Conor'. He's definitely a 'loose canon' as evidenced by the fact that he's in a war of words with the UFC itself over whether or not he relinquished one of the two title belts he currently(?) holds. On the other hand, the Conor/Mayweather 'feud' has a ring of familiarity to it. There have been enough UFC fighters involved in a media 'feud' with a boxer that it's really hard to believe that it's not a product of the promotion's internal PR department. That's why we've seen Ronda Rousey call out Floyd Mayweather, Anderson Silva call out Floyd Mayweather and Roy Jones, Jr., Jon Jones call out Roy Jones, Jr. and Quinton 'Rampage' Jackson call out Roy Jones, Jr. No matter the genesis of the Conor v. Mayweather 'feud' the fight is unlikely to happen for a number of reasons:
–CONOR'S 'PLAN B' BOXING LICENSE: The 'Conor McGregor v. Floyd Mayweather' hype reached a fever pitch last week after McGregor was awarded a boxing license by the California State Athletic Commission. There's only one problem here and although it's a big one it has received scant mention in the sports media (including the MMA media which should know better)–McGregor only sought a California license after being turned down for a boxing license in Nevada. Part of the denial was due to outstanding fines that McGregor is appealing. That's not the only reason, however, as Nevada State Athletic Commission Executive Director Bob Bennett explained:
Bennett said he would need to either see footage of a McGregor sparring session in boxing or attend a session on his own to determine whether to even take the next step in granting a license for McGregor to participate in a completely different sport than the one in which he currently competes.
"Mr. McGregor is an incredibly gifted fighter and athlete. He obviously knows what he's doing as a fighter and I have the utmost respect for his abilities," Bennett said. "But it is a different sport."
–THE UFC WOULDN'T LET HIM DO IT: Forget for a moment about any potential injury risk. The UFC knows that while it might be all 'fun and games' to talk about that they have no interest in seeing Conor McGregor or any other fighter actually get in the ring with Floyd Mayweather. They've got McGregor under a long term deal and there's nothing that would hurt his marketability and 'mystique' more than being used as a speed bag by one of the greatest 'pound for pound' boxers in history. The Las Vegas Review Journal understands whats at stake and noted that the UFC wouldn't sign off on McGregor boxing anyone without "an extended legal fight."
–FLOYD MAYWEATHER DOESN'T WORK CHEAP: The UFC has been a frequent target of criticism for underpaying their fighters. This is a different debate for a different time but there's no question that the pay scale for top UFC stars is just not on the level of what elite boxers are used to making and there's none more 'elite' in this regard than 'Money' Mayweather. Conor McGregor set a record for the largest announced UFC purse when he made $3 million at UFC 202. He received additional compensation for a big PPV buy rate with reports suggesting a net payday of $15 million for UFC 202. Not bad for a night's work, but compare that to the $32 million that Floyd Mayweather earned for his last fight against Andre Berto. That wasn't anywhere near Mayweather's cut of his fight with Manny Pacquiao where he banked a cool $230 million–or more money than the San Antonio Spurs paid Tim Duncan during his 18 year NBA career. It's not evident where the money would come from to get Mayweather–the #1 paid athlete in the world in 3 of the past five years–to even listen to an offer to fight McGregor.
–NO ONE REALLY WANTS TO SEE IT: The mainstream sports media is significantly more 'intrigued' by a hypothetical MMA fighter vs. boxer matchup than the people who would be making the PPV buys–the fans of both sports. Or, more likely, the people *not* making the PPV buys. Even among devotees of the respective sports there's a good understanding on how the overwhelming majority of these matchups would play out. Under boxing rules, the boxer wins. Under MMA rules, the MMA fighter wins. For this reason, there's minimal interest 'on the ground' about this fight even on a hypothetical level. John Petit is one of my 'go to' MMA experts and he suggested that there was a better chance that Conor McGregor 'gets pregnant' than fights Mayweather.
For that reason, there's no need to break down the hypothetical McGregor vs. Mayweather matchup. It would go exactly how you'd expect if you put a boxer making his pro debut in against one of history's 'pound for pound' best. The fight would last as long as Mayweather wanted it to. The Westgate Hotel and Casino in Las Vegas put a line on the fight last week with Mayweather a -2500 favorite. Since that works out to an implied probability of 96.15% it sounds a bit short but clearly they're wanting to attract as much McGregor action as possible.
Conor McGregor is a very intriguing personality and we'll be back later this week with a full range of odds on what he *will* do next both in the UFC and otherwise. One thing you can bank on is that he *won't* be fighting the best defensive fighter of my lifetime aka Floyd Mayweather any time soon.

CONOR MCGREGOR VS. FLOYD MAYWEATHER BETTING ODDS
Will Conor McGregor fight Floyd Mayweather before 11:59 PM Eastern on 12/31/17?
Yes: +1250
No: -2700