MLB Baseball Betting for June 8, 2016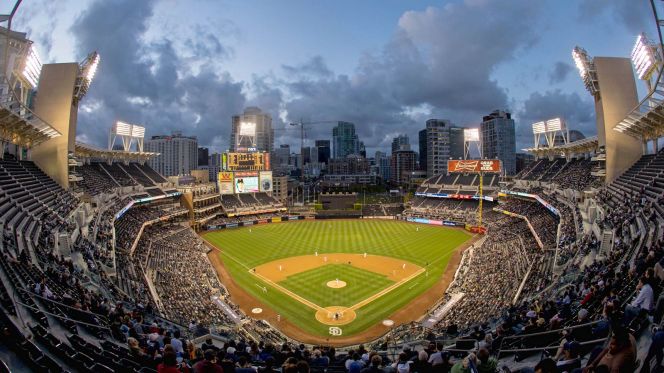 Big day of Major League Baseball action. With the end of the NHL and NBA seasons on the horizon we'll have plenty of MLB coverage going forward:
MLB BASEBALL BETTING FOR JUNE 8, 2016
ATLANTA BRAVES AT SAN DIEGO PADRES:
One of the completely inexplicable events of the 2016 Major League Baseball season thus far has been the downward spiral and flatlining of the Atlanta Braves. It wasn't that long ago that the Braves seemed to put a competent to excellent team on the field every season. At one point, talented pitchers oozed up from the Braves' minor league system in waves every spring. Now they look to be grasping at straws, peddling off productive veterans for other team's minor league prospects.
Most recently, Braves' President and former GM John Schuerholtz–typically credited with creating and implementing the blueprint that took Atlanta from a perennial laughing stock to a perennial division title winner–stepped down from his job. He's now in the nebulous role of 'Advisor'. The newspaper article announcing the move indicated that he had 'begun to distance himself from day-to-day team operations'. That's apparent from looking at the personnel the Braves are putting on the field.
Atlanta enters this game with a record of 16-42, 19 games out of the NL East lead and 15.5 games out of a wildcard spot. That's also the worst record in baseball. I remember when the Braves were a laughing stock prior to the John Schuerholtz/Bobby Cox era. Every year they'd put up a team full of marginally talented players like Rowland Office, Biff Pocoroba and Willie Montanez. They'd never come within a sniff of a .500 record but they were seldom the worst team in baseball.
Fortunately for the Braves, Atlanta is a lousy sports town. No one paid attention when they lost a couple of NHL teams to Canadian cities that appreciate the game. No one paid attention when the Braves were in the MLB playoffs every season. No one paid attention to the Atlanta Hawks last year when they had the best season in franchise history. They'll pay attention to the Falcons when they're winning and college football. This means that the Braves can continue their implosion in relative peace.
Today, they're going to try to avoid a sweep by the San Diego Padres. It's a very common baseball betting concept that you bet against the sweep. In this case, I just don't have enough confidence in Atlanta to do so. Atlanta will start Julio Teheran who may soon be a member of the Boston Red Sox. Teheran is a very capable right hander and has a 2.92 ERA on a lousy team. Not that it's mattered to the Braves who have managed to lose 10 of his 12 starts.
San Diego will counter with Drew Pomeranz, a very talented lefthander that won't be 'under the radar' for much longer. Pomeranz has a 2.22 ERA overall but can likely sympathize with Teheran's plight–the Padres have managed to go 5-6 in his starts. They've won 3 of his 4 home starts where Pomeranz has been borderline unhittable with a 0.73 ERA and 28 strikeouts. The Braves can't hit under any circumstance and they've been awful against lefthanded pitching going 6-16 -7.2 units putting up three runs per game. The Padres aren't a great team or anything but they haven't quit on the year at every phase of the organization like Atlanta has.
BET SAN DIEGO PADRES -155 OVER ATLANTA BRAVES
NEW YORK METS AT PITTSBURGH PIRATES:
This is one of my favorite MLB betting stratagies–playing against a name pitcher when a young pitcher making his pro debut is opposing him. That's what we've got in this game as the Mets send Noah Syndergaard to face Jameson Taillon. Taillon is making his Major League debut and has been languishing in the Pirates' organization for 6 years now.
Starting pitching is a big part of the game and an even bigger part of how bookmakers price the game. But it's not the only part of the game and there's a tendency–particularly among recreational players–to get so fixated on the pitching matchup that they lose sight of everything else. In terms of starting pitching, this is a huge mismatch. Taillon has no MLB experience while Syndergaard has put up a 1.94 ERA and 88 strikeouts in 11 starts. If you were picking between these guys for your team there would be no comparison whatsoever. But the deal here is that there will be eight other guys on the field at any given time that play a part in the success and failure of their team. There will be players at bat that do the same. I can't imagine that Taillon will be left to go too deep in the game no matter what kind of form he's in so before long you'll be facing the Pirates' bullpen.
The pitching matchup disparity is the only legitimate reason for making the Mets a -145 road favorite here. Otherwise, these teams are very evenly matched. The Mets are 31-26 on the year, the Pirates are 32-26. Neither are in stellar form at the moment–the Mets have lost 7 of 10 and the Bucs have lost 6 of 10. Pittsburgh, as a matter of fact, has dominated head to head play in recent years winning 12 of the last 15 meetings including 8 of 9 at home. Pirates have looked very sharp in the first two games of this series beating New York by identical 3-1 margins.
Some of the pricing may reflect the fact that baseball betting enthusiasts love 'betting against the sweep'. The problem with following that concept blindly is that it's starting to get priced into the line as everyone knows about it. For that reason, we'll back the Bucs as home underdogs.
BET PITTSBURGH PIRATES +135 OVER NEW YORK METS