NBA Basketball Betting: Golden State Warriors at Cleveland Cavaliers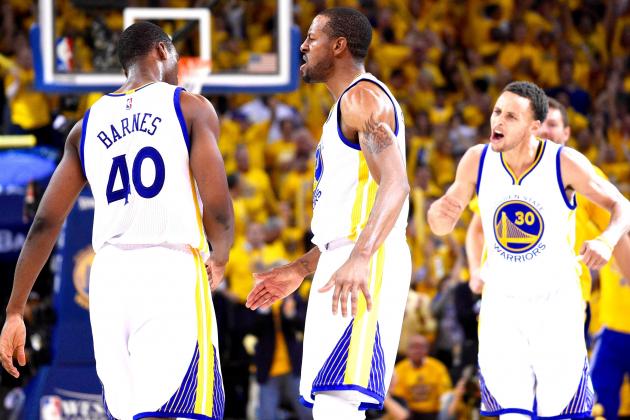 The NBA season that wouldn't end continues as the Golden State Warriors 'do the job' for the Cleveland Cavaliers so Bron-Bron won't get his wittle feelings hurt by being swept. So that means that the NBA season will continue for at least two more games:

GOLDEN STATE WARRIORS AT CLEVELAND CAVALIERS:

List of things I'd rather do than watch another NBA game:
–drink bleach
–have my eyes pecked out by crows
–stick knitting needles in my ears.
So LeBron James lives to fight another day. Or else the Warriors got 'the word' from NBAESPN that they had to let up a bit on the Cleveland LeBrons for marketing and promotional reasons. I'm not a LeBron James hater–he seems like a nice enough guy off the court–but since he is the poster boy for the completely desolate landscape that is today's NBA he's going to take some abuse. Earlier in the day on Wednesday former coach Phil Jackson had some advice for Bron-Bron, suggesting that he toughen up mentally and be more like Mike…Michael Jordan that is. And oh boy did people get butthurt over it! LeBron supplicants in the media including his personal PR mouthpiece ESPN were quick to call 'The Zenmaster's' comments 'disrespectful'. As if you need to bow down in reverence–anywhere outside of ESPN's offices in Bristol, CT that is–when Bron-Bron walks into the room. Eventually, Bron-Bron would presumably get in the last word as he cracked back 'I'm not Michael Jordan'. No, LeBron, you're not even close…
And what would Phil Jackson know? Oh that's right–Jackson won a pair of NBA Championships as a player and a RIDICULOUS 11 NBA titles as a coach. He could put a ring on every finger and still need three toes. Phil Jackson has chunks of LeBron James in his stool. Some perspective here–Phil Jackson has as many NBA titles than LeBron *not counting his coaching career*.
But maybe Phil Jackson shouldn't be comparing LeBron to retired NBA players. Wrong again–Jackson was giving Bron-Bron some free advice on what he could do to be like THE BEST NBA PLAYER TO EVER WALK THE FACE OF THE EARTH. More significantly, MJ was the second mentally toughest *athlete* ever. Number one died a few days ago and was referred to simply as 'The Greatest'–which he was. Seriously, if you're not a boxing geek like I am go watch some Muhammad Ali highlights. Downright amazing…
What Bron-Bron *should* have said was the following: "Just a second, Phil. Let me get my notebook. I don't want to miss anything that the greatest coach in NBA history tells me. It's an honor that he thinks I could potentially be in the same league as Michael Jordan and MUHAMMAD FREAKIN' ALI. I'll try to live up to that high level on and off the court." Translation–Jackson wasn't "disrespecting" LeBron. For some reason 'disrespecting' has become a synonym for 'not being a toady and a sycophant'. Jackson was paying LeBron some pretty high level respect by even insinuating that he could be 'like Mike'.
So here's what happens now. The Warriors took their night off and the Cavs got their win. That means Cleveland will be back in "all we need to do is walk out on the floor and they'll buckle by the force of our presence" mode. And the Warriors will rip their hearts out like they did in Games One and Two. Golden State had a better road record (34-7) than Cleveland had a home record (33-8). The ESPN's of the world are already pumping up their boy Bron-Bron talking about how everything is completely different in the Finals now and Cleveland has all of the momentum. Don't believe them.
The only reason I'm not more emphatically sold on the Golden State Warriors here is that ESPNBA is such a crooked organization that they'd do anything they could to milk another game out of the Cavs. I'm not sure that crooked officiating is enough when the Warriors play 'their game'. The only thing I want to happen is for the NBA season to be over. I'm amazed that anyone who *isn't* betting on the games watches this dreck.
Seriously–any time I can get the Golden State Warriors as an underdog I'm taking it.
BET GOLDEN STATE WARRIORS +1.5 OVER CLEVELAND CAVALIERS