Lakers' Flopping Antics Draw A Warning From NBA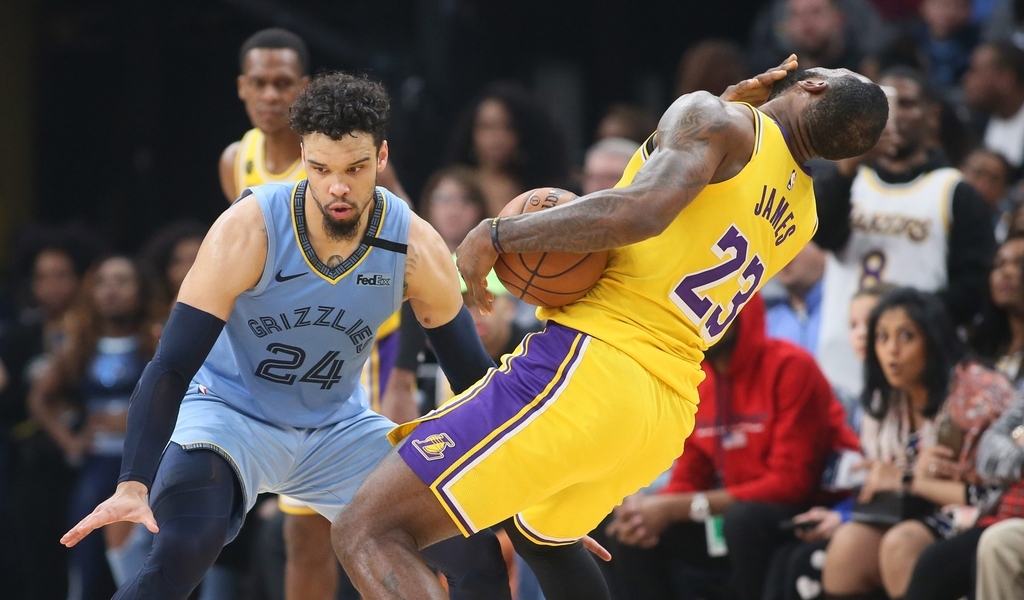 One of the most irritating components of international soccer is how players will embellish a fairly benign foul in hopes of drawing the attention of officials. A simple trip will often send the player down to the pitch screaming like he's been shot. Most soccer leagues have taken steps to tone down the embellishment which is definitely long overdue.
The NBA has had their own flopping controversies where players would drop to the floor in mock agony for as little as an ugly look from an opponent. That's why the NBA has implemented rules to crack down on the practice. You know they're serious when the league goes after the most popular player and team in the process.
That's why LeBron James and Kyle Kuzma both received 'warnings' for violating the NBA's anti-flopping rule in the LA Lakers 115-105 win over the Memphis Grizzlies on Friday night. Lest they receive a 'who me?' type shrug from LeBron the announcement was extremely specific. LeBron's malfeasance came with 2:33 remaining in the second quarter when he was fighting for a rebound with Dillon Brooks and Grayson Allen and fell to the floor in the process. Not quite like he got shot, but enough to look a bit silly given the degree of physical contact with his opponents.
Kuzma's flop came with 6:31 left in the game. He was guarding Dillon Brooks and there was some incidental contact between the two players. Kuzma put on his acting shoes and took a dive to the hardwood floor hoping to draw an offensive foul but the referee didn't bite.
Both players received a warning which is the first level of punishment for 'floppers'. After the warning, subsequent violations start at $5,000 and grow to $10,000 then $15,000 to $30,000. After six flops in a season the fine can increase even further and the league has the option of suspending the hardwood thespian. Flopping remains part of the game though it isn't a huge problem and as such the 'anti flopping' measures are rarely implemented. LeBron and Kuzma are just the sixth and seventh players to be nailed for the offense this season. The last player to be fined for flopping was the Celtics' Marcus Smart during the 2020 playoffs.