Hosts Portland Favored to Defeat Dogged Red Bulls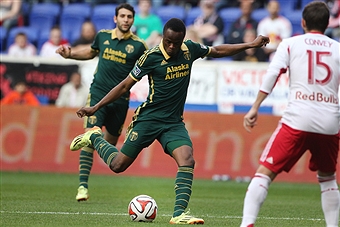 Who: Portland Timbers v. New York Red Bulls
When: Friday August 18th, 2017 10:00PM EST
Where: Providence Park—Portland, Oregon
When the Timbers and Red Bulls meet on Friday, the Timbers will do so having walked a mile in the shoes New York will be wearing. Coming into last week's match—one that did not end very well for Portland—Portland was weary-legged and that tiredness showed right away. In the end, the Timbers were handed a 4-1 defeat that put a huge dent in their confidence.
This weekend, it will undoubtedly be the New York Red Bulls who are the wearier of the two sides. New York will enter Friday night's match on the back of a Tuesday night US Open Cup victory over FC Cincinnati. While the elation stemming from a berth in the US Open Cup Final will be fervent, their weary legs will be the focus. The reason this is so is due to the fact that the midweek match went 120 full minutes. After going down 2-0, New York battled back to tie the match and send it into extra time. A quick goal saw New York take the lead and ultimately achieve victory. Having started more than half of their regular starting lineup, Red Bulls will either need to play tired players or rely on unproven reserves.
Added to the difficulties that will undoubtedly be faced by New York is the fact that Providence Park is one of the toughest places in all of MLS to play a match. The Portland supporters are constantly touted as some of the best around. Fortunately, New York is one of the East's better teams and will be up to the challenge. Whether that willingness translates into victory or not, however, is something that remains to be seen.
Match Overview and Analysis
The Timbers (-115) will host the Red Bulls as favorites for a few reasons. For one, like we mentioned above, the Timbers will be playing in front of the best crowds around. While other sports may not so heavily emphasize home field advantage, it is something that most definitely exists in MLS. To put into perspective just how much of a fortress Providence Park is, Portland has lost just one match there since they dropped the ball on their 2017 campaign (yes, including preseason). With a record like that at home, even a fully energized New York team would be really up against it.
Up front for the Timbers will be both Diego Valeri as well as Fanendo Adi. Combined, these two have 23 goals and are a formidable force. Even more than that, they are annoying for opposing defenses. Valeri is the type of player that will lull you to sleep and wake you up when one of his shots hits the back of the net. So long as Portland can come out and competently defend—something they haven't done all that well of late—I think they should win this match. Having said that, the Timbers have not shut an opponent out since early June, so this may be a high-scoring affair.
For New York (+270), the biggest test will undoubtedly be their own fitness. Unfortunately, even superhumans would have a tough time coming out a few days after a 120-minute match and offering up a solid performance. The fact of the matter is that, with the crowd and the tiredness, Red Bulls will more than likely come out looking to defend. If they can hold Portland out through the first 20-30 minutes, their chance at earning 1 or 3 points will increase dramatically.
We still do not know what starting XI will be taking the field for New York, but you can expect that there will be at least a few subs making appearances in the starting lineup.
Betting Prediction
While this may be the 3rd time we are talking about it this post, the homefield advantage that Portland lays claim to is second to none. As such, I think you have to take their moneyline (-115) in this one. Not only do they have the crowd on their side, they will be entering this match on the back of 6 days' worth of rest. When you compare that to New York's 2.5 days of rest and travel, Portland look to be the likely winners.
Another wager I like is the over/under as offered by Bovada, which currently stands at 3 goals (-125/+105). Considering all that we talked about above, I think you have to take the over (-125) in this one. Both teams are known for scoring goals, and with shoddy defenses on both sides, I think this is making for the perfect storm of onion baggers. If you are not so confident the score will go over 3 goals, you can take Bovada's alternate 2.5 over/under (-205/+170). Though the -205 is not the best value, I think this match is going to give us goals.