Favored Cubs Look for Sweep of Mets in Tseng's MLB Debut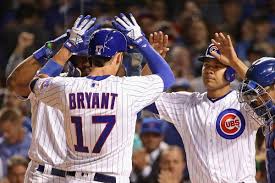 Who: New York Mets v. Chicago Cubs
When: Thursday September 14th, 2017
Where: Wrigley Field—Chicago, Illinois
The Mets and Cubs' series rubber match might not seem like one of Thursday night's most interesting matchups, but it is exactly that. The reason being, the Cubs' are starting a guy not even experts anticipated seeing in MLB this year. Jen-Ho Tseng, a 22-year old Taiwanese player, was reportedly in town to be given an award for his performances in the Cubs' minor league system. What better way to be rewarded than by being given a start? Joe Maddon, manager of the Cubs, has thus far had nothing bad to say about the youngster, and is excited to see him make his MLB debut.
This seems like a risky move in the eyes of some when you consider that Chicago is only 2.5 games ahead of the Brewers, a team that just recently swept the Cubs. Despite this, Tseng will make the start. The Cubs' recent play has been nothing to write home about, as it seems they are consistently losing to better teams while simultaneously easily taking care of the weaker teams they face. While they are very much in control of their own destiny, the Cubs need to really tighten things up if they want any hope of repeating as World Series champions.
The Mets have long since been eliminated from playoff contention in the eyes of baseball fans everywhere, though their recent form has not been too poor. Notably, the Mets were able to sweep the Reds in 3 games and take 2 of 3 from Philadelphia before that. At this point, the best New York can do is play spoiler for teams like the Cubs, who are still far from being guaranteed a playoff position. The Mets have lost the first 2 games of this series, and there are few people expecting anything different from this final game, if that helps you put things in perspective.
Game Overview and Analysis
When the Mets (+196) take the field on Thursday evening, they will be sending Seth Lugo (6-4 4.64 ERA) to the mound. Lugo is in his second year in MLB and has not spent the entire time in the starting rotation, but it seems as though management is putting increasing amounts of trust in the 27-year old Louisiana native. In his last 2 outings, he has a 1-1 record. More telling is not how he pitched as much as who he pitched against. In his loss, he started against the perpetually hot Houston Astros, and his win came against the Reds. If you have been following baseball at all this year, you know that these two teams are drastically different as far as total talent. For this reason, I am not exactly expecting Lugo to have such a hot night against the Cubs' offense.
As much as I would like to talk about the Met's offense, there really is not all that much to talk about. Their hitters are about as inconsistent as they come, and scoring many runs is not something they are known to do. If you couple this with a starting rotation that might be one of the worst in all of MLB, it is easy to see why the Mets have been at or near the bottom of the NL Easy all season long.
As was mentioned above, the Cubs (-212) will start Jen-Ho Tseng. Because we truthfully do not know a wealth of information about Tseng, we figured who better to talk about him than Cubs' manager Joe Maddon. While speaking with the press today, Maddon said of Tseng, "I've heard nothing but good things about this kid, I've watched the video. It could be one-and-done, we'll see how it all plays out. This guy's really a good command pitcher with a really good changeup and nice breaking ball. Sometimes you catch lightning in a bottle and you learn some things, too. We'll play him tomorrow night and see where it takes us and try to figure the next step after that."
Being that the Mets do not have a great offense, there are few better opponents for Tseng to matchup against.
Betting Prediction
BetOnline lists the Cubs as -212 favorites on the moneyline, however I think this is a bet you should take. I know Tseng has not played MLB baseball yet, but the fact of the matter is that the Cubs are a vastly superior team than the Mets. By the time the dust settles, I think the Mets will have emerged victorious regardless of whether or not Tseng does well in his debut.
As far as the over/under is concerned, it is currently listed at 9.5 (+102/-122). I think the over (+102) not only offers decent value, I think it is the better of the two options. I feel this way because, for one, Seth Lugo is not exactly the best pitcher in the world and the Cubs are going to hit him all over Wrigley Field. What's more, it is tough to envision Tseng will pitch a shutout in his very first outing, regardless of how bad the Mets are.