Favored Twins Begin Crucial Series with Toronto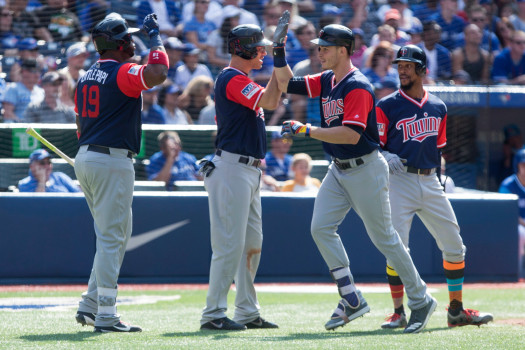 Who: Minnesota Twins v. Toronto Blue Jays
When: Thursday September 14th, 2017 8:10PM EST
Where: Target Field—Minneapolis, Minnesota
If there was ever a time when the Twins could work on solidifying their position in the MLB post-season, this week is it. Not only are we nearing the end of the season, they will, by week's end, have played 6 consecutive games at home. Not only that, but the teams that are visiting Target Field are not even close to being playoff contenders. On Tuesday and Wednesday of this week, the Twins welcomed the San Diego Padres and took both games, one of which took 10 innings. Beginning tonight and finishing up on Sunday, the Twins will play host to the Blue Jays, a team that currently sit at the bottom of the AL East.
As it stands, the Twins have opened up a 2 game lead over the Angels for the second AL Wild Card spot. The Angels have been playing Houston all week, so the Twins very well might be able to expand their lead. When it comes down to it, the Twins need to stick to the solid pitching and hitting that has gotten them this far. If you remember, Minnesota lost more than 100 games last year. The turnaround they have made in just one year's time has been remarkable, but it will all be for naught if they cannot finish this month and the regular season strongly.
As for the Blue Jays, there is not much to say that has not already been said. The fact of the matter is that they are one of the worst teams in the AL, and have been all season. From now through the end of the season, the Blue Jays will be eager to try and play the role of spoiler. They can put a bright mark on an otherwise dismal season if they were to be the reason a team like the Twins went home early. Whether or not they can defeat some of these playoff contenders however, is something that remains to be seen.
Game Overview and Analysis
When the Blue Jays (+148) take the field on Thursday night, they will be sending left-hander Brett Anderson (3-3 5.90 ERA) to the mound. Anderson has only started 9 games this season, and was recently acquired by the Blue Jays from the defending World Series Champion Cubs. In his 3 starts with the Jays, Anderson has a 1-1 record, but has pitched somewhat decently against a few decent clubs. His most recent outing was a win against Detroit in which he pitched 6 innings and gave up only 2 earned runs. Despite only having one win with the Blue Jays, the one thing we know about Anderson is that he is fairly consistent. Opposing teams will get the bat on the ball, but he is fairly good at keeping runs off the board.
If the Blue Jays want to win this or any other game in this series, they will have to step things up on the offensive side of the plate. This is something that has been next to impossible for them all season long, so you can understand why I am not expecting this series to go all that well for Toronto. Perhaps they can steal one game but tonight does not look like the night they will do it.
As for the Twins (-158), they will be starting Jose Berrios (12-7 3.94 ERA). Berrios' recent 10-game log perfectly exemplifies the up and down nature of his season. Across his last 10 starts, Berrios has gone 4-4. This is nothing to scoff at, but it seems as though he regularly trades wins for losses, and that is explained by his record that is nearing .500. By looking at his stats, it seems like when he gets hit, he gets hit hard, and when he is performing well, it snowballs into a victory. If Berrios can emit even a half-decent performance tonight, I am fully convinced that him and his team will win for a third night in a row.
Betting Prediction
As far as a moneyline bet is concerned, I have a difficult time rationalizing any pick other than the Twins' moneyline (-158) as offered by BetOnline. The fact of the matter is that the Twins are gaining momentum and need this win much more than the Blue Jays do. So long as Berrios can put in a solid 5 or 6 innings of work, I am fully confident in the Twins' ability.
The over/under for this game is listed at 9.5 (+100/-120). I think you have to go with the under (-120) simply because the Blue Jays' offense is nothing special. I see the Twins scoring runs, but I do not think their offense alone is likely to get 10+ runs.
The Twins are listed as -1.5 run favorites (+120) on the point spread, and I think that is your value bet in this one. If the Twins win, I think they will win big due to the discrepancy in offensive power in this game.