Detroit Red Wings Name Dylan Larkin Captain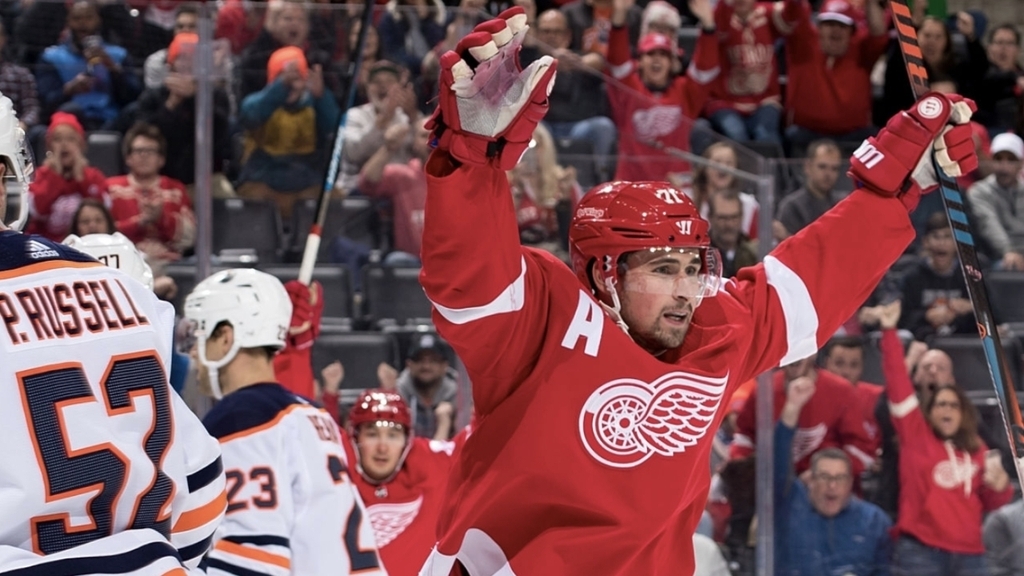 There's plenty of sports that have team captains but in none is it more of an honor and responsibility than in the National Hockey League. It is not only a reflection on a player's value to his franchise but also his character, toughness, preparation and ability to make his teammates better. The idea captain should not only have the respect of his teammates but other players in the league as well as the community in which he plays. The quintessential captain in the NHL today might be the Montreal Canadiens' Shea Weber who is as classy off the ice as he is relentlessly competitive on the ice. He wore the 'C' in Nashville before moving to the Habs and he's still beloved among Predators fans. He's a perfect fit for a role that has been filled by a 'who's who' in hockey history including Jean Beliveau, Henri Richard, Maurice Richard, Toe Blake and Saku Koivu.
Teams would rather go without a designated captain if they can't find the right player to fill the role. That's what the Vegas Golden Knights have done since the team's inception–until a couple of days before the start of the 2020-2021 season when Mark Stone was named the first captain in franchise history. The Detroit Red Wings have gone with only alternate captains since Henrik Zetterberg retired after the 2017-2018 season. In that time, the iconic franchise has hit rock bottom. This season, there's some 'light at the end of the tunnel' and a new captain: 24 year old Dylan Larkin.
Larkin has been one of the team's rare bright spots in the past couple of seasons and has the honor of being the first Detroit area native to wear the 'C'. Larkin has a lot to history to live up to–the list of previous Red Wings captains include some elite hockey luminaries such as Ted Lindsay, Marcel Dionne, Nicklas Lidstrom, Steve Yzerman and 'Mr. Hockey' Gordie Howe. Larkin might be a bit young for a captain (but don't tell that to Connor McDavid who was awarded the 'C' before his 20th birthday) but the current incarnation of the Wings desperately needs character and identity and #21 definitely brings that to the table.
Larkin has been one of the Wings' alternate captains since 2018-2019 and is not only a native of Waterford, Michigan but was a college standout at the University of Michigan. After the announcement, Larkin spoke to the media about his captainship 'role model' Henrik Zetterberg:
"Henrik was the ultimate captain to me. He did everything. He kept his emotions in check and whatever was going on in the locker room, he had his thumb on it and handled everything like a captain should, pulling guys aside and having a mature conversation. The way he carried himself, all the guys respected him as great as anyone I've seen.

"He was beloved in our locker room."
The guy that informed Larkin of his new role is beloved all over Michigan and with the obvious exception of Gordie Howe considered the best Red Wings captain ever: current GM Steve Yzerman. Yzerman knows what it means to be a NHL captain and thinks that Larkin checks all the boxes:
"He stands out as a leader in his work ethic, his competitiveness, his commitment, his inner drive to be really good, to win."

"He's a really good person. He's a mature young man. He's responsible. He cares. We feel with our team, the age he's at (24), where we are as an organization, his maturity as a hockey player, he just has a lot of attributes that make him a natural leader and perfect fit for us as our captain."
Yzerman paid Larkin a serious compliment by calling him a perfect representation of the Red Wings franchise:
"I strongly believe he represents our organization extremely well. He's extremely proud to be a part of the Red Wings organization and has a burning desire to be successful here."
NBA fans have just watched James Hardin force a trade out of Houston with all sorts of antics off the court and lazy play on the court. Larkin's the complete opposite and shows up every night despite the miserable record his teams have had the past couple of years. That was also important to Stevie Y:
"I see in Dylan's work ethic and his drive and determination, it's there on a daily basis. We all saw it last year even with our team, with the poor record that we had. I can't say there were too many nights I said Dylan didn't bring it tonight. He brought it every day in practice and every night in the games. Those are the things that really stood out to me. It was just pretty clear as the year went on and just getting to know him more and talking with him, didn't really change anything, which we felt initially at the start of the season."
In particular, Yzerman liked Larkin's poise in front of the media as the losses piled up:
"Being the captain, you take a lot of responsibility. I think you're expected to be there, the fans want to hear what you have to say. It's a challenge to come up with a good answer at times without stating the obvious. It wears on everybody. When you're constantly losing, you have really bad losses, it's draining for everybody, whether it's players, coaches, management, fans. But players, you just got to show up for work the next day and answer. When you struggle and you go through it, I think you can learn a lot from it, and it makes you certainly appreciate when things are going well. Again, I look back on all the experiences … you try to learn from them, and I think ultimately you get stronger and get better through them."
The Red Wings have a lot of work to do before they're even going to be competitive, let alone a Stanley Cup contender. From a financial standpoint, they essentially 'mortgaged their future' with backloaded contracts during the glory years that have now come home to bite them. They're fortunate to have a player like Larkin to build around.