Calgary Flames Fire Head Coach Geoff Ward, Hire Darryl Sutter To Replace Him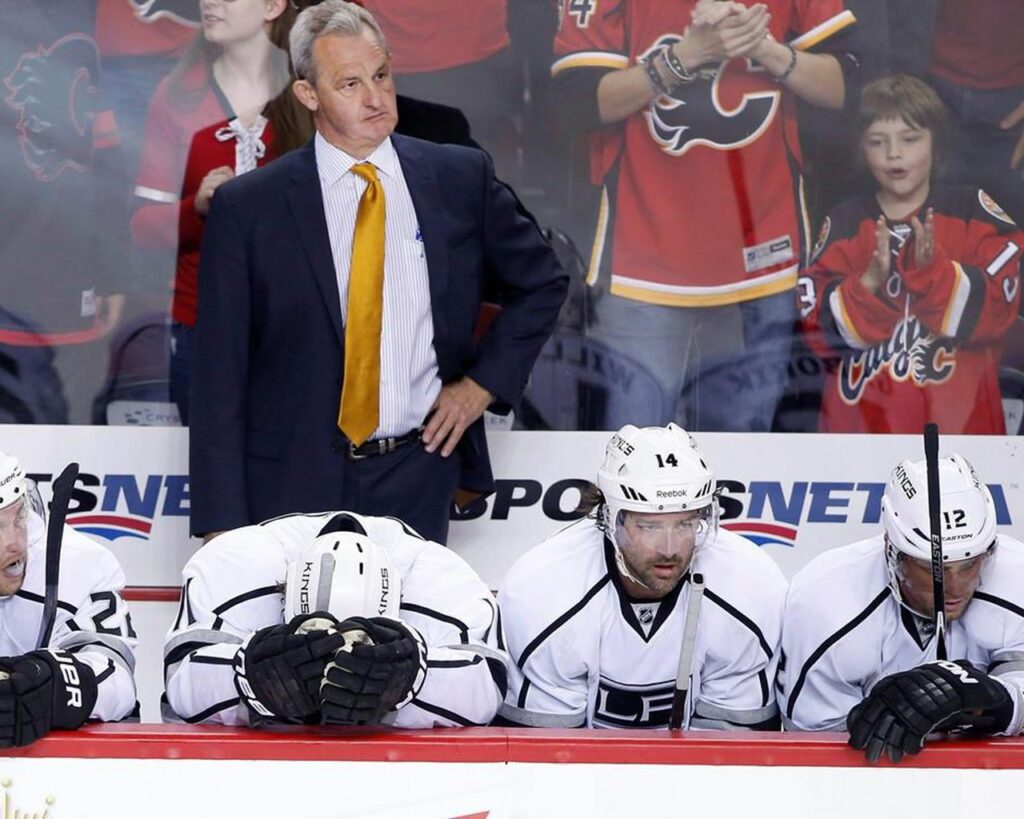 Mired out of playoff qualification after a bad start to the 20-21 NHL season the Calgary Flames have pulled a head coaching switch. Gone is Geoff Ward who took over the team on November 29, 2019 after former head coach Bill Peters resigned. It was Ward's first job as a NHL coach and he did reasonably well leaving the Flames with a 35-26-5 record. The problem is that the Flames are just 11-11-2 this year which has them in fifth place in the Scotia North Division. The top four teams make the Stanley Cup playoffs and the Flames trail the fourth place Montreal Canadians–who fired *their* head coach last week–by 2 points.
Two time Stanley Cup winning coach Darryl Sutter is the man that GM Brad Treliving hired to right the ship. Sutter is the fifth head coach by Treliving since he took the GM job in 2014. Sutter takes the reins in Calgary with a record of 634-467-83 with 101 ties in 17 seasons as head coach with the Flames, Kings, Chicago Blackhawks and San Jose Sharks. In his previous tenure with Calgary, Sutter went 107-73-15 with 15 ties with Calgary and reached the Stanley Cup Final in 2004.
Treliving didn't pin all of the blame on former head coach Ward but says that Sutter brings something special to the Flames:
"I don't put all this on Geoff… I just felt strongly over the course of the last little bit the team was underperforming. It needed this change. This change was required. Not only was a change required, Darryl was required. We needed Darryl. This team needs Darryl and what he can bring."
Sutter is enthusiastic about the personnel on hand in Calgary:
"Deep down, I believe it's a good hockey club. The blueprint is there. Now you have to take it and build it. The blueprint is there. The goalie and the top-end defensemen and the centermen are there. That's what it takes. You win championships down the middle of the ice and the goalie, right on down. I believe that. We'll build around that."

"When I look at this group, they're a very intriguing group because there's a lot of good players. They just have to adjust their style a little bit to do what it takes to win, and we'll do that."
Flames captain Mark Giordano says the Calgary roster knows what Sutter brings to the table:
"Most guys know what Darryl's all about. I think he's a proven winner. In L.A. he had two Cups. He's been to the Stanley Cup Final here in Calgary. If you're not going to listen to a guy who's a proven winner like that, you shouldn't be in the game. We all respect him. We all know what he's going to bring and he's going to bring that intensity and we're looking forward to it."
Sutter has to complete the NHL's COVID-19 testing protocol and as a result won't be able to join the team until Monday. He says that he expects to be running practice on Tuesday morning. In the meantime, assistant Ryan Huska will be in charge of the team.