Atlanta Heavily Favored and Expected to Take Care of Visiting Dolphins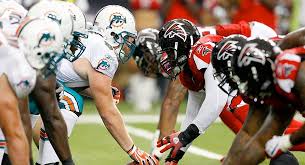 Who: Miami Dolphins v. Atlanta Falcons
When: Sunday October 15th, 2017 1:00PM EST
Where: Mercedes-Benz Stadium—Atlanta, Georgia
The Dolphins and Falcons will meet on Sunday in Atlanta for a little AFC, NFC matchup. The Dolphins will enter this matchup looking to preserve a .500 record and hopefully build upon it, while the Falcons will be looking to take care of a team they are favored to defeat. Adding to the feeling that a Falcons win is all but inevitable is the fact that Atlanta will be entering this game coming off of a bye week. A well-rested Atlanta team is the last thing Miami will want to see.
The Dolphins' season up to this point has not been pretty, but there have been decent stats put up by a number of offensive players. For me and most other people, the Dolphins; likelihood of emerging victorious in any given game is something that is squarely the responsibility of Jay Cutler. Cutler has to be one of the most inconsistent quarterbacks in the league, and his stats show just that. Even in his 2 victories, Cutler's performances have been less than convincing. Adding to the mountain of challenges faced by the Dolphins is that this game will be played in Atlanta, at a brand new stadium that is sure to be packed.
Despite their most recent shocking loss to the Bills, the Falcons are right where they need to be at this point in the season if they want to get a shot at redemption for their Super Bowl loss last year. With a 3-1 record, they are locked into a fight with Carolina for divisional supremacy. There are few people out there who have many bad things to say about the offensive play of the Falcons, but there is a lot to be said about the defense's ability. All 3 of the Falcons' victories have been far from sure-things, and that is something their defense will want to address. The key this week will be to put the Dolphins away early and move on to the next game.
Game Overview and Analysis
The +11.5 (-115) Dolphins (+495) are not being given much of any chance of walking out of Mercedes-Benz Stadium with anything other than a loss. After all, their quarterback is averaging less than 200 yards passing per game and has as many interceptions as he does touchdown throws (3). I understand that the Falcons' defense is not exactly the best in the NFL, but it is going to take a special performance on the part of Jay Cutler in order for Miami to have any chance whatsoever. The Falcons definitely respect Cutler and the experience he has, but I do not think that respect and experience will translate into above average stats. Ajayi has been doing his thing on the ground but, once again, I do not think it is going to be nearly enough to overcome Atlanta.
The Dolphins' defense has been average so far this season, and against Matt Ryan things very well might get ugly in a hurry for the Dolphins. Drew Brees, who is having a less than stellar year with less than stellar receivers, threw for 268 yards and 2 touchdowns in their Week 4 matchup. I think the story for the Dolphins' defense is the same as it is for Cutler; it is going to take something very special to get a win.
-11.5 (-105) Atlanta (-620) is going to be looking at this game as not just a must-win, but an absolutely must-win. They know their season is going to end up being a dogfight with Carolina, and even these non-conference games are going to play a role in who takes the crown come season's end. The Falcons must certainly respect their opponent, but they will know full well that Matt Ryan and Co. should be able to pass and run freely. So long as the defense can keep a tame Jay Cutler under control, I think there will be few issues on the defensive side of the ball for Atlanta either. As much as I think the Dolphins might have some momentum under their belt after their win against Tennessee last week, I think the Falcons are far too powerful for them to have a realistic chance.
Betting Prediction
While the moneyline bet you should make in this one would definitely be the Falcons, the -620 odds are not necessarily the greatest. I think there is a very small chance that the Falcons do not win, however you really need to think about it before placing a moneyline bet as the risk/reward is not the most appealing.
The point spread as offered by BetOnline lists the Falcons as 11.5 point (-105) favorites, and I like this one. I do not typically love the big NFL spreads, but if the Saints can beat the Dolphins by 20 in Miami, I think the Falcons can beat Miami by 12 or more in Atlanta. For me, it is really that simple. In every facet of the game the Dolphins are outmatched.