10 Worst Odell Beckham Moments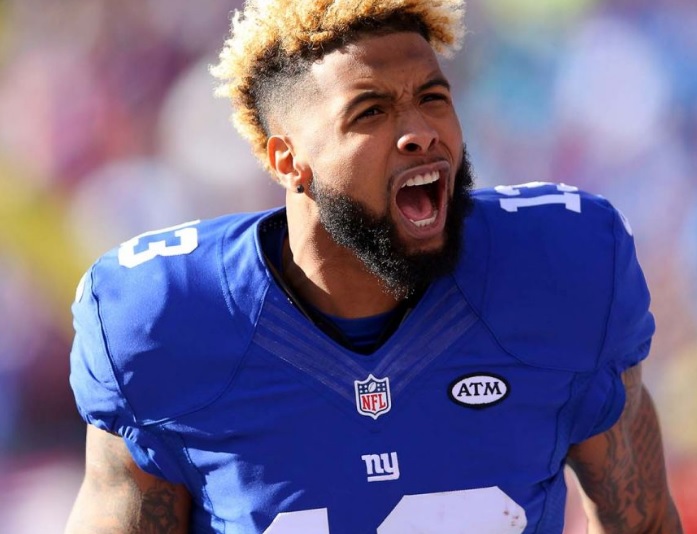 If God combined the athleticism of Calvin Johnson, the hands of Jerry Rice, and Wesley Snipes' hair from Demolition Man, the end result would be Odell Beckham Jr.
The LSU product burst onto the NFL season in his rookie year with enough unbelievable catches to fill highlight reels for Chris Carter, Marvin Harrison, and Randy Moss put together. Beckham hasn't slowed down any either, tallying 2,755 receiving yards and 25 touchdowns in his first two seasons.
But now in his third season, the New York Giants receiver is gaining more notoriety for his outbursts and meltdowns than he is for his outstanding play. That said, let's look at the 10 lowest moments of Beckham's career up to this point.

1. Beckham vs. Josh Norman
In 2015, a Week 5 contest between the New York Giants got nasty before the kickoff. Several Panthers players – including a baseball-bat-wielding practice squad player – got in Beckham's face during pre-game warmups.
This led to a heated matchup between Beckham and cornerback Josh Norman, where the pair combined for 5 personal foul penalties. It was surreal watching these two going at each other play after play, with dumbfounded referees forgetting that ejections are an option.
2. Helmet-to-Helmet Hit on Norman
The culmination of everything that happened above was a flying headbutt from Beckham that, thankfully, only clipped Norman. The referees didn't throw Beckham out for this unnecessary block, but he was later fined and suspended for a game for multiple safety related violations.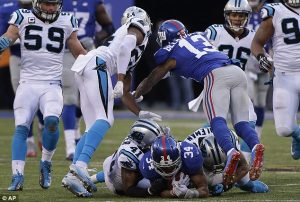 3. Beckham Complains about Being 10th on Top 100 Players List
Most players would consider it an honor to be listed as one of the top 10 players in the league. But not Beckham, as he found out that he was only chosen as #10 by his peers. Following an angry 3am workout the next day, he ranted about wanting success more than players ahead of him.
"Three in the morning. They said top 10. I'm 10. I say that's not good enough. I got to do more," Beckham said. "They don't want it like I want it. I got to have it."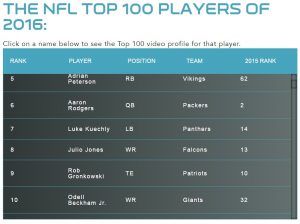 4. Beckham Fights Kicking Net, Beckham Loses 
Fired up for this year's Week 3 matchup with the Washington Redskins – Josh Norman's new home – ODB took his emotions out on a kicking net. Unfortunately for Beckham, the net fought back.
5. ODB Has Meltdown Against Vikings
Every receiver has their low moments, including Beckham's Week 4 performance against the Minnesota Vikings, where he caught just three passes for 23 yards.
But his poor performance against Minnesota cornerback Xavier Rhodes, combined with a penalty for bumping an official took the embarrassment to a new level. It also doesn't help that New York's offense was shut down and they lost 24-10.
6. Giants Issue Suspension Warning
The chances of the middling Giants winning without Beckham's talents are very slim. So you know that the Giants had to be serious when they threatened to suspend Beckham after the net-kicking incident and official-bumping penalty. Lucky for Beckham – and the Giants' ability to win – they haven't had to carry through on this threat yet.
7. Beckham Blames Referees for Referee Bump
Aside from the suspension warning, another fallout from the Minnesota game included Beckham blaming the refs for his actions in the Vikings game:
"It's always, it's just my fault. That's all I look at it as, it's my fault. Whatever you want to call it. I just have to understand if I sneeze the wrong way, it'll be a flag, it'll be a fine. If I tie my shoe the wrong way, it might be a fine or a flag. It is what it is. You have to understand that."
He got no love from quarterback and teammate Eli Manning, who said, "He' kind of put that upon himself, so he's got to realize that."
8. Beckham's Drake Quote Draws Questions about His Commitment
Back in April 2016, Beckham tweeted a picture of himself dancing with the following quote from a Drake song called Too Much: "The moment I stop having fun with it I'll be done with it."
This drew questions about his commitment to the game, and he didn't help matters by recently saying, "I'm not having fun playing football anymore."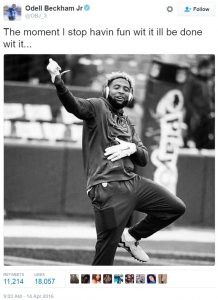 9. Fake Fiancée Turns Into a Dilemma
It's not Odell Beckham Jr's fault that somebody had enough free time on their hands to create a fake fiancée hoax about him. But still, he could've taken time to squash the rumors before they got too nasty.
The story went so far that a woman named Erica Mendez did an interview with Radar.com, claiming she was Beckham's fiancée, they had a child, and they participated in threesomes with strippers.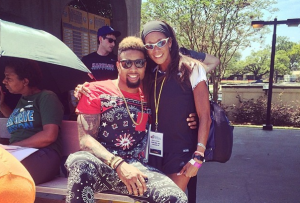 10. Odell's Dancing Sparks Rumors about Sexuality
ODB has a very metro appearance, which has drawn more than enough rumors about his sexual orientation. But never were these rumors more rampant than when he posted an Instagram video of himself walking down the runway "like Kendall Jenner."
The many shirtless selfies of himself with other guys haven't quieted the rumors.