10 NFL Tarzans Who Played Like Jane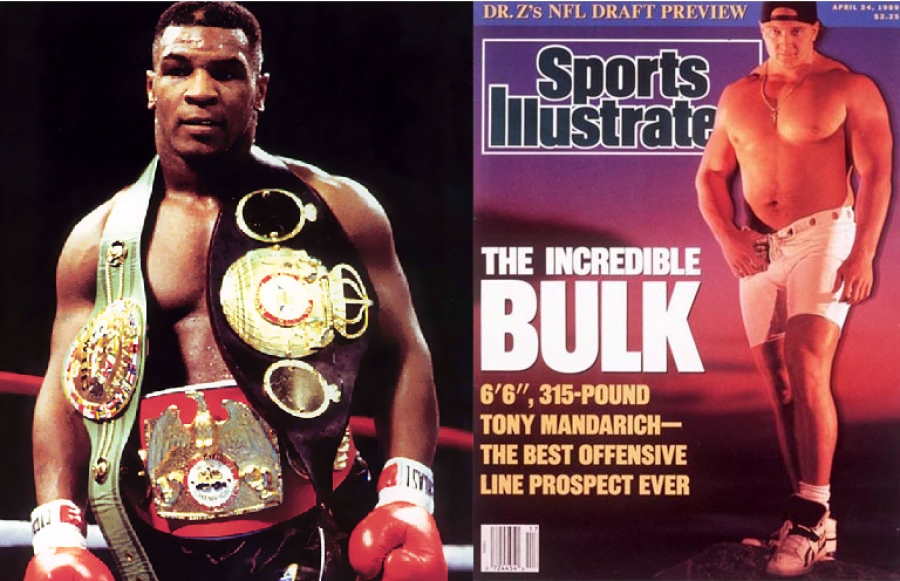 The late Joel Buchsbaum, an original NFL draftnik and sports writer, coined the phrase "Looks like Tarzan, plays Like Jane" to describe ripped monsters who play like they're in a powderpuff game.
The saying has been thrown out a lot over the years to describe countless football players who look the part, but don't deliver on the field. And nobody embodies Buchsbaum's phrase more than the following 10 Tarzans.
1. Tony Mandarich
Drafted second overall by the Green Bay Packers in the 1989 NFL Draft, Tony Mandarich was the type of offensive lineman that coaches salivate over. The 6'6″, 330-pounder was nicknamed "The Incredible Bulk" for his giant, muscular build. Mandarich didn't seem like just gym muscles either since he ran the forty in 4.65 seconds and bench pressed 225 pounds for 39 reps – a record back then.
Mandarich's legend quickly grew before he played an NFL snap as he challenged Mike Tyson to a fight, rocked Guns N' Roses, and appeared on the cover of Sports Illustrated.
Unfortunately, Mandarich turned out to be all hype as he only played special teams his first year, then suffered through two more lackluster seasons before being cut. He then checked into rehab for drug and alcohol addiction while taking a few years off of football. Mandarich would later play three solid seasons for the Indianapolis Colts, but this wasn't enough to erase his failed Green Bay stint.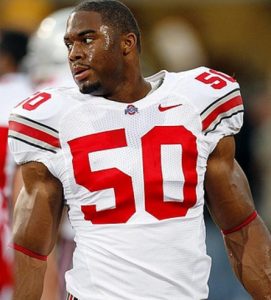 2. Vernon Gholston
265 pounds of chiseled muscle, Vernon Gholston looked like he was designed in Madden NFL's create-a-player feature. Gholston used his muscles and 4.6 forty speed to rack up 14.5 sacks in his final year at Ohio State. This was enough to convince the New York Jets to draft him sixth overall in the 2008 Draft.
Gholston's pro career was a spectacular flop as he failed to record a single sack in three seasons. You'd think that the outside linebacker would've muscled past somebody and just fallen on the quarterback at least once. But this never happened, and the Jets cut Gholston after three years.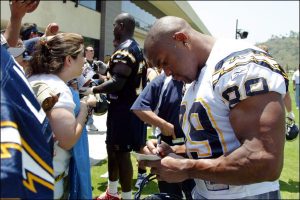 3. David Boston
Wide receiver isn't a position where players try to build the most muscle possible. But nobody could talk any sense into David Boston when he packed on 30 pounds of muscle before the 2003 season.
A strong four-year stint with the Arizona Cardinals earned Boston a seven-year, $47 million contract with the San Diego Chargers. But the former elite-receiver-turned-muscle man only lasted one year on this deal before being cut.
He signed with the Dolphins in 2004 before testing positive for steroids. Boston tore up his knee that season and never played in the NFL again.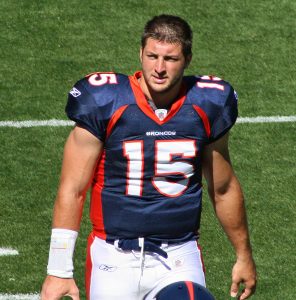 4. Tim Tebow
A two-time national champion and Heisman Trophy winner at Florida, Tim Tebow became the poster child for drinking your milk, eating your Wheaties, and taking the multiple supplements that he hawked. Former Tampa Bay coach Jon Gruden called Tebow "the strongest human being to ever play" quarterback.
Treating his body like a temple helped the 6'4″, 245-pound quarterback become Denver's first-round draft pick in 2010. Tebow's numbers were never particularly bad when he played for the Broncos, but they were far from game-changing. He lasted two season in Denver before playing sparsely for the New York Jets in 2012.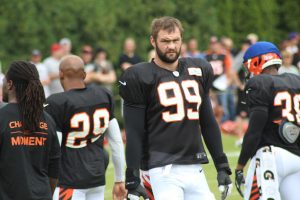 5. Margus Hunt
Nicknamed the "Estonian Giant," Margus Hunt was the Cincinnati Bengals' second-round draft choice in 2013. Hunt intrigued the Bengals with his height (6'8″), size (295 pounds), speed (4.60 seconds), and strength (38 reps).
So far, Hunt has failed to turn any of these physical attributes into on-field production. The defensive end has recorded just 13 tackles and 1.5 sacks in his four-year career.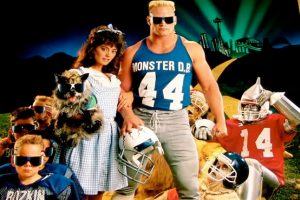 6. Brian Bosworth
If you want a quick cultural lesson on the late 80s and early 90s, just look at a picture of Brian Bosworth. The former Oklahoma Sooner made just as many headlines for his blonde flattop and ridiculous antics as he did for his play. "The Boz" also tested positive for steroids his senior year at Oklahoma and couldn't play in the Orange Bowl as a result.
Bosworth signed a 10-year, $11 million deal with the Seattle Seahawks in 1988 – the largest for a rookie at the time. He spent just two mediocre seasons with the Seahawks before suffering a career-ending shoulder injury. But the good news for Boz is that he's had a lengthy film career.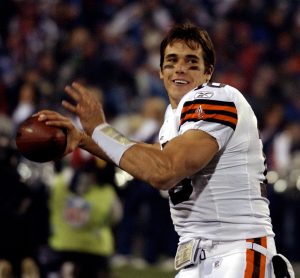 7. Brady Quinn
Drafted in the first round by the Cleveland Browns in 2007, Brady Quinn had the same All-American looks as Tebow, only with a little more skill throwing the football. The 6'3″, 235-pound quarterback also boasted a nice physique, landing him some supplement contracts in the early going.
Perhaps he didn't use enough of these supplements himself because Quinn looked nothing like the All-American that he was at Notre Dame. After eight seasons spent with five different teams, Quinn ended his career with just 12 TD passes and 17 interceptions.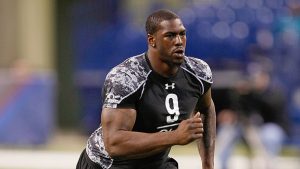 8. Bruce Campbell
Drafted by the Oakland Raiders in the fourth round, Bruce Campbell wasn't as highly rated as others players on this list. But the Raiders still thought they were getting a physical specimen on their offensive line. After all, the 6'6″, 315-pound lineman not only impressed with his strength (34 reps), but also had exceptional speed for his size (4.75 seconds).
Campbell turned out to be nothing more than a combine warrior, though, lasting four season in Oakland without starting a game. He now plays in the Canadian Football League.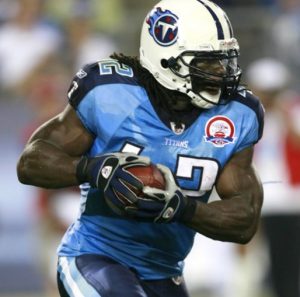 9. Chris Henry
Drafted in the second round of the 2007 NFL Draft, Chris Henry looked to have all the physical tools that you could ask for from a running back. He weighed 230 pounds, ran a 4.4 forty, had a 36-inch vertical leap, and did 26 bench reps at the combine.
Henry only appeared in seven games his rookie season, which was cut short by a non-PED drug suspension. He played in just one game his second year before getting cut by the Tennessee Titans and finishing his career with 122 rushing yards.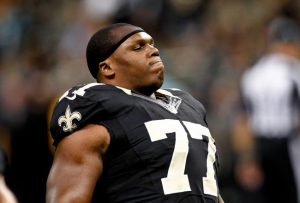 10. Brodrick Bunkley
A 6'2″, 306-pound defensive tackle, Brodrick Bunkley put on a show at the 2006 NFL Combine. He not only benched 225 for 44 reps, but also showed quickness in the forty (5.01 seconds) and a strong vertical leap (32″).
After being drafted 14th overall, Bunkley played very little in his rookie season. He's since gone on to have a mediocre 8-year career with 170 tackles and 8.5 sacks – but nowhere near what his strength or draft position suggest.