NHL Hockey Betting for October 14, 2016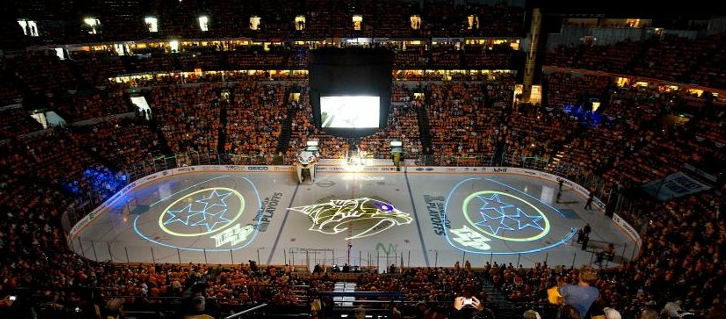 Short card of NHL action on Friday with only three games on the board.
NHL HOCKEY BETTING FOR OCTOBER 14, 2016:
Actually, only two of the three scheduled games are 'on the board'. Currently no line on the Philadelphia Flyers/Los Angeles Kings game. That game is off the board due to the Kings' goaltending situation and it could be an ugly season for Los Angeles. Starting goaltender Jonathan Quick suffered an injury in the Kings' opening game loss to Los Angeles and even before a MRI LA General Manager Dean Lombardi gave his take that "It's not good". Quick was put on the injured reserve list on Thursday though there's still not much known about the exact nature of the injury–all the Kings are divulging is that it's a 'lower body injury' which is obvious to anyone that was watching the game. The injury has been described as happening while Quick was 'sliding' (alternate accounts say he was 'stretching') which sounds like it could be a pulled groin muscle. Los Angeles didn't update his status following a MRI scheduled for Thursday and so far there hasn't been a confirmation that it was done, let alone the results. Right now, the word on Quick is that he's 'week to week'.
That leaves the Kings with two not particularly compelling goaltending options. They recalled veteran Peter Budaj from the Ontario Reign of the AHL where he had an excellent season last year. For now, he'll split time with backup Jeff Zatkoff who became the 'odd man out' in Pittsburgh with the ascendance of Matt Murray last year. As for how this will work out there's a lot of 'moving parts' here. Much depends on how long Quick will be out of action. If it starts to look like a longer team deal there's every reason to think that the team will acquire another goaltender. There's also a body of opinion that the Kings were in decline even with Quick and they suddenly look old, lumbering and slow in a league that now emphasizes youth and speed. If the team can show the same defensive tenacity they did last year when they had the third best shots on goal against average in the league (27.5) it could help Zatkoff and Budaj immeasurably. In fact, one (or both) could flourish behind a Kings' defense that has been very good about limiting opponents' scoring chances in recent years. Right now Zatkoff is penciled in to start Friday against Calgary but it wouldn't surprise me to see Budaj.
Here's our best bets on Friday's card:
CHICAGO BLACKHAWKS AT NASHVILLE PREDATORS:
The Nashville Predators enter this season with very high expectations. A number of hockey writers have gone so far as to predict them to win the Stanley Cup. Head coach Peter Laviolette is heading into his third season and just received a contract extension. He finally has the roster he needs in place for the style he wants to play. We saw during the team's playoff run last year how much more effective the Preds were playing 'up tempo' and the last piece in the puzzle might be former Montreal defenseman P.K. Subban who was acquired in a trade during the offseason with Nashville sending Shea Weber up North. Weber is a grinder with a Howitzer for a slap slot and one of the classiest guys in the league. This was really a 'win/win' trade–Weber will give Montreal leadership, toughness and defensive tenacity. Subban gives Nashville the perfect defenseman for their desired 'push the pace' style. The Predators may have the best–and deepest–defense in the NHL.
Pekka Rinne could be due for a big season as well. Rinne has a strange dynamic to his game in that the more shots he faces the better he plays. That's very counterintuitive and you'd *think* that any goalie would love playing behind a Nashville team that had the best shots on goal against average in the NHL. Not Rinne–he's shown a tendency to lose focus when he's not seeing a lot of rubber coming his way. He even went to a sports psychologist last year though the best 'cure' is likely to play to his strength. Not really a bad situation though it's funny that with goalies forever complaining about not getting help from their defense Rinne's issue is getting too much help.
Chicago is a huge question mark coming into this season. The talented nucleus of Patrick Kane, Jonathan Toews and Duncan Keith are still there but the forward depth might not be. Chicago had to part company with Andrew Shaw and Teuvo Teravainen due to salary cap issues and there jury is still out if the talent to replace them is there. The Blackhawks began the season with six rookies on the roster which is an inordinately high number for a Joel Quinneville team. The didn't exactly impress in their 2016-2017 season opener against the St. Louis Blues losing 5-2 on home ice and ending the game by scoring an 'own goal' into an empty net. Hopefully, that's not a harbinger of things to come this season.
This is the first game of a 'home and home' series between the Preds and Blackhawks with the rematch on Saturday at the United Center. Chicago has been very good coming off a bad defensive effort (31-15 +5.9 units L3 years after allowing 4 or more goals) but with the entire Nashville Predators' franchise and fan base sky high for this season they might have to wait until tomorrow night at home to get their first win of the year.

BET NASHVILLE PREDATORS -115 OVER CHICAGO BLACKHAWKS
BET NASHVILLE/CHICAGO OVER 5 -140