10 Failed Browns Quarterbacks since 1999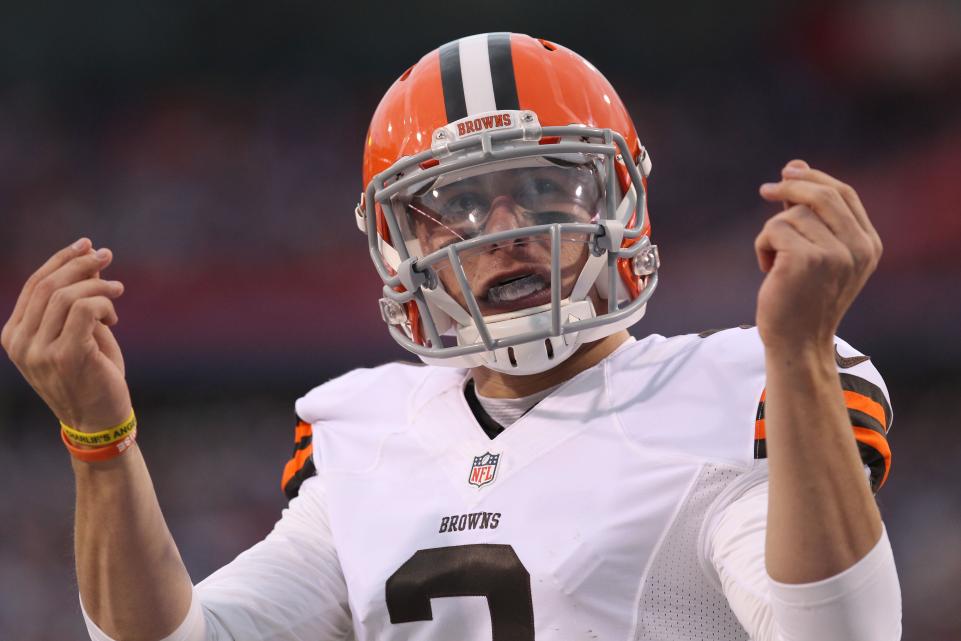 Rookie DeShone Kizer won the Cleveland Browns' starting quarterback job.
In a way, Kizer is in an enviable position because he's the only rookie who's starting to open 2017. In another way, he's in a terrible position because he's playing for the Browns.
Can Kizer break Cleveland's quarterback curse? Or will he be one of the many failed quarterbacks they've had since 1999.
Speaking of which, let's look at 10 Browns QB experiments that have failed since the franchise was rebooted in 1999.
1. Johnny Manziel (2014-16)
Johnny Manziel started what should have been a storied football career at Texas A&M. He became the first freshman to win the Heisman Trophy. And he put up even bigger stats his sophomore season.
The Browns took Manziel with the 22nd overall pick in the 2014 NFL Draft. Many teams passed over the QB because of his off-field antics. But Cleveland head coach Mike Pettine had a good feeling about him.
Pettine and the rest of the Browns would later regret the decision amid questions about Manziel's commitment, work ethic, and partying.
He completely embarrassed the organization after being named the starter halfway through 2015, only to be demoted the same week after videos surfaced of him partying in Texas.
Cleveland released Manziel in March 2016, less than two years after drafting him in the first round. He played in just eight games, passing for 1,675 yards, 7 touchdowns, and 7 interceptions.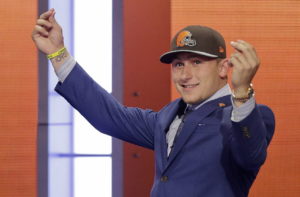 2. Brady Quinn (2007-09)
Brady Quinn was taken 22nd overall in the 2007 NFL Draft – same spot as Manziel. And Quinn was just as big of a bust.
The Notre Dame product appeared in just 13 games for Cleveland over his three-year tenure there.
His stats were terrible, as he completed just 53.9% of his passes and had 12 TDs against 17 interceptions.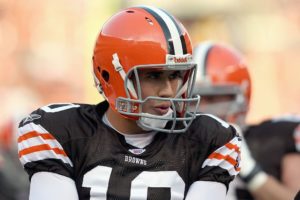 3. Brandon Weeden (2012-13)
Next time that the Browns have a 22nd overall pick, they might just want to give it away.
Weeden, taken 22nd in the 2012 NFL Draft, is yet another Browns first-rounder who didn't work out at quarterback.
A failed baseball minor leaguer, Weeden didn't start playing college football at Oklahoma State until he was 25 years old. His relative wisdom helped the 6'3″ passer have a strong 4-year career with the Sooners.
He never had the same success in Cleveland, finishing with a 55.9% completion rate, 5,116 yards, 23 TDs, and 26 interceptions in two seasons.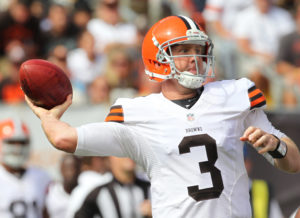 4. Charlie Frye (2005-07)
Charlie Frye didn't come with the same pedigree as the first-rounders at the top of this list. After all, Frye was only taken in the third round.
But he was thought to be the quarterback of the the future after winning the starting job at the end of his rookie season.
The former Akron Zip would also start the 2006 season. But he quickly lost his role to Derek Anderson in 2007 and never saw the field as a Brown again.
He finished his Cleveland career with a 6-13 starting record, 62.5% completion rate, 3,490 yards, 14 touchdowns, and 23 interceptions.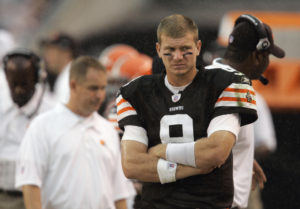 5. Tim Couch (1999-2003)
Selected first overall in the 1999 NFL Draft, Tim Couch had the talent.
But he also played on an expansion team that formed the foundation for the league's laughing stock for nearly two decades.
His career numbers aren't the worst ever – 11,131 passing yards, 64 touchdowns, 67 interceptions, 59.8% completion rate.
But his 22-37 record and 64:67 TD-INT ratio ensure that he'll never be remembered as a great QB.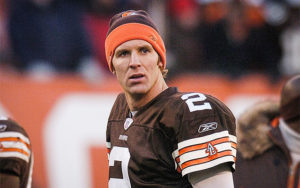 6. Colt McCoy (2010-11)
Colt McCoy had an outstanding career at Texas, where he was a two-time All-American. But his college success has never translated over to the NFL.
McCoy should've been a career backup. However, his mediocre talent was good enough to be a Browns starter for 21 games.
He went 6-15 in these contests, finishing his Cleveland career with a 58.3% compete rate, 4,388 yards, 21 touchdowns, and 20 interceptions.
I'll hand it to McCoy for at least finishing with a positive TD-INT ratio. Most other Browns quarterbacks can't say the same.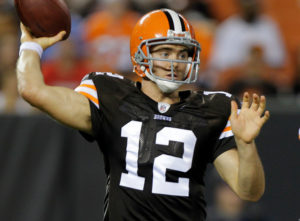 7. Jason Campbell (2013)
The Browns got Jason Campbell on the downside of his career. Nevertheless, the former starter for Washington and Oakland was expected to provide some help to the 2013 Cleveland team.
His highlight included snapping a Browns' 11-game losing streak against the Baltimore Ravens. But he only got eight starts the entire season, going 1-7.
Campbell finished his Browns career with a 56.8% completion rate, 2,015 yards, 11 touchdowns, and 8 interceptions.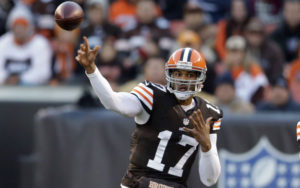 8. Trent Dilfer (2005)
Often called the worst quarterback to win a Super Bowl, Dilfer didn't do much to dissuade this notion in Cleveland.
He had a 59.8% completion rate, 2,312 yards, 11 touchdowns, and 12 interceptions. Dilfer was also just 4-7 in his 11 starts.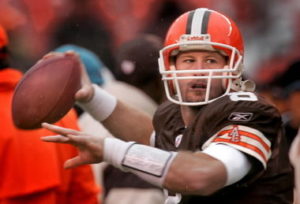 9. Jeff Garcia (2004)
Jeff Garcia is the only Browns quarterback to win a season opener since the franchise rebirth in 1999.
So why is he even on this list?
Garcia also had a 0.0 passer rating against Dallas in the same year, and went just 3-7 in his starts.
Garcia's numbers – 1,731 passing yards, 10 touchdowns, 9 interceptions, 57.0 completion rate – are solid for a Cleveland quarterback.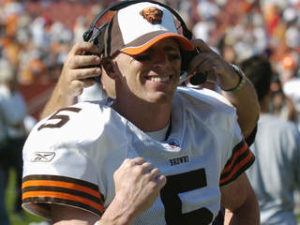 10. Josh McCown (2015)
Josh McCown is by far the most efficient Browns quarterback in years.
He had a 63.9% completion rate, 2,109 yards, 12 touchdowns, and 4 interceptions. The 12:4 TD-INT ratio is excellent for any NFL quarterback.
But he was also 36 years old with the Browns and had a 1-7 record. The franchise never committed to the aging veteran, and he's now with the New York Jets.