Top 10 Quotes from Lavar Ball – Lonzo Ball's Dad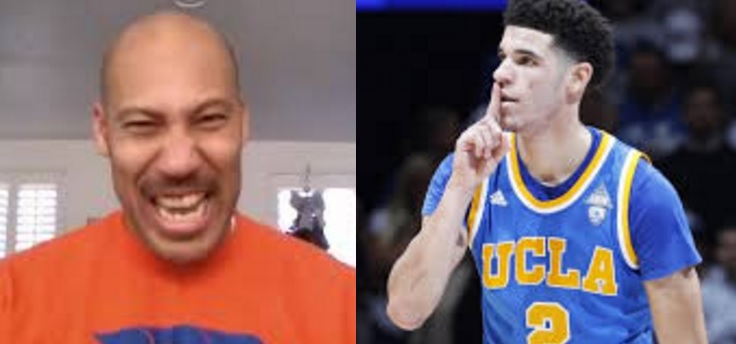 Many parents think that their kid is the best when it comes to basketball — even if they're the 12th man and handling water-bottle duties on the side.
LaVar Ball doesn't have to worry about his kids being the 12th man because he's father to UCLA phenom Lonzo Ball, and Chino Hills High (CA) stars LiAngelo and LaMelo Ball.
Nevertheless, LaVar does think the world of his kids, and has said some crazy things regarding his boys.
That said, let's look at 10 of the best quotes from super-sports dad LaVar Ball.
1. "He (Lonzo) Better than Steph Curry Right Now"
A 6'6″ point guard for UCLA, Lonzo Ball is having an outstanding season, averaging 15.0 points, 6.3 rebounds, and a nation-leading 7.6 assists.
But is he better than reigning two-time NBA MVP Steph Curry? Sure, why not…
"I'm gonna tell you right now, he better than Steph Curry right now," LaVar said on the sidelines of a UCLA-USC game. "Put Steph Curry on UCLA right now, and put my boy on Golden State, and watch what happens."
He added, "I'll double down on it again. If I don't know what my boy's about, I'm not gonna make that statement. Steph gonna have problems trying to guard my boy, and have 'em play one on one."
2. "UCLA Gonna Win the NCAA Championship "
LaVar isn't afraid to put a target on Lonzo's back.
"I'm gonna tell you right now, before you see it. UCLA gonna win the NCAA Championship – you think I'm playin'?"
He sounded more like a boxing promoter than sports dad when shouting out, "Guaranteed! Come see me when they win it!"
LaVar Ball is life!!! pic.twitter.com/iQdLhGKPKi

— Legends (@LegendsofCH) November 25, 2016
3. "I Want Him to be a Laker"
Players saying that they only want to be drafted by a certain franchise is nothing new. But having your dad say it, well, that's news to me.
"I want him to be a Laker," Ball told KCUB Sports Radio 1290 in Tuscon. "He's gonna be the first one that's homegrown, and trust me, he'll do the same thing he's doing at UCLA."
Many took this as Ball saying that his son won't play for anybody besides the Lakers, who currently have the NBA's second-worst record at 19-43.
But Ball clarified his comments to ESPN, saying that he wants Lonzo to learn from Lakers team president Magic Johnson.
"I'm not trying to say he won't play for a different team," he explained. "But I'd like him to play for the Lakers because it's home, and I'd love him to learn from Magic [Johnson]. He's the best guard ever to me, and nobody better for Lonzo to learn from than Magic Johnson."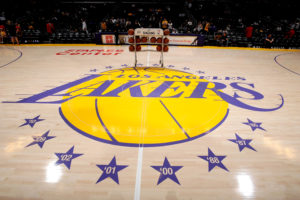 4. "Somebody Has to be Better than Michael Jordan, Why Not You?"
Confident that one of his three sons will be the best player ever, LaVar challenged Lonzo, LiAngelo, and LaMelo to be better than the GOAT.
"We've got a plan, and everything's going accordingly," he said via ESPN. "They were born to go pro. I told them, 'Somebody has to be better than Michael Jordan. Why not you?'"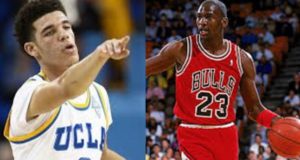 5. "It's Going to Get Easier for Lonzo [in the NBA]"
Many elite college players put up even bigger numbers in the NBA due to the wide-open nature of the pros. And LaVar is completely confident that the same will be true for Lonzo.
"It's going to get easier for Lonzo as we go," he told TMZ. "When he gets to the pros, the game is even faster, and that's when he's at his best."
The former Cal State Los Angeles baller wasn't afraid to throw semi-shade towards Lonzo's Bruin teammates while discussing the matter.
"You trade in Bryce (Alford) for D-Wade? Trade in (Isaac) Hamilton for Iguodala? Get away from TJ Leaf and give him Anthony Davis? C'mon, man! And the game is faster!"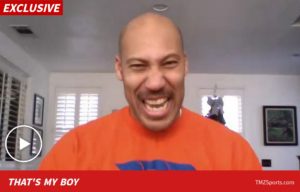 6. "Why Shouldn't He (Lonzo) Be No. 1? He's Earned It"
According to the 2017 mock draft on NBADraft.net, Lonzo Ball is currently ranked No. 2 overall behind 6'4″ Washington point guard Markelle Fultz. Not surprisingly, LaVar Ball disagrees with this assessment.
"Lonzo should be No. 1 because he's the only player in the draft that can make everyone else around him better, as you can see that with UCLA," LaVar explained.
"Why shouldn't he be No. 1? He's earned it. Nobody else is playing like him. Nobody else is doing what he's doing. He's selling out arenas. He's making all his players better. Why shouldn't he be No. 1? How do you start your franchise without that guy?"
LaVar Ball on why Lonzo Ball should be the No. 1 pick in the 2017 NBA Draft: pic.twitter.com/bl8UKSdZv0

— Jovan Buha (@jovanbuha) March 2, 2017
7. "All Three of My Boys Are Going to be One and Done"
Some parents want their basketball-star kids to stay in school and get their degrees. Not LaVar Ball, though, who made it a point to say that all of his kids are playing just one season of college basketball before heading to the pros.
"All three of my boys are going to be one and done," he told CBS' Gary Parrish.
8. "Yeah We Work Out on Christmas, Christmas is All Day"
In a video feature with SLAM, LaVar had all of his boys outside doing pull-ups on Christmas Day to gain an edge on the competition.
"People say 'You work out on Christmas?' Yeah we work out on Christmas, Christmas is all day … But it also makes us understand that we got a jump on people because a lot of people don't do nothing on Christmas, they take it as a holiday."
9. "When They Came Out the Womb, from Me Picking My Wife"
Another thing that LaVar said in the TMZ interview (point #5) is that he carefully chose his wife (Tina Ball) to create a basketball factory.
The two met while both playing basketball at Cal State Los Angeles, and, based on Tina's 6-foot stature, LaVar knew it was love.
"When they came out the womb, from me picking my wife. This stuff was planned man, this wasn't no accident. Man, when I was growing up, I had a lot of little short cuties. But a tall, pretty woman like that [plays] basketball like that – what else could go together?"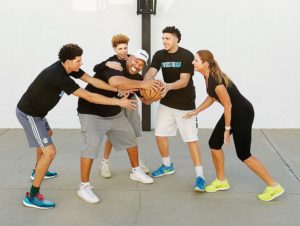 10. "Lonzo Is Going to be the First One Drafted with His Own Brand"
Forget signing with Nike or Under Armour. Ball told ESPN LA's Morning Show with Keyshawn, Jorge and LZ that his son will already have his own brand upon entering the NBA.
"They're kicking in the door, but they're shocked at what I'm telling them. I said, 'I'm not looking for no endorsement deal. I'm looking for a marketing and distribution deal.' Branding. The only person doing that is (Michael) Jordan with Nike. That's what we're for. If Lonzo doesn't sign with Adidas, Nike or Under Armour, guess what — I'll sign the Big Baller Brand.
"We already got our own brand. Triple B's. Lonzo is going to be the first one drafted with his own brand. That don't happen."