Super Bowl Score Total Prop Bet Odds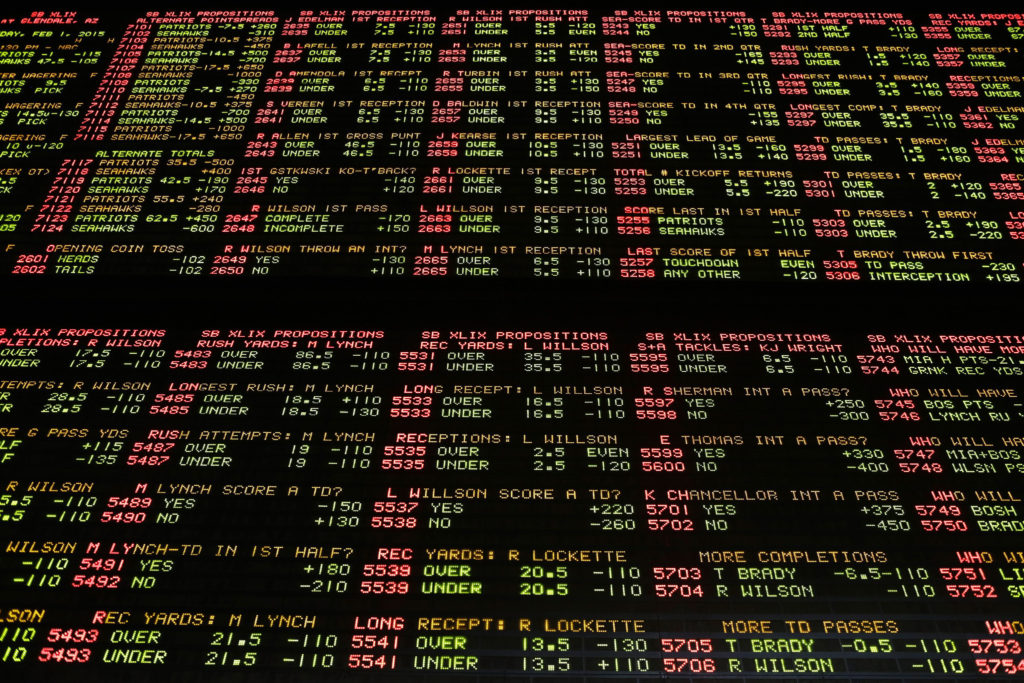 –The Super Bowl is the biggest single day betting event of the year for North American facing sportsbooks.
–Super Bowl Prop bets are now more popular than side or totals wagers.
–This group of Super Bowl odds deals with a variety of score total proposition.
Every NFL game be it preseason, regular season and postseason has a total posted. Bettors can choose to go 'Over' or 'Under'. The Super Bowl also has a total posted but it doesn't stop there. There is an insane variety of Super Bowl proposition bets related to the score totals. We're not just talking 'quarter' and 'half' totals–that's too basic. Since the largest percentage of the Super Bowl betting handle at Nevada sportsbooks is now from proposition wagers there's no shortage of imaginative props of all types–including score totals. Some are basic Over/Under totals of one type or another. Others are comparative–such as 'Which will be the highest scoring half?' or 'Which team will have the highest scoring quarter?'
At Sports Betting Experts, we think we've done bookmakers in Nevada and elsewhere one better. Our oddsmakers have dreamed up a ridiculous number and variety of Super Bowl prop bet odds–in fact, you'll find more Super Bowl proposition odds covering a wider variety of metrics than anywhere on the planet. They'll also offer some general advice for how to make money on Super Bowl prop bets and give a few selections of ones that they think offer strong wagering value. Stay tuned…
Super Bowl Score Total Props
First team to score 5 points?
New England Patriots: -150
Atlanta Falcons: +120
Neither team to score 5 points: +7500
First team to score 10 points?
New England Patriots: -150
Atlanta Falcons: +120
Neither team to score 10 points: +4500
First team to score 15 points?
New England Patriots: -150
Atlanta Falcons: +120
Neither team to score 15 points: +4500
First team to score 20 points?
New England Patriots: -150
Atlanta Falcons: +120
Neither team to score 20 points: +2500
First team to score 25 points?
New England Patriots: -150
Atlanta Falcons: +130
Neither team to score 25 points: +650
First team to score 30 points?
New England Patriots: +120
Atlanta Falcons: +175
Neither team to score 30 points: +225
First team to score 5 points in the second half?
New England Patriots: -135
Atlanta Falcons: +105
Neither team to score 10 points: +3500
First team to score 10 points in the second half?
New England Patriots: -135
Atlanta Falcons: +105
Neither team to score 10 points: +2500
First team to score 15 points in the second half?
New England Patriots: -135
Atlanta Falcons: +105
Neither team to score 15 points: +1750
Will the total points scored be odd or even?
Odd: -130
Even: +110
Will the first half total be odd or even?
Odd: -130
Even: +110
Will the second half total be odd or even?
Odd: -120
Even: +100
Highest scoring quarter will be?
First Quarter: +400
Second Quarter: +150
Third Quarter: +400
Fourth Quarter: +250
Will more points be scored in the first or second half?
First half + 1/2 point: -110
Second half (includes OT) -1/2 point: -110
Will more points be scored in the first or second quarter?
First quarter: +225
Second quarter: -300
Will more points be scored in the first or third quarter?
First quarter: +110
Third quarter: -130
Will more points be scored in the first or fourth quarter?
First quarter: +210
Second quarter: -250
Will more points be scored in the second or third quarter?
Second quarter: -300
Third quarter: +225
Will more points be scored in the second or fourth quarter?
Second quarter: -200
Fourth quarter: +150
Will more points be scored in the third or fourth quarter?
Third quarter: +210
Fourth quarter: -250
Which team will have the highest scoring quarter?
New England: -125
Tie: +750
Atlanta:+130
Will there be a scoreless quarter?
Yes: +370
No: -450