Rockies Favored to Take Series Opener in San Diego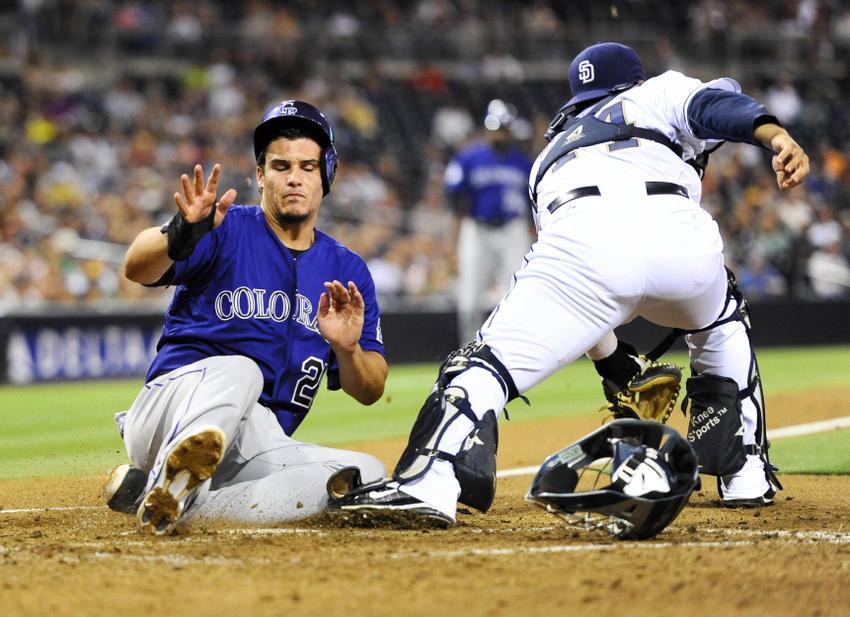 Who: Colorado Rockies v. San Diego Padres
When: Thursday September 21st, 2017 10:10PM EST
Where: Petco Park—San Diego, California
Perhaps the least envious fans in all of Major League Baseball right now have to be fans of the Colorado Rockies. If we can flashback to the end of July, Rockies' fans were sure that, if nothing else, their team would make the post-season by way of a Wild Card berth. Now, however, the Rockies are clinging to the second of 2 NL Wild Card spots, and are ahead of the nearest competitor by just 1 game. To say that Colorado has been inconsistent would be the understatement of the year. In recent weeks, we have seen almost 2 different Rockies teams playing. On any given night they can look like one of the best or one of the worst teams in MLB.
If they want to have a strong finish to the last week and a half of the season and storm into the playoffs, the Rockies will have to perform against the teams they are expected to beat. Speaking of those teams, the Padres are one of the worst teams in the NL and are fully expected to make way for the Rockies. With that being said, the Padres are not just going to lay down and not put up a fight.
As for the Padres, they have been playing about the same baseball now as they have been all season long. They can rattle off a few wins against some strong teams, but then, only a few nights later, they will lose to some divisional bottom-feeders. The play of the Padres has been difficult to describe all season long, and it is that very lack of identity that will result in them missing out on post-season baseball yet again.
Game Overview and Analysis
When the Colorado Rockies (-115) take the field on Thursday, they will be sending Tyler Anderson (5-5 5.28 ERA) to the mound. Anderson's record may not be overly impressive, and neither is his ERA, but his 10-game log results are. In his last 10 starts, Anderson has accrued a 4-2 record. What sticks out most about his pitching is that he does well to keep runs off the board. Once again, his ERA may not make this something that is easy to believe, but on 5 occasions in his past 10 games Anderson has given up 1 or fewer earned runs. Anderson returned from the DL a little more than 10 days ago, and in 2 appearances since his return he has not given up a single run.
He is not known to strike a wealth of players out, but if his defense can handle the balls that are put in play I think the Rockies will have a solid first game of the 4-game series. Speaking of the Colorado offense, it has been as inconsistent as ever over the past week or so. They will enter this series in San Diego on the back of a 3-game losing streak that actually began against this very Padres team. Prior to this current losing streak, the Rockies won 8 of 10 and looked to be storming back into the playoffs. The fact of the matter is that this series will prove to either make or break their playoff hopes.
As for the Padres (+105), their starting pitcher will be Clayton Richard (7-14 4.82 ERA). Richard, like most pitchers on the Padres, has had a season he would like to quickly forget. The 8-year veteran has traded wins and losses in his last few outings, but a consistent theme for him has been his propensity to give up large sums of earned runs. Pitching in front of his home crowd (assuming there will even be much of a crowd) will help, but I think Richard will be really up against it in the series opener.
The Padres did just win 2 of 3 against the Diamondbacks, but I am not so confident that strong play will be kept up in this series.
Betting Prediction
BetOnline lists the Rockies (-115) as moneyline favorites, and I think I have to agree with them here. When it comes to the pitchers, Colorado has the stronger of the two, and I think the Rockies flat-out have more to play for. I expect them to win the series opener.
As for the point spread, the Colorado Rockies are listed as -1.5 (+140) favorites. While they have been a bit inconsistent as of late, I think they will be able to cover the spread seeing as Clayton Richard tends to give up a slew of runs, while Tyler Anderson does not. All in all, if the Rockies do pull off the victory I think it will be by more than 2 runs.
Finally, there is the over/under. The total runs is listed at an even 8 (-120/+100) and I think there is a good chance that the total number of runs will be more than 8. If nothing else, I think the fact that it is an even-numbered total plays in the bettor's favor.