Rays Favored to Take Game 1, Oakland Favored to Take Series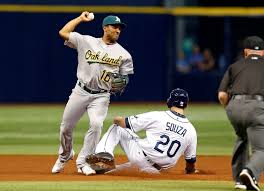 Who: Tampa Bay Rays v. Oakland Athletics
When: Monday July 17th, 2017 10:05PM EST
Where: Oakland Coliseum—Oakland, California
The Athletics may have all the looks of a team that understands it is not going to make the post-season, but they have not been playing that way. Oakland, who are in last in the AL West, just rattled off a sweep of the Cleveland Indians, the defending AL Champions. When they open up their home series with the Tampa Bay Rays on Monday, they will be looking to knock over another playoff contender. Despite having dealt some players to teams with post-season hopes, the Athletics look to be playing their best ball of the year. The interesting thing will be to see just how long this type of play can be kept up.
The Rays have been playing some solid baseball as well. The team from Tampa Bay just took 2 of 3 from the Los Angeles Angels and have won 4 of their last 5 overall. There has been little to critique from the Rays' recent play, too, as they have been hitting the ball well while simultaneously receiving good outings from starting pitchers. On paper, the Rays may appear to be the better team, but this series is shaping up to be an even, hard-fought battle.
Proving that this is an even matchup, Bovada currently lists the Athletics (-125) as favorites to win the series, while the Rays (-105) are ever so slight underdogs. If you want to take the series price, however, I think you have to go with the Rays. Oakland has been playing decently, but their inconsistencies are bound to show themselves, and I think that is exactly what will happen in this series.
Game Overview and Analysis
On the mound for the Athletics (-105) will be Daniel Gossett (1-4 6.23 ERA), a rookie. Though the A's themselves are punching above their weight for the time being, Gossett has been playing exactly like you would expect a rookie to. In his last start a little over a week ago, Gosset gave up a total of 3 earned runs on just 5 hits, one of which was a 2-run homerun. Though a rookie starting pitcher who is struggling will not come as any great big surprise to anyone, the Athletics are hoping he can output a solid performance. After all, it is not like he is incapable of a solid outing. Back towards the end of June, for example Gossett pitched 6 complete innings, gave up 0 runs, and threw less than 100 balls. Not only was it one of his best outings, it was also one of his lowest pitch counts of the year.
For the Rays (-115), the will be sending Jake Odorizzi (5-4 4.63 ERA) to the mound. Odorizzi, like Gossett, is looking to establish some sort of rhythm. The last 5 times Odorizzi has taken the mound, his team has lost on 4 occasions. While only one of those losses was attributed to Odorizzi, it is clear to see that he hasn't provided much help to his offense. In fact, in his last outing against the Red Sox, Odorizzi gave up 7 earned runs, including one homerun, in barely over 4 innings.
At face value, this matchup is going to be decided by whatever pitcher decides to turn it on tonight.
Betting Prediction
I am heavily basing my decision for a moneyline bet on who, I think, the better pitcher will be. Solely based off of experience alone, I am going to give this one to Odorizzi and the Rays (-115). I feel as though Odorizzi will be the more effective pitcher, even if he was anything but that in his last outing. What's more, because of his inconsistent form, the odds on this are a tad better than they might have been if his last 2 outings were both wins.
Bovada lists the Rays as -1.5 run favorites (+165). While this is once again heavily dependent upon Odorizzi's first few innings, winning by 2+ runs is a feat I think the Rays can accomplish. In addition to my expectation that Odorizzi will have a solid outing, you have to consider the almost complete lack of home field advantage for the A's. The Coliseum is lucky to see a few thousand people for a home game, and that makes the atmosphere much less intimidating, thus making it easier for the Rays to perform well. In fact, Oakland is second to last when it comes to average home attendance.
The Rays team over/under is listed at 4.5 runs (-120/-105). I like over 4.5 runs (-120) in this one partially due to the fact that they have been hitting well lately, and partially due to the fact that the Athletics commit, by far, the most errors of any team in Major League Baseball. Errors lead to runs, and I think there is a strong likelihood of that happening tonight. Gossett is a ground ball pitcher, and I think that may lead to problems for the A's infielders.