OJ Simpson Parole Proposition Betting Odds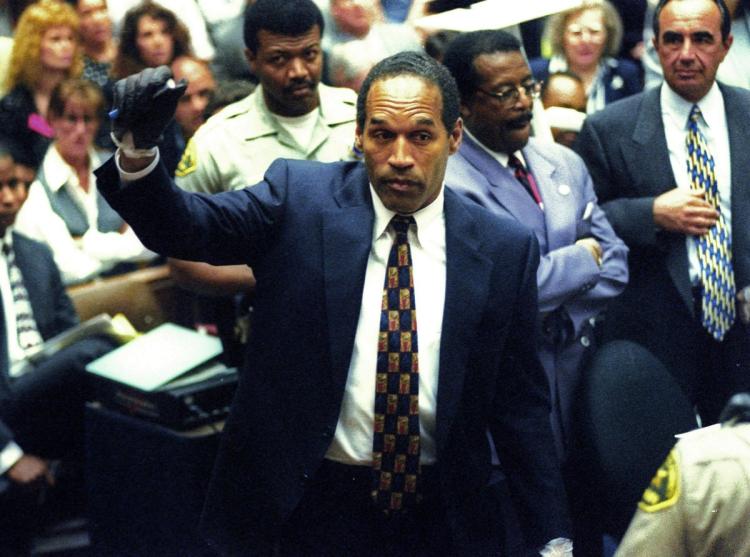 –NFL great OJ Simpson became infamous following the murders of his ex-wife and her male friend.
–He was acquitted of their murders but was sentenced to a long prison term on other unrelated charges.
–Simpson has a very good chance of being released from prison on parole later this year.
To say that OJ Simpson has had a bizarre life is an understatement. He's gone from college football and NFL legend to movie and TV star to an infamous criminal and prison inmate. Most of the public considers him to be a likely double murderer at worst and a jealous and abusive husband at best. His arrest and subsequent trial for the murder his ex-wife Nicole Brown and a waiter at the once hip Brentwood restaurant Mezzaluna named Ron Goldman was the biggest news story in the nation during the mid-1990's. Simpson was infamously acquitted on the murder charges but lost a a $33.5 million judgment in civil court for the deaths of Brown and Goldman.
OJ continued to exist on the periphery of fame exclusive to one time 'household names' that have been discredited and are no longer acceptable to decent people. He wrote a highly dubious book called 'If I Did It: Confessions of the Killer' which was as close as anyone would get to a confession. Otherwise he continued to exist in his bizarro celebrity nether world until another incident, this time in 2007 at the decidedly un-chic Palace Station Hotel and Casino in Las Vegas. Simpson and a group of cohorts were arrested for 're-claiming' some of his sports memorabilia at gunpoint. He'd eventually be convicted of kidnapping and armed robbery and in late 2008 was sentenced to 33 years in the Lovelock Correctional Institution located in the barren wilderness of Northwestern Nevada. He's been there ever since living by all accounts a quiet life as inmate #1027820.
WILL 'THE JUICE' GET LET LOOSE?
The last the public has seen of OJ Simpson was at a 2013 hearing requesting a new trial. That request was denied and he's been incarcerated ever since. He received parole on his armed robbery convictions in 2013 but remained in custody due to his kidnapping charges. He's scheduled to have a parole board hearing on the remaining charges on July 3, 2017 and there's a very good chance they'll recommend his release. If that transpires, he'll be a free man as early as October 2017.
There's some phony anger in the media about Simpson getting out of prison early but it's completely misplaced. People have a tendency to conflate their anger that he was acquitted for a couple of murders that he very well might have committed with the legal facts at hand. That's not going to do anything to placate the Goldman family who remain obsessed with some sort of vengeance for their daughter's death:
"They have vowed to pursue him to the ends of the earth and will continue to do so after he walks out of prison. His nightmare might be coming to an end, but theirs never will."
Despite the seething hatred of the Goldman family the State of Nevada has no apparent reason to deny Simpson's parole request. He's been a model citizen in prison and has even served as a mentor for younger inmates. No one is trying to suggest that OJ is a 'changed man' but he's definitely 'done the job' and met the conditions set forth that typically earn a prisoner early release.
The prospect of OJ Simpson walking out of prison a free man within a matter of months presents no shortage of questions. SPORTS BETTING EXPERTS has set betting odds on a number of these questions about what life will be like for Simpson when he rejoins society at the age of 70:
OJ SIMPSON PAROLE PROPOSITION BETTING ODDS
Will OJ Simpson be released on parole before 12/31/17?
Yes: -300
No: +250
Will OJ Simpson be released on parole?
Before October 15, 2017: -170
On or after October 15, 2017: +150
Will Donald Trump reference OJ Simpson in a Tweet before 12/31/17?
Yes: +250
No: -300
Will any of OJ's children greet him as he leaves prison?
Yes: -150
No: +130
What will OJ Simpson do as he leaves prison?
Smile and Wave: -150
Smile: +350
Cry: +650
Fall to his knees and kiss the ground: +1250
No Expression/Other: +300
Will OJ Simpson speak to the media at the time of his release?
Yes: +250
No: -300
Will OJ Simpson release a book before 6/1/18?
Yes: -210
No: +180
Where will OJ Simpson live after his release from prison?
Florida: -200
California: +300
Nevada: +900
Buffalo, NY: +1500
Other: +350
Will the family of Nicole Brown and/or Ron Goldman release a statement upon OJ Simpson's release?
Yes: -250
No: +210
First live TV interview with OJ Simpson?
Oprah Winfrey: +450
Stephen A. Smith: +550
Charlie Rose: +750
Robin Roberts: +750
Matt Lauer: +750
Adam Schefter: +1250
Jimmy Kimmel: +1250
Al Michaels and/or Cris Collinsworth: +1250
Ellen DeGeneres: +1500
Jimmy Fallon: +2500
Howard Stern: +3500
Bill Maher: +3500
Charles Barkley: +3500
John Oliver: +4500
Jemele Hill: +5000
Jon Stewart: +5000
Mike Francesa: +6000
Bill Simmons: +7500
Martha Stewart: +9000
Nancy Grace: +10000
Don Cherry: +15000
Tara Lipinski and Johnny Weir: +25000
None of the above: +1500
OJ Simpson's first stop upon release from prison?
Home/Hotel: +150
Airport: +300
In-n-Out Burger: +750
Red Lobster: +750
Any other restaurant: +450
7-11: +1000
Golf Course: +1500
Strip Club: +2500
Casino: +2500
Brothel: +5000
Will OJ Simpson go back to prison for another crime before 1/31/18?
Yes: +500
No: -750
Will any of the living members of OJ Simpson's legal 'dream team' from his murder trial make a statement upon his release? (Alan Dershowitz, Robert Shapiro, Barry Scheck, F. Lee Bailey)
Yes: +450
No: -600
Will any member(s) of the Kardashian family make a statement upon OJ's release?
Yes: +600
No: -750
Will "Kato" Kaelin make a statement upon OJ's release?
Yes: +300
No: -450
Will the Buffalo Bills, San Francisco 49ers, Roger Goodell and/or the NFL make a statement upon OJ's release?
Yes: +750
No: -900