NHL Hockey Betting: Stanley Cup Playoffs for April 27, 2016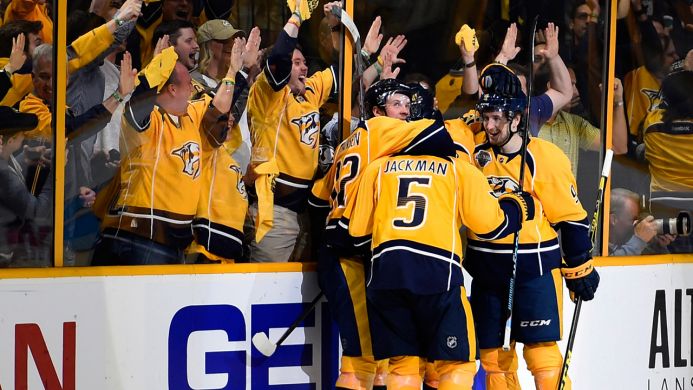 After a Tuesday without hockey we've got a pair of Stanley Cup playoff games for Wednesday night. We've got Game One of the second round series between the New York Islanders and Tampa Bay Lightning. As an added bonus, we've got Game Seven between the Nashville Predators and Anaheim Ducks.
NEW YORK ISLANDERS AT TAMPA BAY LIGHTNING:

The Tampa Bay Lightning have been underrated throughout this playoff season and based on the opening game price it looks to be more of the same here. The Islanders are coming off of a tough series against Florida which wrapped up on Sunday. The Tampa Bay Lightning will have had six days off since vanquishing Detroit on April 21. This is something of 'uncharted water' for the Islanders–obviously their franchise has had a ton of postseason success as in four consecutive Stanley Cups during the Mike Bossy/Dennis Potvin era. The recent vintage Islanders haven't had much success in the playoffs–this is the first time they've made it to the second round since 1993. Another advantage to Tampa Bay–they were the Stanley Cup Finalist from the Eastern Conference a year ago though that has all but been forgotten in the wake of the Washington Capitals' domination. That's unwise–the Lightning are better this year than last year even without Steven Stamkos (who is still nowhere near a return despite the fact that he's skating again).
The short turnaround for the Islanders looks very problematic–they're just 8-9 -4.8 units with two days rest this year while the Lightning are a perfect 7-0 with three or more days rest. It'll be especially tough for Islanders' goaltender Thomas Greiss, coming off a double overtime situation against Florida in Game Six and now having to turn around and face a rested team with the experience of making a deep run in the playoffs. With Jaroslav Halak out for the year there's no option for the Islanders. Ben Bishop will be in the net for the Lightning and one of the real under-reported stories of this hockey season has been his maturation. Bishop has learned how to use his massive 6'6″ frame as a weapon now–the Lightning might not have been the potent offensive machine that they were last season but their improvement defensively (they finished #5 in goals against per game this year) more than makes up for it.
Statistically, it's tough to see how the Islanders go very far in the playoffs. They have an excellent penalty kill (#4 in the NHL) but were just so-so in every other statistical category. They were #11 in goals per game, #13 goals against and #17 on the power play. The Bolts sputtered on the power play (#28 in the NHL) but had the #5 team defense and #7 penalty kill. That being said, the Islanders may have the best all around player in the series on their roster in John Tavares, who'll put Victor Hedman to the test throughout.
Just don't see the Islanders getting past this experienced, defensively tenacious and increasingly confident Tampa Bay team. They're good enough to win some games so this series should go at least 6 but look for the Bolts to prevail. They'll get it started with a Game One win.

BET TAMPA BAY LIGHTNING -150 OVER NEW YORK ISLANDERS

NASHVILLE PREDATORS AT ANAHEIM DUCKS:
Now *this* is a writeup I didn't expect to be doing. Full disclosure–I'm a huge Nashville Predators' fan and follow them more closely than any team in the NHL. I had almost no hope that they'd be playing a Game 7 at the Honda Center. They looked like an AHL team in Games 3 and 4 at home. Goaltender Pekka Rinne looked pitiful in those two games. After another loss in California to put the Ducks up 3-2 in the series it seemed to me–again, an experienced handicapper that follows this Predators team closely–like Game Six was a formality.
Instead the notoriously erratic Predators may have played their most complete game of the entire 2015-2016 season. They were tenacious defensively and all over the place on offense. More importantly, they *outworked* the Anaheim Ducks and that work ethic has been what's been missing for much of this season. When Nashville was leading the Central Division early last season they were *never* outworked. Pekka Rinne was a brick wall in the Predators' net making some of his most ungodly saves this season.
If the same Nashville Predators team shows up in Southern California on Wednesday night the Ducks are done for. The local media is skeptical of Anaheim–they're pointing out that the Ducks haven't won a Game 7 since 2006 losing four since then. Of course the Preds have *never* played in a Game 7 and will play their first in franchise history tomorrow night at the Honda Center. Another media outlet had an interesting take–if Pekka Rinne is 'just average' on Wednesday night the Predators have a good chance of advancing. Nashville hasn't been a good team coming off a big win–this year they're 8-15 -15.2 units after a win by two goals or more. But this erratic team could very well have another strong effort up their sleeve and can make this game a 'coin flip' at worse. For that reason, we'll take the price.
BET NASHVILLE PREDATORS +150 OVER ANAHEIM DUCKS