NHL Hockey Best Bets for April 1, 2016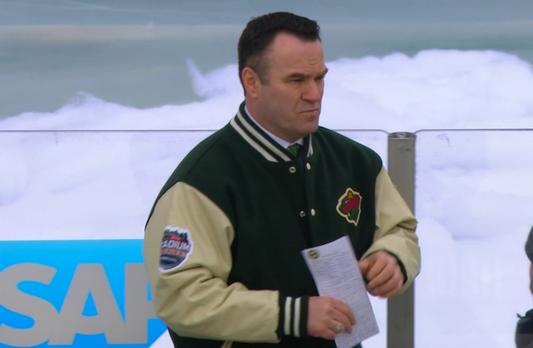 Isn't it great how every website has their own zany and super duper funny April Fools Day jokes? Said no one ever….no jokes here, just one NHL hockey best bets on a five game card for Friday:
MINNESOTA WILD AT DETROIT RED WINGS:
One of the first things I do when I research the hockey card for the day is to search Google News for every team in action. You can imagine how amused I was when a Wild blog was at the top of the search with their amazingly wacky story about the team renouncing NHL membership and moving to Russia's Kontinental Hockey League. I know you're probably thinking 'What the? Moving to the KHL? It's a thirteen hour flight from Minneapolis to Moscow….APRIL FOOLS! They're not *really* moving to the KHL. Of course given that we're talking about the Minnesota Wild I wouldn't put it past them. This is a team that for three straight years now has pulled the season out of the toilet in the final months. Last year, they found a legit franchise goalie in Devan Dubnyk in an Arizona landfill (not really–APRIL FOOLS!). This year they looked to be heading down the drain again and finally pulled the trigger on Mike Yeo's head coaching gig. Yeo was fired in mid February after the Wild had gone 1-11-2 in their previous fourteen games and at the time of his dismissal the team had lost eight straight. That makes the Anaheim Ducks' 1-9-1 start to the season look like nothing. Minnesota gave the interim gig to the coach of their AHL affiliate the 'Iowa Wild' more out of a lack of better options than anything else. That brought John Torchetti to the Twin Cities and the Minnesota Wild have gone 15-6-1 since he took over.
Torchetti's success is a surprise but not because he's not a damn good hockey coach–he's earned the respect of players and peers throughout a 22 year coaching career that has taken him to 15 different teams in six different leagues. And apropos of the Wild's April Fool's Day 'joke'–Torchetti actually has coached in the KHL for HC CSKA Moscow. His career has run the gamut from the short lived Central Hockey League San Antonio Iguanas to the ECHL Fort Wayne Komets to the AHL Houston Aeros who would eventually move to Iowa and become the 'Iowa Wild'. He's had several NHL assistant coaching gigs as well as a couple of interim head coaching stints (Florida Panthers and Los Angeles Kings). Before that he was an excellent hockey player in his own right though he spent his eight year pro career in the minors. It's easy to be amused about the number of teams and leagues he's coached in but what that really says is that he's a guy that loves hockey and loves teaching the game to the point that he'll go where he's needed. More significantly, hockey teams all over the world at every level hold him in such high regard that he's at the top of their list when things go South and a solid, experienced coach is needed to get things going right. Torchetti goes 6'0″ and 200 lbs and even at age 51 looks like a guy that you're well advised to not start trouble with. He kind of reminds me of Harvey Keitel as 'The Wolf' in 'Pulp Fiction'–a guy who is simultaneously unassuming and intimidating.
The theory of hockey according to Torchetti isn't 're-inventing the wheel' in any way. Torchetti comes up with quotes–delivered in a classic Boston accent–that are as simple and obvious as they are brilliant. Like "It's my job, when I took over, to gain the players' confidence that I trust them in all situations. I think once players trust, not just their coach but their teammates, they're able to play the game faster." After the Wild beat the Chicago Blackhawks to run their recent winning streak to six games Torchetti quipped: "When you want to commit and give up more for your teammates, better things happen." Torchetti was less pithy after the Wild lost to Ottawa the next time out but as usual he shot straight and didn't mince words: "We had a lot of guys that got to up their ante. There's no nights off in this league. We've got to be ready to battle, and I didn't like our battle level."
Perhaps the most amazing part of Torchetti's success is how quickly and completely he got a supposedly 'uncoachable' group of players to buy in to his gospel. It's wasn't a slam dunk that elite NHL players were going to fall in line behind someone that spent the majority of their playing career with a minor league team in Winston-Salem, North Carolina (the Carolina Thunderbirds). Many of the younger players on the roster played for Torchetti in Iowa so that helped. Forward Jordan Schroeder played for him in the minors: "Nothing's changed from when he was down there to up here. He stays true to himself. He's honest with you." More impressive has been his success reaching the veterans–consider these words from goalie Devan Dubnyk concerning the prospect of Torchetti losing the 'Interim' tag: "I think I would be surprised if anybody told you that they wouldn't like to see him around."
THE FUTURE OF TORCHETTI IN MINNESOTA AND TONIGHT'S GAME:
Hockey observers aren't convinced that the Wild are going to offer him the full time coaching job. The team has the money and hockey crazy market to look for a bigger name coach with a more 'flashy' personality. With only 30 NHL coaching gigs available there are plenty of experienced coaches with 'bigger names' on the market–guys like Guy Boucher who most recently coached in Switzerland. That's the 'easy way out' but it's important to remember that the Minnesota fan base is very 'hockey savvy'. The Wild found a 'diamond in the rough' last season landing Devan Dubnyk when they were desperate for any kind of stability in net. Instead, they had a franchise goaltender fall in their lap. Dubnyk is the current NHL 'second star' of the month after posting a 10-2-1 record with a 2.06 goals-against average, .927 save percentage and one shutout in March. Now they've had the perfect head coaching candidate essentially materialize on the scene. Hopefully the Wild are smart enough to give Torchetti a shot at the permanent head coaching job.
Wrong team favored here–the Wild are a better team top to bottom and have superior goaltending with Dubnyk. The Wings can't figure out if they want to stick with Petr Mrazek despite his recent struggles or 'turn back the clock' with former starter Jimmy Howard. Since they're desperate for wins now to have any hope of getting in the playoffs they can't wait around but the old 'alternating goalie tandem' is the worst thing a team can do at this stage of the campaign. Making no decision is the worst decision and just because one goalie is struggling doesn't mean that your 'old starter' is a better choice. I guess it's a good thing for Detroit fans that Terry Sawchuk passed away in 1970 or he might be getting a phone call.
DETROIT'S GOALTENDER DESPERATION:
Now there's talk that Detroit might be having second thoughts about Mrazek being their 'franchise goalie' at all. There's nothing that reeks more of sheer desperation than a team giving up on their long term goaltending plans after a substandard dozen or so games by Mrazek. Mrazek is 24 years old and if you've paid attention to the development of the current crop of elite goaltenders you'll notice a similar trajectory. Braden Holtby had his 'ups and downs' with the Washington Capitals early in his career. Now at age 26 he's the presumptive Vezina Trophy winner. Tampa Bay's monstrous Ben Bishop looked like a Frankenstein monster at times early in his career. Now at age 29, his 6'7″ frame is a formidable weapon and he actually has better save percentage and goals against average numbers than Holtby (he's currently second in the NHL). We talked about Devan Dubnyk above–he struggled badly early in his career to the point that the Edmonton Oilers didn't want him on their roster and sent him packing in 2014. He bounced from Nashville to Montreal to the Milwaukee Admirals before landing in Arizona where working with goaltending coach Sean Burke transformed his game. Now at age 29, he's on the cusp of joining the NHL's elite level netminders. Goalies learn their craft in their early 20's and don't reach their potential until their mid to late 20's. Top flight NHL goalies don't grow on trees so the Wings' best option would be to bring in a new goaltending coach or otherwise help Mrazek work through his issues (assuming you can call a short term slump–admittedly at a bad time–a serious flaw with Mrazek's 'game'). Going into panic mode and sending Mrazek packing serves no practical purpose–it puts the Wings back at 'square one' with regard to their longterm goaltending plans. It's also very likely that they'll watch while Mrazek matures and improves in his late twenties only he'll be at the other end of the ice in a different color jersey.
BET MINNESOTA WILD +110 OVER DETROIT RED WINGS